This Studio Created a Topless Yoga Class … And it Sold Out.
"It's something I think we joked about since day two of opening the studio – this trend of naked yoga," Robin French, owner of Bare Feet Power Yoga in Chicago's West Loop said.
It may have been a joke for the past few years, according to French, but in October, the studio hosted its first topless yoga class – a women's-only event that raised $1,000 for The Lynn Sage Foundation during Breast Cancer Awareness Month.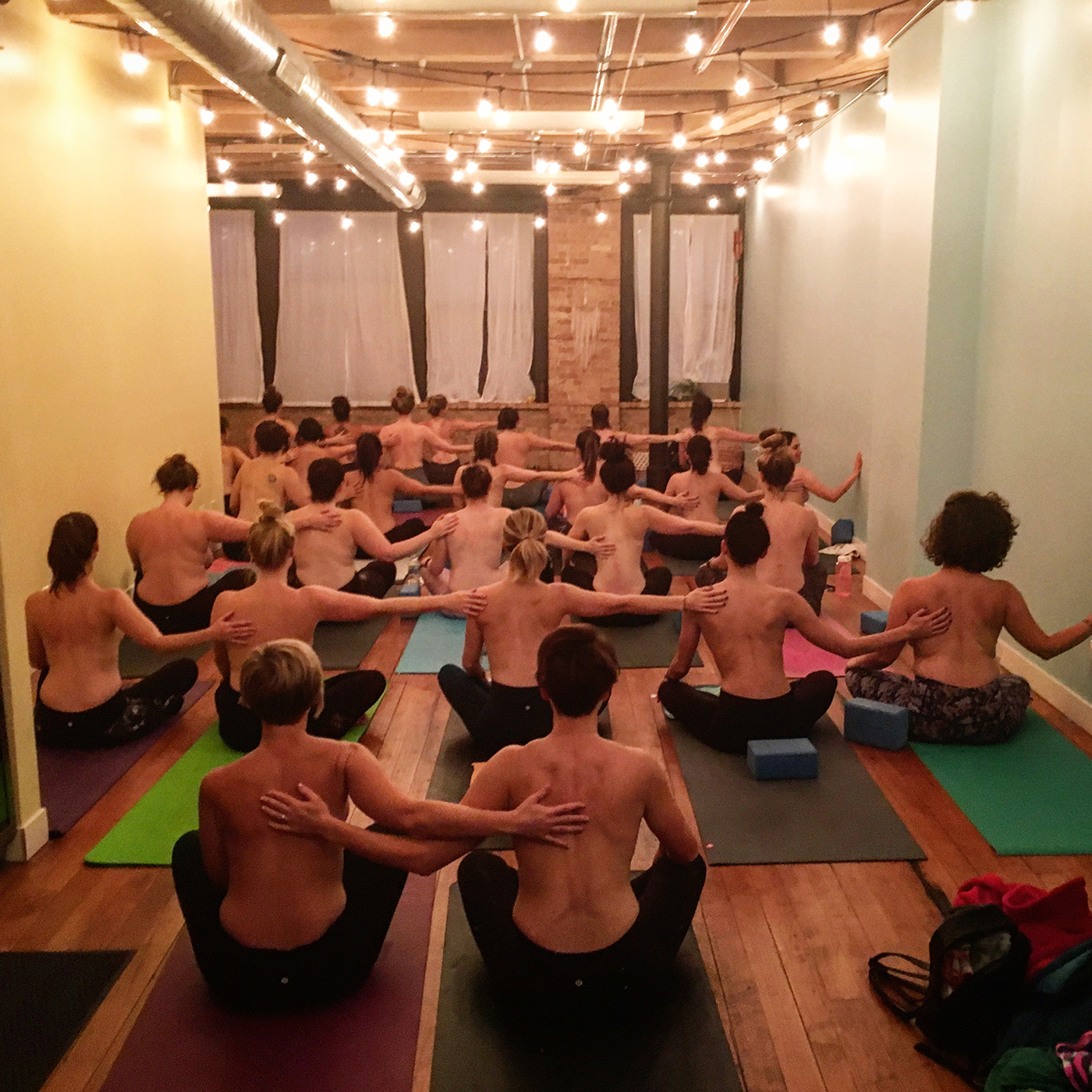 "I really wanted something that would empower women, so when I thought about what this experience would be like, I knew that I wanted the class to be liberating and empowering and a space for people to be themselves, but also to really come together and support each other," French said.
After hearing about something called Gathering of the Goddesses that a friend and studio owner in Florida hosts regularly, French felt inspired to create events for women in Chicago. She also wanted to kick off the series of events with a bang; after a team meeting and a few glasses of wine in September, a topless yoga flow was selected as the most logical choice.
And it was more than just attention-grabbing, it sold out and had a waitlist.
"I didn't know that it would sell out," French said. "I thought 20 to 25 [women] would be awesome attendance, but once the buzz started happening … it exceeded my expectations in terms of how well attended it was."
Wondering exactly what the flow of a topless yoga flow is actually like? French described a few minutes of nervousness that eventually wore off.
"It wasn't a big deal," French said. "And by the end, truthfully, nobody even realized we didn't have our shirts on."
If you were among the many on the waitlist for the first topless yoga class or if you're just hearing about Gathering of the Goddesses, you'll see another topless class on the schedule in 2018. French plans to host them twice a year.
In between these events, Gathering of the Goddesses will happen on a monthly basis at Bare Feet Power Yoga, hosting the next women's-only event December 17. Instructor Julianne Farrell will lead a complimentary 30-minute meditation and afterwards, French and Farrell will lead journaling exercises and discussion.
"The intention of Gathering of the Goddesses is to create a space where everyone comes together," French said. "It's so wonderful when a group of women can come together and remove any of the judgment or the comparison or those sorts of things, and that's really how I see this group elevating our community and beyond."
In Chicago? Sign up for the next Gathering of the Goddesses event at Bare Feet Power Yoga's Loft space here, and follow the studio on Instagram for more workshop, event and topless yoga announcements.