12/16: iO and ASweatLife Team up for a Morning of Yoga and Improv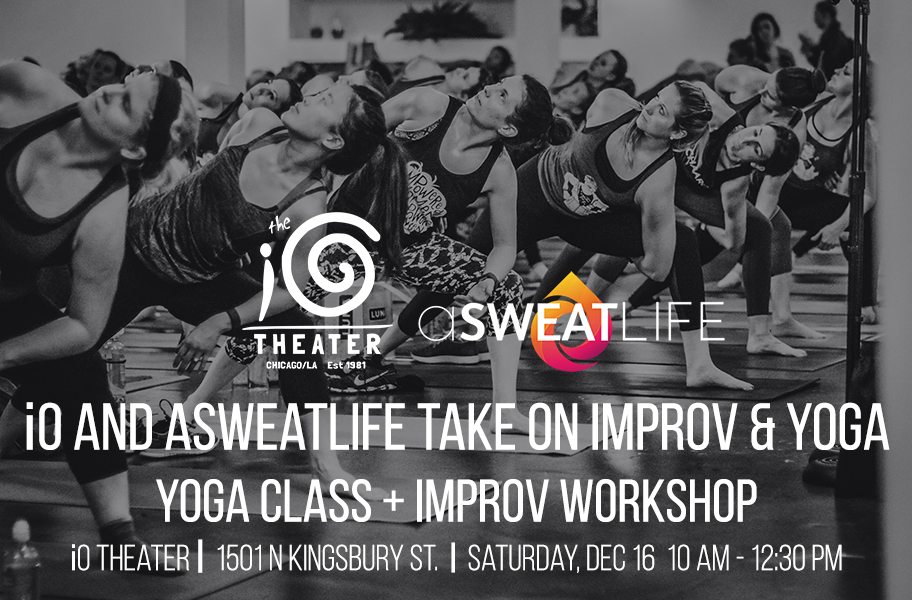 (Get your ticket to yoga and improv here)
December 16, we'll host our final workout of 2017 and it has a twist that we're excited for you to be a part of. We consider ourselves to be mad scientists when it comes to fitness and events. We're always adding things and tinkering – next month, after a 60-minute yoga flow, the new ingredient will be an improv workshop.
We've toyed with this idea for a while, starting first by putting the aSweatLife Ambassadors through a similar pairing. We learned there are some pretty undeniable parallels between these two disciplines. Yoga and improv both teach you that there are no mistakes and you don't have to be a pro to do it well, you just have to get out of your head and into the present moment to make the magic happen.
We had so much fun trying out hand at improv + yoga, we couldn't wait to make it happen again.
Who's leading the yoga? 
Yoga will be led by Studio Three and exhale instructor, Jenny Finkel. Bonus: Jenny is an improviser and will help to facilitate the workshop, but not until she helps you get a little grounded, before facing some fears on the mat.
We are a healthy level of obsessed with Jenny and we know that if you don't already know her, you'll be a healthy level of obsessed too.
What's this improv workshop?
To make this happen, we said, "Yes, and" to teaming up with iO, one of the most sought after improv theaters in Chicago. After you roll up your mat, an improv workshop will be facilitated by iO company members. Just glance at the wall of comedy hall-of-famers who spent time within their four walls over the years and you know you'll walk out more hilarious than when you walked in.
But what if I've never done ___________, before?
Don't worry – everything will be accessible to you no matter what level of yoga you're comfortable with or if you've never tried improv. We're all in it together. We'll try our hand at group improv exercises, partner exercises and we'll finish with something fun.
What can I expect?
Expect to spend the morning making new friends and trying new things – just like at our #Sweatworking events – and add in additional core workout from all the laughter that's sure to ensue. Are you ready to try yoga and improv with aSweatLife and iO? We can't wait to see you there. Grab your tickets right here.
Details, please!
What? Yoga and improv – first a yoga class altogether, then breakout workshop sessions in smaller groups
Where? The iO Theater, 1501 N Kingsbury St.
When? December 16, 10 am – 12:30 pm
How do I get in? Sign up Right here, thanks for asking!
Let us know!
Did this post help you get closer to achieving one of your goals?