November, Work out With Us Four Days a Week at Reebok Chicago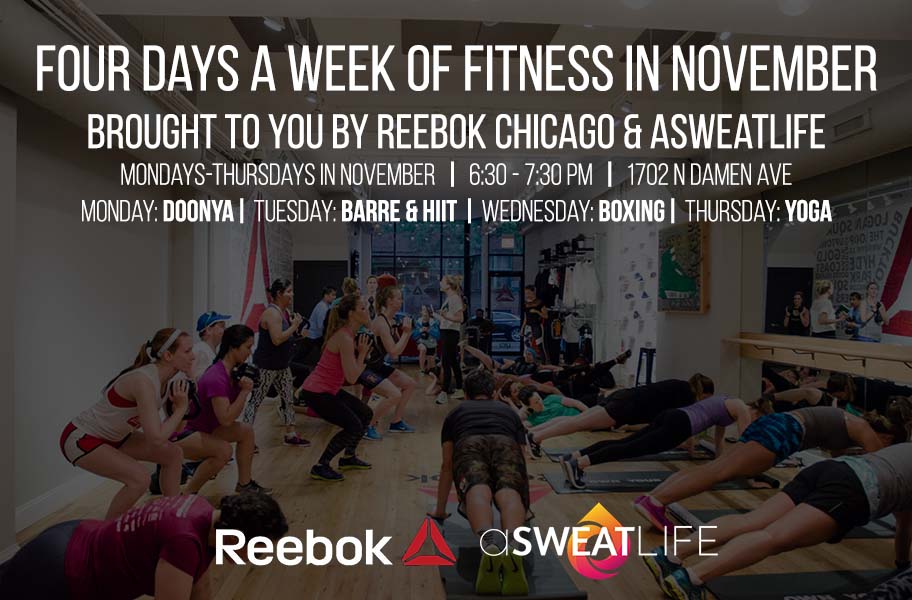 November in Chicago, there's a chill that settles in the air. Along with that chill comes a deeply seated desire to head indoors, curl up on the couch and go into hibernation mode until the sun shines again and our beloved Chicago summer returns. During this time, every ounce of motivation to stay active is welcome.
To spark that motivation, we invited some of our friends to help create low-cost fitness programming four days a week. We'll take over Reebok Chicago with just what you need to keep moving into the holiday season.
Grab your friends and take a class for just $10 a class, every Monday through Thursday throughout November. Grab your tickets from this page and mark your calendars for regular workouts with some of your favorite Chicago trainers all month long.
Here's what you can expect:
Mondays: Nikki Desai will lead a Doonya dance workout; get ready to sweat everything out and leave feeling lighter and brighter than you came in.
Tuesdays: Jeana Anderson Cohen, founder of aSweatLife and coach at CrossTown Fitness, will bring you a combo class of two of her favorite styles: high intensity interval training and barre.
Wednesdays: sign up to box with Courtney Belcastro from Title Boxing. She'll make you work through boxing intervals and bodyweight drills.
Thursdays: catch Ali Brashler and Maggie Umberger from Bare Feet Power Yoga for a yoga class that builds each week up to a peak posture relating to crow pose.
Sign up!
Details!
Where will the classes be? At Reebok Chicago, 1702 N. Damen Ave
When will each class take place? Every Monday-Thursday at 6:30 pm
How do I save my spot in class? Grab your tickets to each class you want to attend right in the calendar above!
Do I need to bring anything? Just wear your workout gear! On Thursdays, if you want to bring your own mat for yoga you can, or Reebok Chicago will have extras for you to use.