#Sweatworking Rides For Happy Hour at CycleBar Fulton Market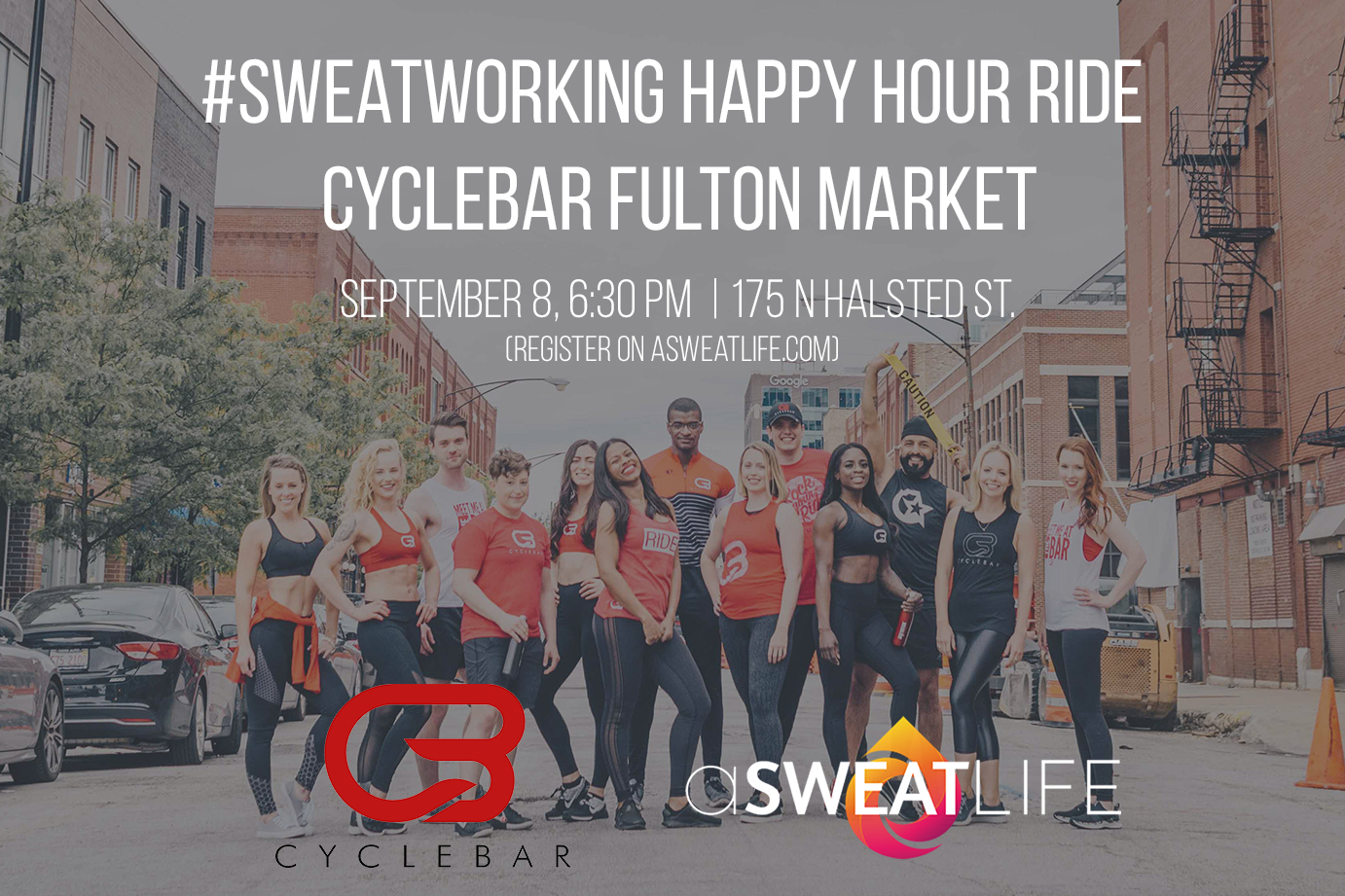 Get your ticket to #Sweatworking at CycleBar Fulton Market here.
There's a happy medium somewhere between going out hard on a Friday night and hitting the couch early with takeout and ice cream. And in that middle ground, we believe, lives a workout-and-hangout combo.
Here at aSweatLife, we do believe that getting your workout in is an important part of your day and your week. And since we also believe that everything is better with friends, we've been trying to sweat with friends at #Sweatworking as often as possible for nearly four years.
On Friday, September 8, we're taking #Sweatworking over to the Fulton Market neighborhood of Chicago for the perfect kickstart to a weekend – a fun ride with CycleBar at 6:30 pm. Afterwards, we'll have snacks and mingle before getting onto your weekend.
CycleBar brings in elements of all cycling enthusiasts' favorite things about a class. With three different formats, performance, connect and classic, this experience-driven cycling studio is all about bringing the good vibes to your day.
We'll ride it out, shake off the stresses of the week and follow up our workout with hanging out and goodies.
Afterwards, you'll already be in the neighborhood of what many consider to be a foodie's heaven so you can continue the Friday night celebrations as you please or call it a night knowing you've already gotten in your pre-weekend workout.
Are you in for a Friday night ride and happy hour with us? We'll see you there!
Here are the details for #Sweatworking with CycleBar Fulton Market:
Where will we be sweating? Cycle Bar Fulton Market 175 N. Halsted St.
When and what time? Friday, September 8 at 6:30 pm
Where do I get tickets? Right here, thanks for asking!
Can I bring friends? Most definitely. You might even meet some new ones to continue the happy hour with while you're there.
Let us know!
Did this post help you get closer to achieving one of your goals?