Sweat Across Gold Coast at Our Third Reebok #Sweatworking Crawl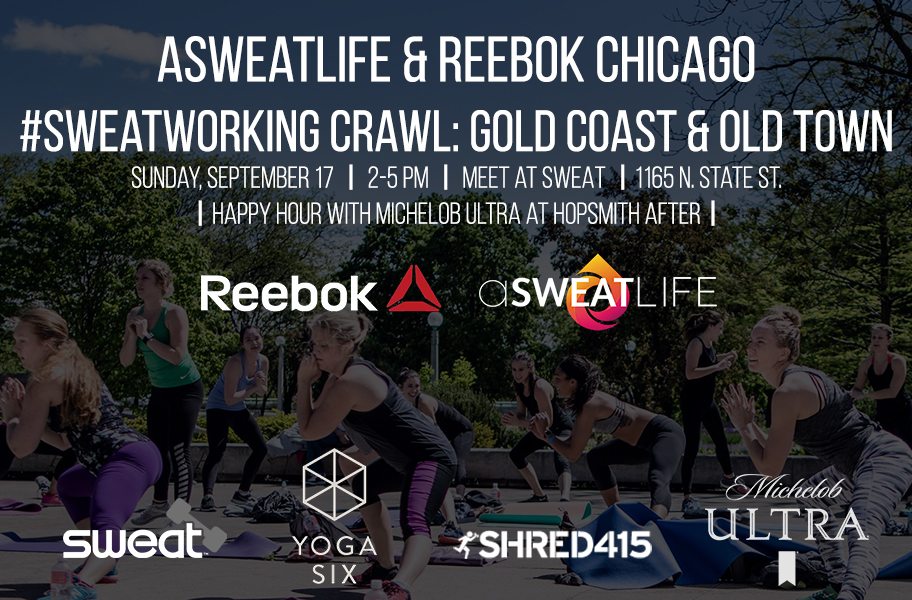 Get your ticket to the September #Sweatworking Crawl here.
If there's one thing we know how to do in Chicago, it's make the most of summer. Just about every hour of the day, you'll find countless runners on the lakeshore path. Gyms across the city bring their weights and bands to rooftops for workouts with killer views. As far as Chicago fitness events go, there's no shortage any day of the week between Memorial and Labor Day. And since July, aSweatLife and Reebok Chicago have brought you a monthly #Sweatworking Crawl that gets you into your favorite workouts while soaking up some Vitamin D.
As we learned in our last two #Sweatworking Crawls, Chicagoans are pretty great at saying "bring it on" to a tough workout, too. First we took on a Bucktown #Sweatworking Crawl, matching mobility at Reebok Chicago, running at Shred415 Wicker Park, strength training at Training Revolution and yoga at Zen Yoga Garage.
In August we stormed West Loop with strength training at CrossTown Fitness, cycling at CycleBar and yoga at Bare Feet Power Yoga.
So what's next? On Sunday, September 17 we're joining forces with Gold Coast and Old Town studios SWEAT, Yoga Six and Shred415 for a three-part workout where you'll get a little something different at each studio you try out.
The newest edition to this #Sweatworking Crawl experience, though, will be where we end our workout. After gathering your goody bags from SWEAT, we'll head next door to Hopsmith for a happy hour provided by Michelob Ultra – your first round of beer is on us and they're just $4 after that.
If you're new to the idea of a #Sweatworking Crawl, this event is perfect for you. In between each 30-minute workout you'll have plenty of time to walk or jog in between each studio and time to rest in between each workout. You'll complete each workout with the same group of people, and along the way there will be opportunities to participate in a social media challenge where the individual winner gets a sweet prize pack – and that winner's entire team will also take home some extra goodies. Best of all, we can celebrate our hard work with a well earned refreshing beverage all together once the sweating is over.
Ready to take on this three-part workout? We thought so. Snag your tickets here.
Here are the details for the 3rd Reebok #Sweatworking Crawl:
What? 30-minute workouts at three Gold Coast and Old Town neighborhood studios, SWEAT, Yoga Six and Shred415 – ending with a happy hour to celebrate our accomplishments at Hopsmith
When? Sunday, September 17, 2-5 pm
Where? Meet at SWEAT, 1165 N. State Street
Where do I sign up? Right here!
Let us know!
Did this post help you get closer to achieving one of your goals?