#Sweatworking Hits the Beach With Chicago Paddle Co.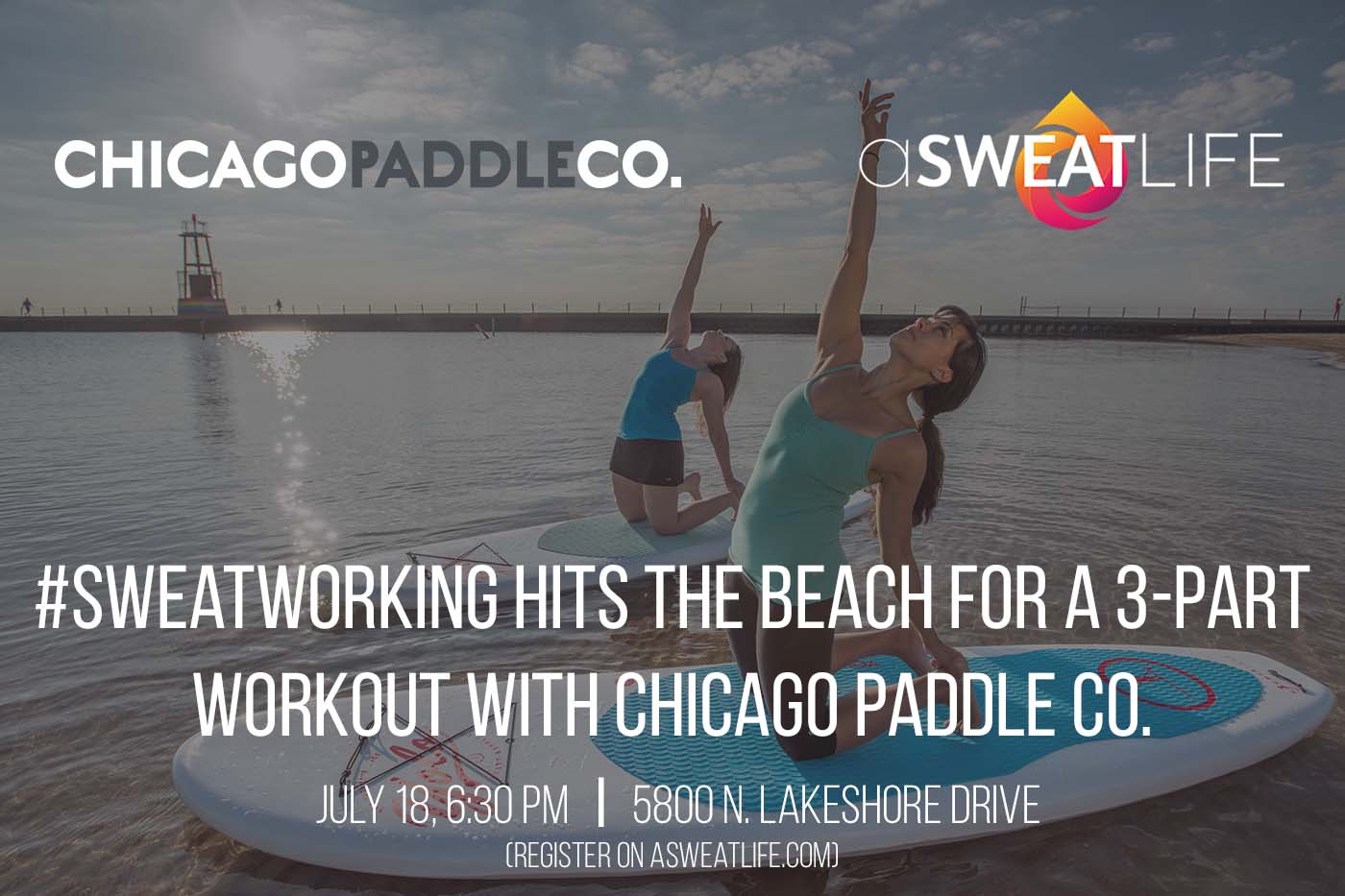 (Get your tickets to #Sweatworking here)
In Chicago, we know what it's like to appreciate summer when winter seems to always be ominously just around the corner. We make it a point to make the most of our gorgeous lakefront path, free outdoor workouts and, especially, to take advantage of seasonal outdoor experiences like stand-up paddle board yoga with Chicago Paddle Co. On July 18, we're taking you there for a special #Sweatworking experience like no other.
Get ready for an evening with a beach workout, S.U.P. Yoga and Core Fit, a full body workout on the paddle board using resistance exercises.
We can't wait to see you outside for an evening of #Sweatworking, meeting new friends and taking of advantage of all that Chicago has to offer during the sweet, sweet summertime.
Details for #Sweatworking at Chicago Paddle Co.:
Where can you grab tickets? Right here, thanks for asking!
What can you expect: Three groups will rotate among three workout stations, beach yoga, S.U.P. Yoga and Core Fit.
When will this be? Tuesday July 18, 6:30 pm
Where will this be? Chicago Paddle Co. is just South of the Kathy Osterman Beach House between Bryn Mawr and Hollywood Avenue in Edgewater, at 5800 N. Lakeshore Dr.
How do I get there? Plan ahead to allow a little extra time to walk from wherever you get dropped off or park.
Bike
Biking is a great way to get to the beach. There are bike racks and a Divvy station near the location for you to lock up your bike while you paddle.
Public Transportation
Take the red Line to Bryn Mawr, then walk 10 minutes east to the beach. or take the 147 Bus to Sheridan & Ardmore, then walk 5 minutes to the beach
Driving and Parking
Take Lake Shore Drive North to Foster. Exit at Foster and park at the Foster beach house. Walk 10 minutes north to Kathy Osterman Beach. Otherwise, exit at Bryn Mawr and street or neighborhood park on or near Bryn Mawr. Walk 10 minutes east on Bryn Mawr to the beach. You may also look for local parking using Spot Hero and Park Wiz apps.