SUP Core Fit at Chicago Paddle Company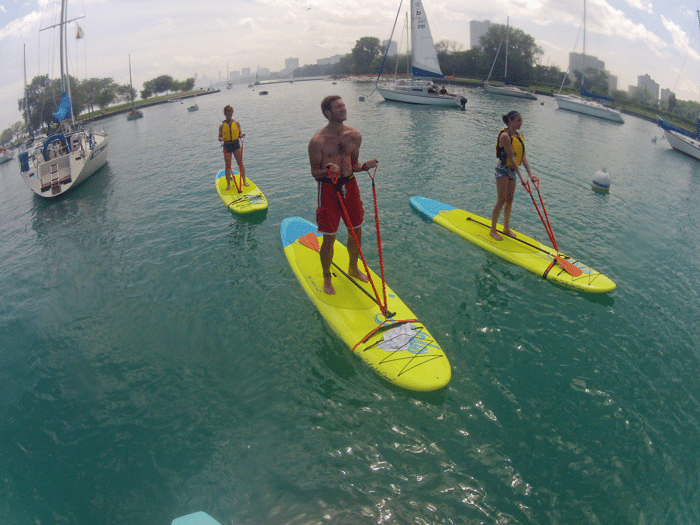 Now that the sun seems to be making more of an appearance here in Chicago, there is one more activity that you need to add to your list this summer: Paddle boarding.
Last weekend I took my group fitness class out of the gym and onto the lake with Chicago Paddle Company. Chicago Paddle Company specializes in stand up paddle boarding (SUP), which requires you to balance on an oversized board and paddle while standing up.
We met at the Montrose Harbor (the paddle boarding company's other location is further North at Hollywood Beach), were fitted for life jackets, got our paddles down to the right size and we set out for our workout. I'd never been paddle boarding before that weekend, but I found the instructions easy to follow and the actual paddle boarding to not be too difficult (next up: Erin the surfing legend).
The class, SUP Core Fit, was a mixture of stand up paddle boarding and resistance exercises for "a full-body workout that focuses on core activation, stabilization and core endurance." We began by getting a feel for balancing on the boards and paddling around in the harbor. We all started on our knees and then when we were ready, made the hop to standing on our feet.
We spent some time paddling out of the harbor and into Lake Michigan, which was a workout in itself. SUP requires a lot of core and leg activation to stay stable, and if you aren't mindful of your form, you'll end up with very tired arms. The key to paddling is to use more of your core and lat muscles in order to prevent total reliance on your arms.
Once we made it out into the lake, we tied our paddles onto our boards and started the first of three circuits that would make up our workout. Each circuit was completed three times and each board was equipped with resistance bands that were securely tied around the nose of the board.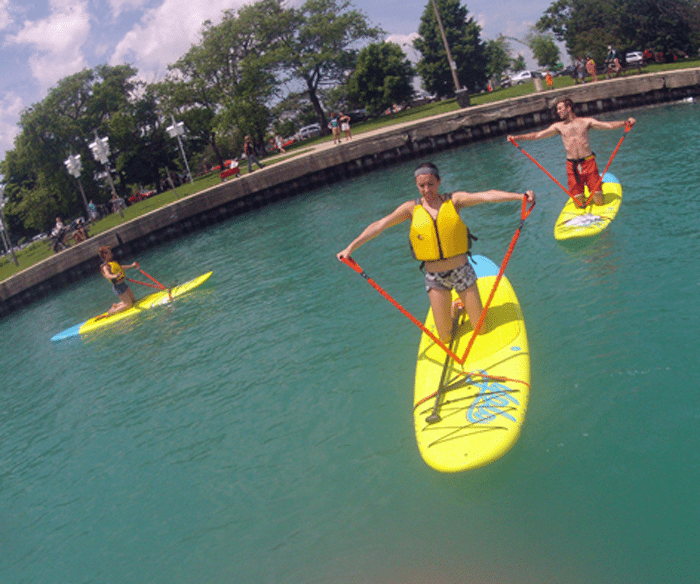 Circuit one:
First, we paddled the board with our arms while lying on our stomachs
then we did squats while holding onto the resistance bands
Finally we did rows with the resistance bands
Circuit two:
We used the resistance bands to do bicep curl
We did shoulder raises with a resistance bands
Circuit three:
We got down on the board for planks
We did crunches on our backs
We finished with mountain climbers
In between each circuit, we paddled to a different location to set up and complete the exercises. Note: doing all of these exercises while trying to maintain balance on a giant board made them exponentially more difficult.
After all three circuits were completed, we paddled back to the dock to return our boards. Let's just say that the speed of my paddling on the return route was not as enthusiastic as it was an hour before. It was a great change of pace from workouts that I normally do and I would definitely recommend SUP to anyone and everyone this summer!
If you are not looking to take a Core Fit class, Chicago Paddle Company also has yoga and pilates classes available. For an introduction to paddle boarding, there is a beginner's class as well as classes geared towards children. Basically, if you want it, they've got it. Learn more here.