Ten Ways You Never Thought To Use Chia Seeds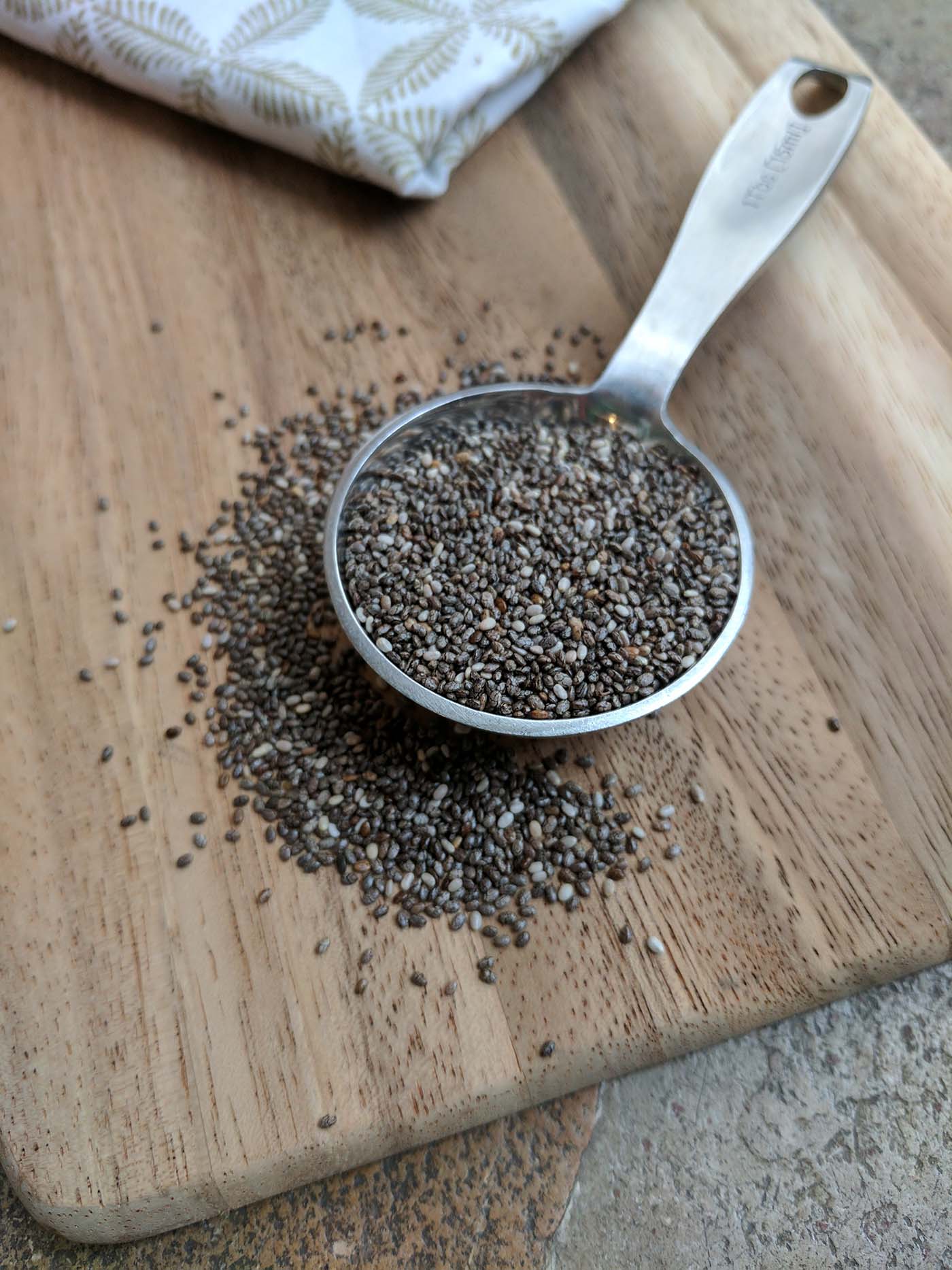 You've probably heard of chia seeds, but do you know why this little seed has gained its superfood reputation? A member of the mint plant family, chia is more formerly known as Salvia hispanica and is native to Central America.
The health benefits of chia are extensive – they are high in heart-healthy omega-3 fats, an excellent source of fiber, provide plant-based protein and are great sources of minerals such as magnesium, calcium, zinc and iron. Promising research is showing that these seeds have powerful anti-inflammatory properties and could help fight heart disease by lowering cholesterol and blood pressure. Their high fiber content and nutrient profile allows them to be helpful with sustainable energy, portion control and satiety.
Chia seeds can be eaten raw or combined into foods. They are virtually tasteless, which allows them to be easily incorporated into a wide variety of dishes. When combined with liquids, chia seeds absorb liquid and swell to create a gelatinous texture.
Want to give these tiny, nutrient-packed seeds a try? You can test them out in a number of ways. From the main dish to the dressing on the side to a dessert after the meal, here are ten chia-inspired recipes:
1. Jam
Use chia seeds to make a delicious jam (without all the excess sweeteners) and use it to top toast, oatmeal, yogurt and more. Try out this spring-themed chia jam below – get those strawberries in while they are in season!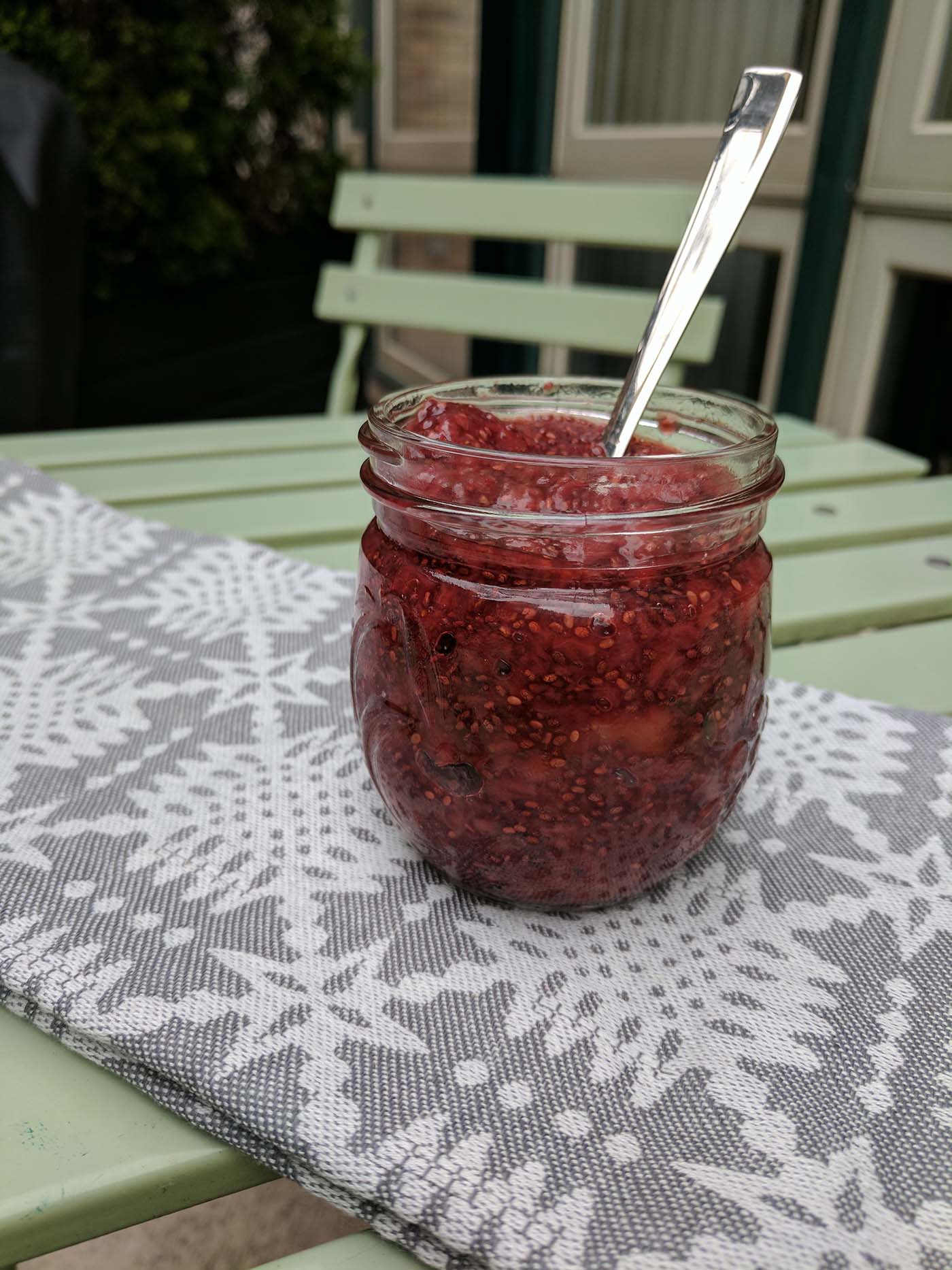 Strawberry Vanilla Chia Jam
1 lb strawberries, frozen or fresh
3 Tbsp maple syrup or honey
2 Tbsp chia seeds
1 tsp vanilla extract
Combine the strawberries and maple syrup or honey in a medium saucepan over medium – high heat and bring to a boil. Reduce the heat to medium – low and simmer for about 5-7 minutes. Mash the strawberries with a fork. Stir in the chia seeds until combined and, while stirring frequently, cook for about 15 minutes or until the mixture thickens. Remove the pan from heat and stir in the vanilla. The mixture will thicken more as it cools. Store in an airtight container for up to 1-2 weeks.
2. Overnight oats
When chia seeds are left in liquid, they absorb and swell which creates a smooth and thick texture. This can work wonderfully for a chilled breakfast porridge that you can make the night before or during your Sunday meal prep. Try out this easy and foolproof recipe from OhSheGlows.
3. Salad dressing
Adding chia seeds to salad dressings can help provide a thicker texture without adding higher-fat foods such as mayo or cheese. Test out this Smoky Chia Chipotle dressing in aSweatLife's Tex-Mex themed Lunch Bunch in your next taco salad.
4. Baked goods
Mix chia seeds into the batter for muffins, pancakes, breakfast cookies and more. Chia will add more fiber, protein and extra texture to the end product. Try this citrus-y and sweet spin on breakfast with Lemon Chia Pancakes from The Simple Veganista.
5. Smoothies
Add a tablespoon of chia seeds to any of your favorite smoothies! Just keep in mind that it will thicken up the consistency. You can add the chia seeds in while you blend or stir them in afterwards for more texture.
6. Pudding
Craving something chocolatey? Try this Chocolate Chia Pudding from Minimalist Baker for a healthier, lower sugar version of the dessert.
7. Crackers
Chia seeds are a great binder and can add extra crunch and texture to gluten-free crackers. Make your own crispbread with My New Roots' Life Changing Crackers.
8. As an egg alternative
As a substitute for 1 egg, mix 1 tablespoon of chia seeds with 3 tablespoons water in a small bowl and let sit for 15-20 minutes or until it thickens into a gel. Use this chia "egg" in a baking recipe that calls for eggs.
9. Breading
Use chia to add extra crunch and nutrition to a breading for chicken or fish, such as these Coconut Chia Crusted Chicken Fingers from Cooking Light. If you're looking for a gluten-free version, substitute the whole wheat panko for almond flour, cornmeal or other gluten-free flour.
10. Chia fresca
Summer time is around the corner! Cool off with this refreshing Cherry Lime Chia Fresca from Eat Chic Chicago.
Chia seeds are very versatile – the applications are endless! What's your favorite way to eat chia? Let us know in the comments below!