#Sweatworking Gets a Double Dose of Pilates ProWorks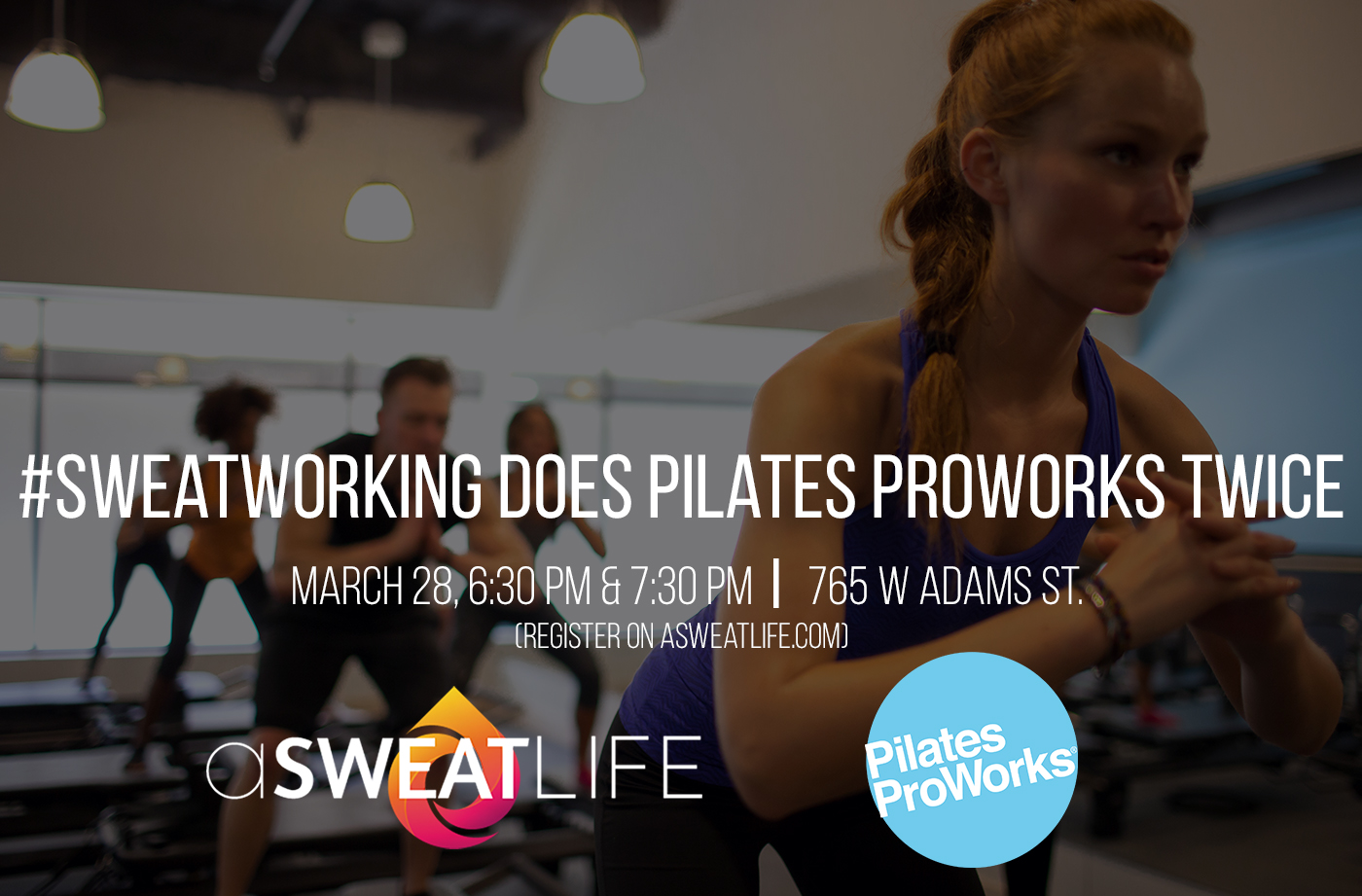 (Get your ticket to the 6:30 pm class here and the  7:30 pm class here)
"Reformer Pilates is the workout I really should be doing" is the sentence we've heard come out of more people's mouths than, well, basically any other workout we can think of.
The intensely focused, intricate movements you do on the Reformer are unlike any other workout – it's a type of muscle burn you can't replicate. When we learned that Pilates ProWorks was opening a new location in the West Loop with space allocated to both the Reformer workout and also TRX and bootcamp-style training, we jumped at the chance to host #Sweatworking there.
Our signature event, #Sweatworking, is where we gather over a new workout, meet some new friends and snag some great goodies to take home. On Tuesday, March 28, we're bringing you two chances to work out with us at Pilates ProWorks, when we'll take over the studio for both the 6:30 and 7:30 pm classes.
We're pairing a Reformer workout with a HIIT-style workout in the room next door, so we'll be able to accommodate more of you – which means you can bring more of your friends with you when you sign up!
The Pilates portion, Pilates Pro, is the studio's signature amped-up Pilates class combining resistance, lengthening and strength training into a high-energy, music-fueled total body workout. The bootcamp portion of class is described as "high intensity interval training done the Pilates ProWorks way with heavy dumbbells, slam balls, TRX and plyometrics."
And what's even better, you'll have the chance to try out Pilates ProWorks no matter what time you get off work, as we're doubling up our #Sweatworking classes. One will start at 6:30 pm and one will begin at 7:30 pm.
Here's everything you need to know:
What is it? A fusion of two of Pilates ProWorks workouts: Pilates Pro and Bootcamp
When is it? Tuesday March 28, 6:30 and 7:30 pm
What do I need to bring? Grippy socks and workout shoes for the two kind of workouts
How do I sign up? Right here for 6:30 pm, and here for 7:30 pm!