#Sweatworking Takes On Pure Barre West Loop on February 19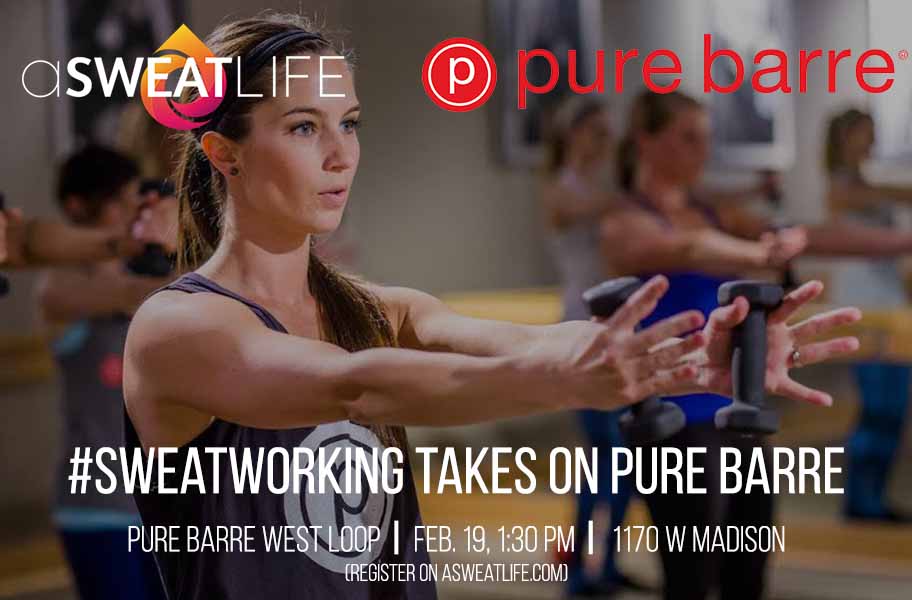 It's safe to say that Pure Barre is a different kind of workout. Inspired by traditional ballet movement with some serious cardio elements and repetition for every muscle group like no other, you can be sure about one thing when you take a Pure Barre class: you'll feel the burn for days after. Pure Barre is 55 minutes of fast-paced work that squeezes every ounce of effort from you as possible from the minute you walk in to the minute you collapse on the floor into a stretch once all the lifting, toning and burning is over.
If you've ever taken Pure Barre before, you may have see regulars to your left or right looking stone-cold focused. That's because this workout is just as much about getting your head in the game mentally as it is physically – although you will walk out sweaty and sore in places you weren't sure could be sore.
Susan Rothman, owner of the Pure Barre West Loop location, is one badass beast who means business at the barre (say that five times fast). She'll be leading us through a Pure Barre experience on February 19 at 1:30 pm.
The studio prides itself on being hands-on, so that means there are limited spots and they'll go fast. But whether you're a first-timer or a well-seasoned in the art of lift, tone, burn, we'll be in it together. We can't wait to see you there!
When? 1:30 pm on Sunday, February 19
Where? Pure Barre West Loop, 1170 W Madison St, Chicago, IL 60607
What should I expect? A total body, low-impact workout that focuses on small, isometric, fast-paced movements. It's all about the "lift, tone and burn" baby.
How do I sign up? Here!