Five Perks of #SweatworkingWeek January 9-14

We're not sure if you've realized it yet, but #SweatworkingWeek is one of our favorite things we do. It's right around the corner and we have some big things planned. But because there's so much happening, we don't want you to miss all of the little things.
These five perks will make it even easier to get up, get out and get sweaty.
1. Mornings have perks and they're delicious
Morning workouts can be hard – and we get it. But what if you knew that at every morning you could find a light at the end of the sweaty, sweaty tunnel? Because we get it and we too love caffeine and breakfast, we worked with some friends to make the mornings even brighter.
#SweatworkingWeek mornings are officially caffeinated by High Brew Coffee and will be fed by our friends at Fit Foodie. Shauna, owner and brains behind Fit Foodie is whipping up some Coconut Chia Parfaits with Cardamom Raspberry Coulis and Paleo Superfood Bites. Thinking about all of that deliciousness, you'll want to sign up for every morning immediately.
Check the schedule and grab some of the remaining morning times.
Oh yeah – and with Luna Bars, Think Jerky, Mamma Chia, Paleo Cookie, Muscle Milk and more at the evening sessions – you'll be surrounded by deliciousness all week.
2. Lunch is just $5. Yes, that includes food.
Monday through Thursday, our Lunch and Learn sessions are an opportunity to step away from your desk, meet some cool people and hear from some inspirational Chicagoans. They're just 45 minutes long, just long enough that your thumbs won't twitch from not checking emails.
To top it all off, Snap Kitchen is sponsoring our Lunch and Breather is sponsoring our space, so $5 (which is all donated to the Greater Chicago Food Depository) gets you everything: lunch, conversation and community.
You'll hear from people who used fitness to do really big and important things; people who chose an unconventional path to their dream job that made them really, really happy; people who find moments to make every day healthier and people who took a big leap to be their own boss. You'll walk away from each session with big takeaways and perfectly satisfied stomachs.
Check out the lunch session here. Come to one or come to them all.
3. There are some can't-miss, hidden gems on the schedule
We hand-picked these classes to have a little bit of everything – some strength, some yoga, some dance and some crazy. In that schedule full of stars, there are some that will get you out of your comfort zone and force you to do something different while you work.
Let's be clear here – this class is for the kid at your heart. Bellicon is an easy-on-the-body fitness trampoline class and you will want to double bounce all day. This class alternates between intense cardio and strength training in a structured, progressive workout. It's a high-energy, fat-burning, muscle-toning workout that's as much fun as it is a challenge.
1/10, 6 pm: First Ascent yoga and climbing
There's a moment when you're rock climbing when you say, "my hands can't hold another piece of that wall." Right about at that moment is when we'll switch you from climbing to yoga at First Ascent. Thank us now or thank us later, you're going to feel like a badass either way.
At First Ascent in Avondale, we'll split your time between yoga and the autobelay climbing wall, using the machines that help you climb with control and without the assistance of another climber. You'll have so much fun it won't feel like a workout.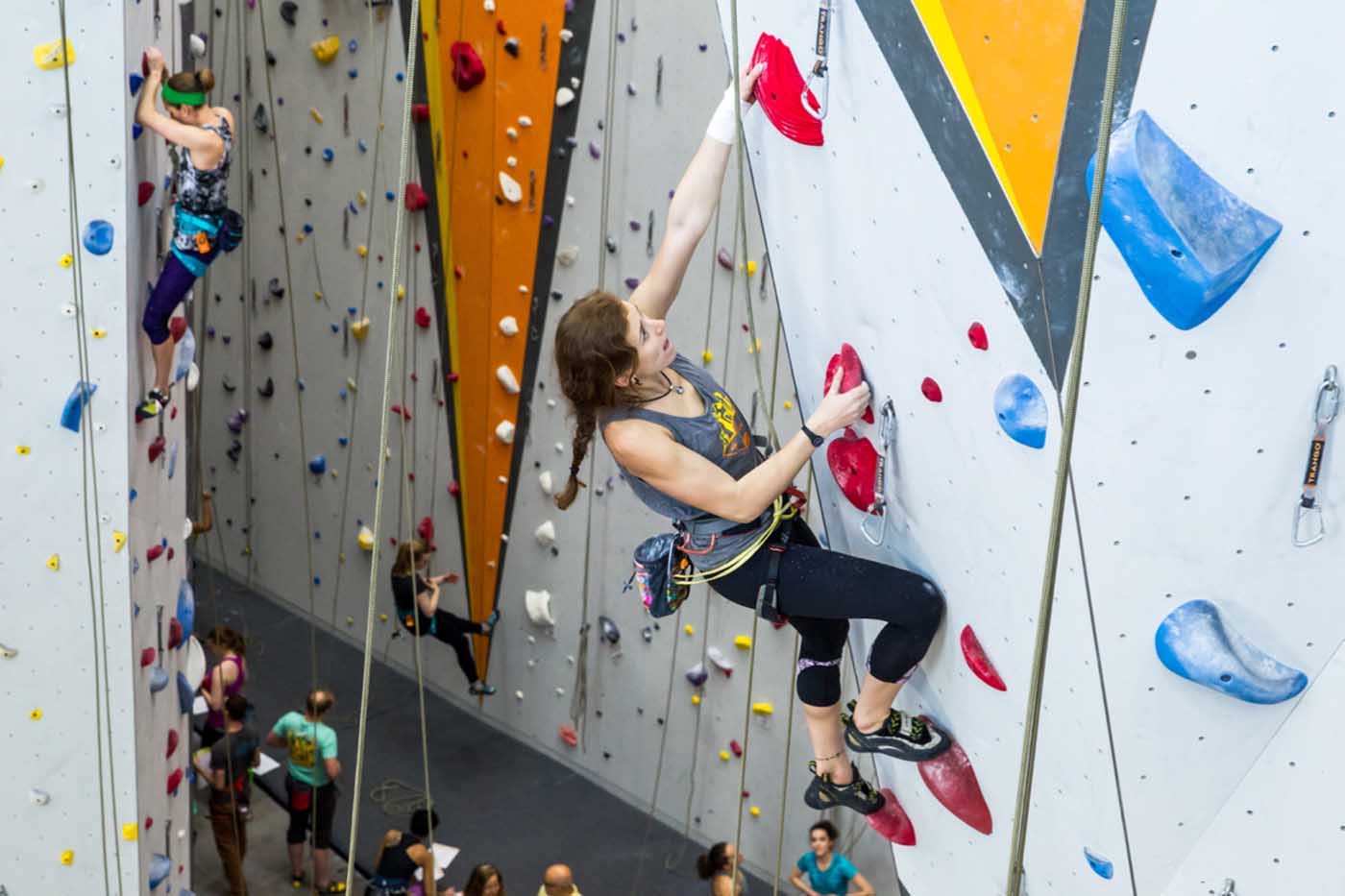 Have you ever said, "Dance fitness is just not for me"? Me too. Then I tried WERQ, which had me doing insanely fun dance-meets-fitness movements set to music I loved – hip-hop and pop.
When you're not busy smiling ear-to-ear, you'll be plotting ways to force Haley Stone, founder of WERQ to be your friend. Because guess what, we're lucky enough to have her lead this class and she will make your heart – dancer or not – go pitter patter.
WERQ is the wildly addictive cardio dance class based on the hottest pop and hip hop music. The workout is nonstop with repetitive athletic moves and fresh dance steps, so you get the best sweat. Music will be by DJ Sye Young of the DJ Firm.
Equinox is introducing us to a brand new class just in time for #SweatworkingWeek that's meant to wipe the floor with you in just 30 minutes. Firestarter is your new lunch buddy. You're going to do more work than you thought possible in a half hour. You'll use lightening fast intervals, benches and bodyweight and you'll be happy it's not any longer.
Efficiency, ridiculous fun and Equinox's beautiful showers to prepare you to go back to work.
4. You'll have a lot of chances to get pampered
Throughout the week, we'll have our presenting partner Delos Therapy at events helping you manage and get rid of pain. We'll also have our friends from Stylisted at the closing party doling out braids and doing your makeup for the night. At 3 pm on a Saturday? Yes, please. Send us off into our weekends.
Throughout the week, stylists from Glowout (the place to get pretty in the West Loop) will be at events making you ready for a workout in style.
5. The afterparty is included in any ticket you purchased for the week and it's can't-miss. 
If you've signed up for any event during #SweatworkingWeek, you'll be invited to a party where we'll hand out goody bags that are so good, we kind of want to keep them all for ourselves. We probably won't. OK, fine. We won't.
You won't want to miss a chance to party at Barry's Bootcamp, with smoothie samples from the Barry's, Vital Proteins, snacks from Fit Foodie, drinks from Social Enjoyments and TyKu Sake, a chance to get in Barry's gif booth, music from DJ Sye Young of The DJ Firm.
So push yourself to do something fun, something scary and shake a couple of hands. Everything is better with friends. Check the classes here.
Let us know!
Did this post help you get closer to achieving one of your goals?