#Sweatworking Takes Over Orangetheory Fitness West Loop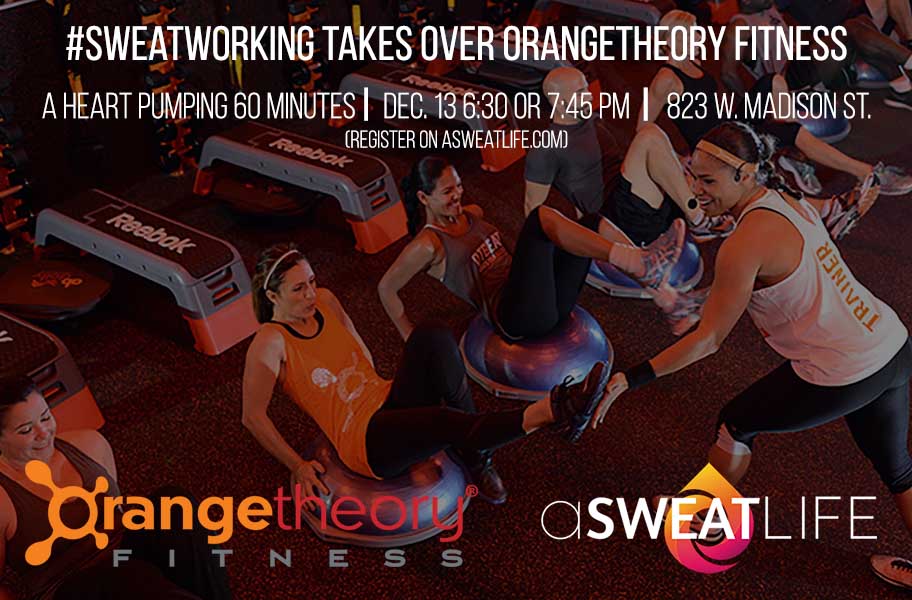 Get your tickets to 6:30 pm here.
Get your tickets to 7:45 pm here.
Just in time for the holiday season to kick into full gear, we're aiming to bring you as many opportunities to get out and experience all the ways to sweat in Chicago. A new and fun workout can be the best way to relieve any stress that this time of year might bring, so we're taking this opportunity to take #Sweatworking some place we've never been before, Orangetheory Fitness.
Orangetheory Fitness locations have been open in a few areas of the city for some time, but the West Loop location is brand new and we'll be some of the first to walk through the doors.
Named the "best one-hour workout in the country" by The Today Show, Shape Magazine and Men's Journal, we'll take on this mixed cardio and strength class that will utilize treadmills, rowers, suspension trainers and weights.
The secret to the Orangetheory Fitness madness lies in the heart rate monitor every class participant gets before starting the 60-minute class. It's used to help you find and maintain your target heart rate zone during your workout. The heart rate monitor then becomes your metric for success workout after workout and helps you get the results you're looking for in a workout.
At Orangetheory Fitness, we'll have room for just 24 so snag your spot before we sell out. We can't wait to try out this new workout with you!
What? #Sweatworking at Orangetheory Fitness for 60 minutes of cardio and strength intervals
When? Tuesday, December 13, 6:30 or 7:30 pm
Where? Orangetheory Fitness, 823 W. Madison St. Chicago, IL 60607
Why? #Sweatworking embraces a challenge and everything is better with friends!
And yes, there will be snacks.