#Sweatworking Takes over Flywheel and FlyBarre and Gives Back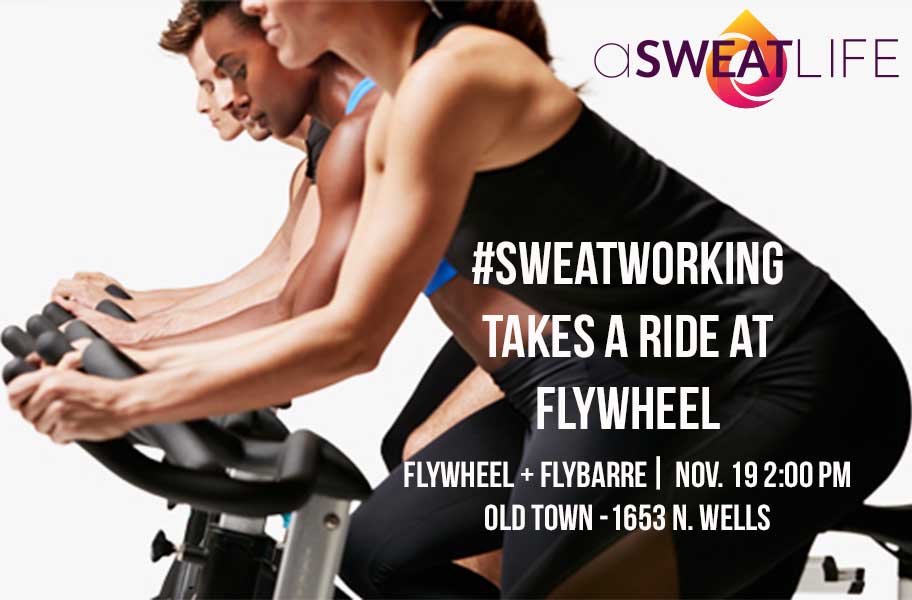 When we started #Sweatworking more than two and a half years ago (we're inching up on its third birthday), we knew that trying new sweaty things and meeting new sweaty people would be our favorite thing to do each month. So, as we've continued to create these events, you've started to voice where you want to go.
Attendees of past #Sweatworking events asked to take a trip to Flywheel Sports for years and we listened. And anyone can come to #Sweatworking, whether you've been before or not. In fact, we love newbies.
November 19, we're going to take over Flywheel Sports Old Town for a combo experience -Flywheel and FlyBarre. First, we'll take a ride in the stadium cycling studio followed by a taste of what you'll get in FlyBarre classes, the fast-paced barre fitness option available at Flywheel.
And if you've never been to Flywheel, you're in for a treat. The instructors get the beat pumping and take you through an experience that will make you feel like an athlete. Compete on the TorqBoard – a leaderboard that will push you to your limits – or keep your ride to yourself and opt to stay off of the TorqBoard. Whatever you do, the experience will be a memorable one, especially since the class is special for #Sweatworking. Never before has the studio combined Flywheel with FlyBarre to create a class like this.
And in case you CAN contain yourself, prepare to lose your mind with excitement. We're donating a portion of the proceeds to the Greater Chicago Food Depository. Because the world needs more good, fitness can be a catalyst for good and this organization – the Greater Chicago Food Depository – feeds those who are hungry right in our back yard.
When: November 19 at 2 pm
Where: Flywheel Sports, Old Town, 1653 North Wells Street
Why: Everything is better with friends, including and especially a tough workout at Flywheel.
How do I sign up: Sign up here! Thanks for asking.
Let us know!
Did this post help you get closer to achieving one of your goals?