#Sweatworking Gets MegaFit at Atlas Performance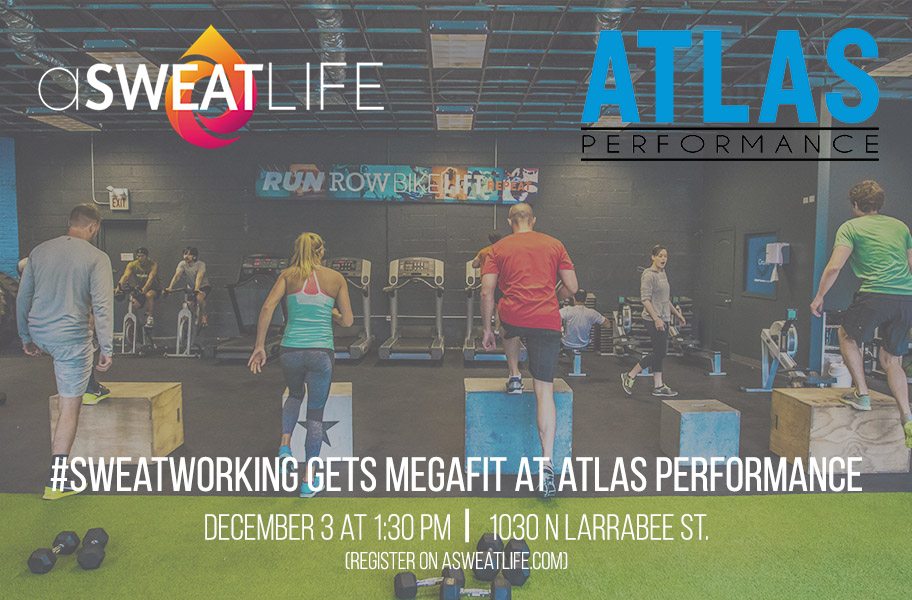 Here at aSweatLife, we believe any way you like to move is worthwhile, especially if it's with a friend. That's why we seek out every kind of workout and every kind of fitness experience that we can to bring to you for #sweatworking. And CrossFit is no exception.
CrossFit is a community of fitness-enthusiasts – or rather, fitness gobbler-uppers – in a league of its own. On December 3, we're bringing the #Sweatworking party to Atlas Performance for a mash-up of everything this CrossFit box and performance space has to offer.
We're taking on a MegaFit class at 1:30 pm on December 3. What's MegaFit, you ask? It's everything – that's what it is. You'll get a taste of everything Atlas has to offer – a CrossFit workout in the CrossFit box and a MetCon-inspired workout in their open gym space. And if you hear, "CrossFit" and think, "Run for the hills," worry not! This workout will accessible for all fitness levels and will not include Olympic lifting.
The Atlas Performance and CrossFit spaces hold a lot of different types of classes –  everything from CrossFit WODs (Workouts of the Day) to Circuit Fit, to Kettlebell to MetCon (Metabolic Conditioning) classes.
The CrossFit box takes up one half of the gym and that's where the WODs are held, like any other CrossFit gym. These WODs focus on building strength and efficiency through lifting heavier weights, especially incorporating barbell work.
Among the non-traditional CrossFit workouts that Atlas offers, the MetCon class is truly one of a kind – and intensely challenging if we're being honest. MetCons typically include some sort of timed component and higher intensity work and don't utilize barbells. Atlas' MetCon classes are unique in that they bring some elements of CrossFit into a more familiar group fitness atmosphere. The class strings together three smaller MetCon workouts with other metabolic conditioning mini-workouts they've made up for the day. You build endurance and stamina through mini-workout after mini-workout. And trust us, you still lift heavy weights.
Where does #Sweatworking come in? When you take CrossFit (light) and add a signature MetCon workout to create an all-encompassing MegaFit class in one of our favorite spots in the city, you get the ultimate #Sweatworking experience.
We can't wait to see you at 1:30 pm December 3. And if you need to read up on your CrossFit terminology, Greatist defined some CrossFit lingo and terms.
All the details:
When are we doing this thing?! Saturday, December 3 at 1:30 pm
Where do I go? Atlas Performance, 1030 N Larrabee St Chicago, IL 60610
How much does it cost? $20 if you buy a ticket solo, $15 when you purchase with a friend
How do I snag a ticket? Right here. Can't wait to see you there!