#Sweatworking Takes on a HIIT workout + Brunch at SPiN Chicago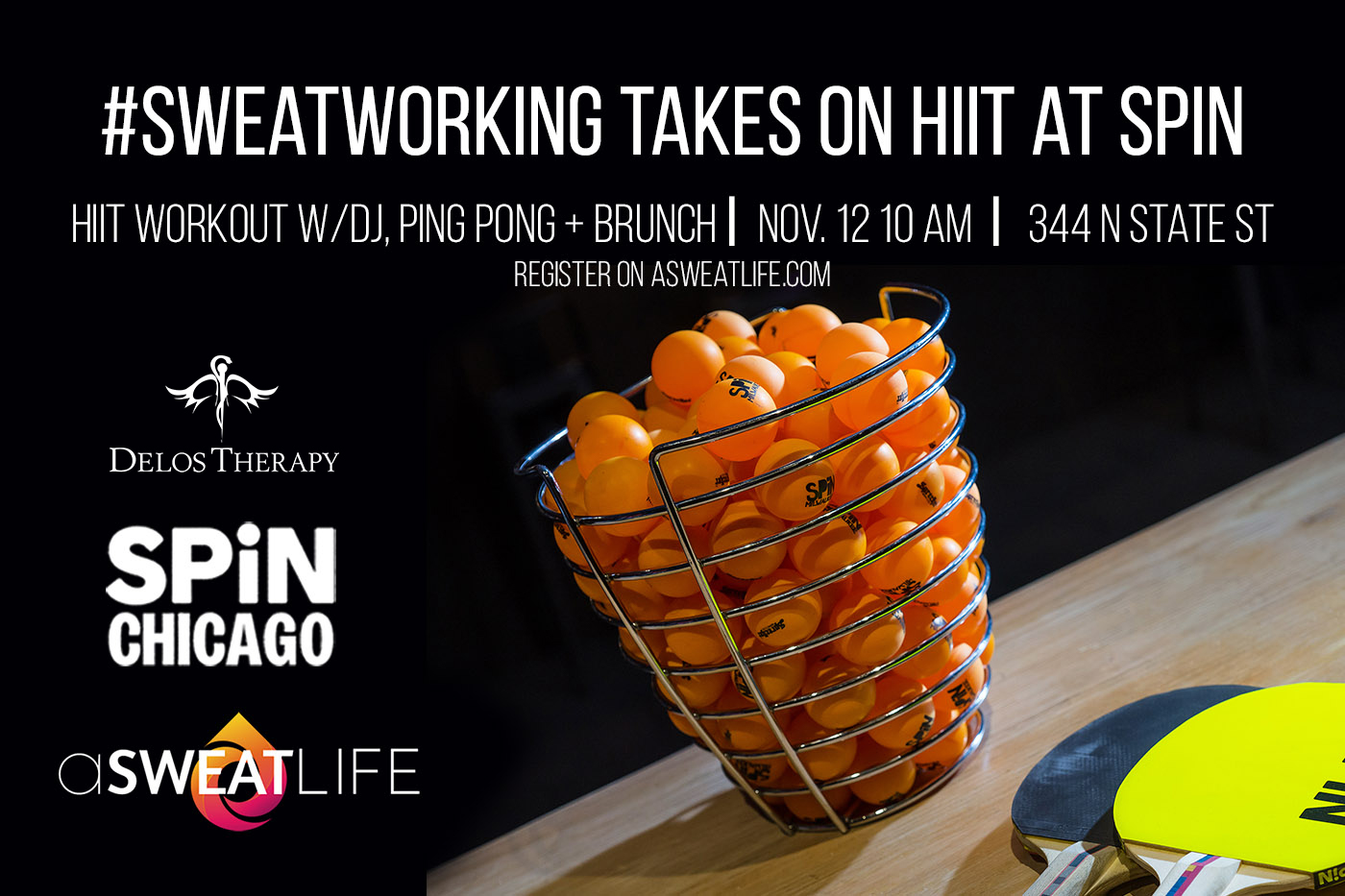 (Get tickets here)
Say what? Yes, you heard correctly. SPiN Chicago and aSweatlife are teaming up for one of the most unique #Sweatworking events we've hosted to date.
SPiN, launched in New York and recently made a home in River North, is putting ping pong back on the map. It comes with multiple bars on two floors, a fully stocked restaurant, 20 tables, an area with stadium seating for tournament nights – and the space is all ours November 12 for a full #Sweatworking takeover.
By the time November rolls around, a Saturday morning that kicks off with a high intensity workout and ends with brunch and all the ping pong you can handle will be just what the weather doctor ordered.
And, not that you would ever forget him, but DJ Sye Young of the DJ Firm is coming back to amp up our morning. <swoon>
We'll HIIT it and SPiN it starting at 10 am. Following the workout, we'll get a quick demo from two former members of the U.S. national ping pong team, one of which is in the Table Tennis Hall of Fame, Eric Owens and Mimi Bosika. When these business partners and friends aren't busy running Delos Therapy, they're table tennis pros at SPiN. They're going to give us some tips and teach us a new way to play the game – around the world.
Regular rates to rent a table can be up to $39 for an hour during prime time, so we're pretty pumped about this deal to experience SPiN together.
If ping pong isn't your jam but brunch is, the SPiN kitchen is whipping up brunch for anyone who'd like to purchase, so you'll see your normal ticket options: $20 for a ticket, $15 for tickets in sets of two or more and tickets for your two lunch options.
#Sweatworking will wrap up around noon, but you're welcome to stay, play and hang out as long as you'd like afterwards.
We can't wait to bring #Sweatworking to SPiN and hang out with all of you on November 12!
Where: 344 N State St, Chicago, Illinois 60654
When: November 12 at 10 am
Why: Because when we can get all our aSweatLife friends together for a workout, some good food + sports under one roof, we know it's going to be a pretty amazing time.
How do I sign up? You can register here! Thanks for asking!