#CarpeMonday with aSweatLife and Sweat Your Way to a Great Week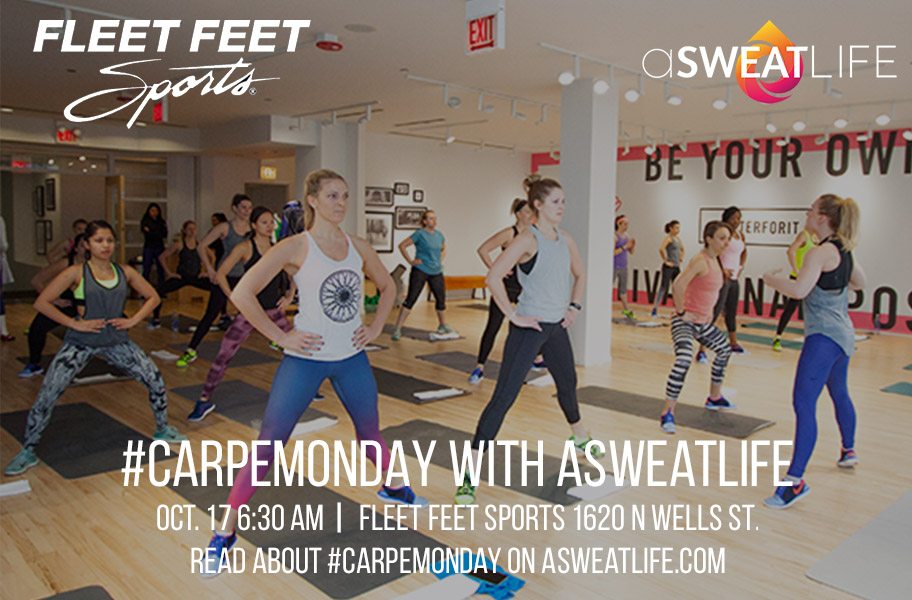 We might not be able to fully rid you of the Sunday Scaries but we're pretty passionate about setting you up for a successful week any way we can. And sometimes, a good sweat session is just the thing to spring you into gear for a successful Monday. A successful Monday leads to a more productive week.
At least, that's been our experience so far. We wanted to find a way to consistently start our week off on the right note – with a shot of positive energy. So we decided to do something active first thing Monday morning to get us excited for the week ahead. And we couldn't think of a better place to do that than in a fitness class. We've been calling our start to the week #CarpeMonday.
After testing it out for a few months, we decided it was a pretty powerful idea. So we've partnered with Fleet Feet Sports to make #CarpeMonday a thing – for real. And make it available to everyone who wants to join in on the fun.
Meet us this Monday morning, October 17 at Fleet Feet Sports on Wells Street for a bodyweight workout with some good vibes and good people and get on your way to your best week yet. It's that simple!
How do I sign up?
Here!
Where do I go?
Fleet Feet Sports at 1620 North Wells Street. We'll be in the multipurpose room at the back of the store.
How much does it cost?
$5. This contribution will go to Chicago Run, which implements free physical activity programs in 43 Chicago Public Schools. Chicago Run was founded to fight against childhood obesity and fuses digital learning, cross-community collaboration, nutrition and neighborhood pride into its physical activity programs which all contribute to a more engaged student body.
We can't wait to #CarpeMonday with all of you. See you at 6:30 am –  bright and early Monday morning!