#Sweatworking Takes an Adventure Sponsored by The North Face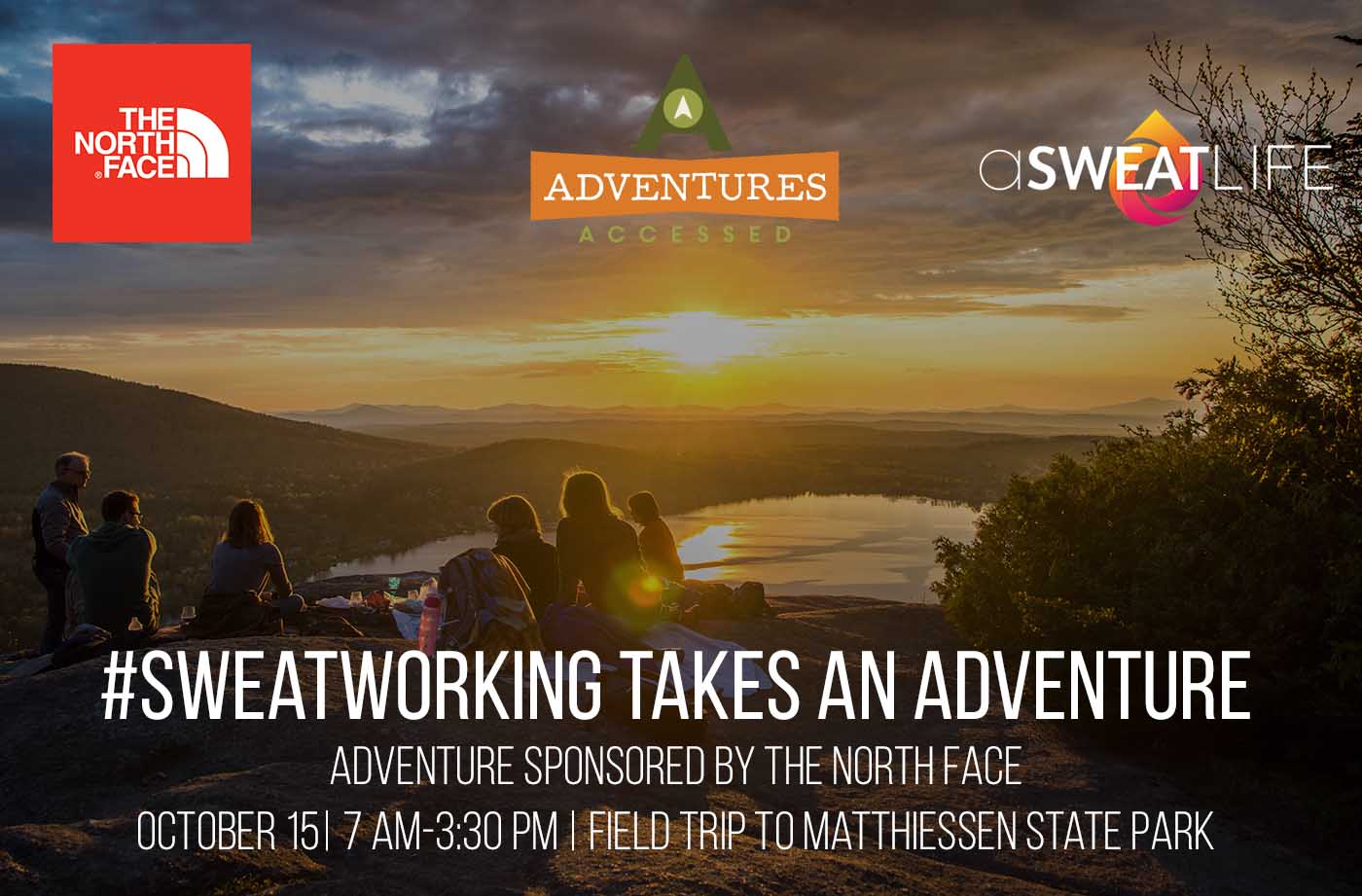 (Sign up here)
We're always looking for ways to try new things and tap into the happiness that novelty and connecting with other other people brings. We thought that it was about time that we hopped on a bus and got the heck out of the city for a day. The North Face is going to help us do it.
Bonus: We're able to offer tickets for a steal of a deal. $40 for a single ticket, $30 in pairs because The North Face sponsored this adventure.
We'll converge at The North Face store in the John Hancock building and meet our guide, Aaron, of Adventures Accessed. Aaron makes his living and devotes his life to knowing, loving and sharing nature and adventure. He also takes city folks out for extended adventures to get them way out of their comfort zones. We could think of no better leader for this trip.
Before we take off on our charter bus to Matthiessen State Park, we'll also learn a little bit about the killer gear that can take you from city slicker to trail champ at The North Face.
What's Matthiessen State Park? You may have heard of Starved Rock State Park – Matthiessen is a lesser-known park that features the same canyons, streams and prairies that visitors rave about at Starved Rock, but fewer people to get in our way.
And it we're lucky, we just might catch some fall colors.
Here's what the day of adventure will look like:
7 am: Get checked in at The North Face Store and gear up
7:30 am: Depart on our comfy charter bus
7:30-9:00 am: In-transit to Matthiessen State Park
9:00-12:15 pm: Adventure begins after the group gets instruction from Aaron on hiking and what to expect. On the hike, there will be opportunities to snap photos, surprises aplenty and a stop for a bodyweight workout. (Because it's still #Sweatworking, after all. We are nothing if not a sure bet on a great workout!)
12:15 pm: Lunch (you can either order lunch by selecting a ticket option below and we'll bring that for you, or you can pack your own)
1:00-3:00 pm: Bus back to the city
After the adventure, you'll be invited to grab a free gift with purchase and a special offer only for aSweatLife. By our calculations, you're probably going to need some new gear to get through the winter, so this couldn't have come at a better time.
And, to make this day even more green, you can bring in clothes or shoes to recycle through The North Face's Clothes The Loop program.
Get answers to your questions: 
Do I have to be an expert hiker? Absolutely not. We'll be putting one foot in front of the other just like you. We're working with a guide to help with the tough stuff.
What should I wear? Layers, please! Wear something that is comfortable to move in and layer up to prepare for the shifts in weather that we know so well in Illinois. A pair of running shoes will suffice for the hike – although they'll likely get dirty, so make sure they're not your freshest kicks.
What should I bring? In your backpack, you'll want this stuff:
Extra socks
Water bottles – we'll have some, but you'll want your own supply as well.
Gloves and a hat (because you literally never know)
a rain jacket, just in case
Snacks (we'll have snacks for you, but if you have any special dietary restrictions or needs, make sure you're covered)
Ready to sign up? Do it here: