#Sweatworking Goes Deep (Deep Stretch, that is) at Yoga Six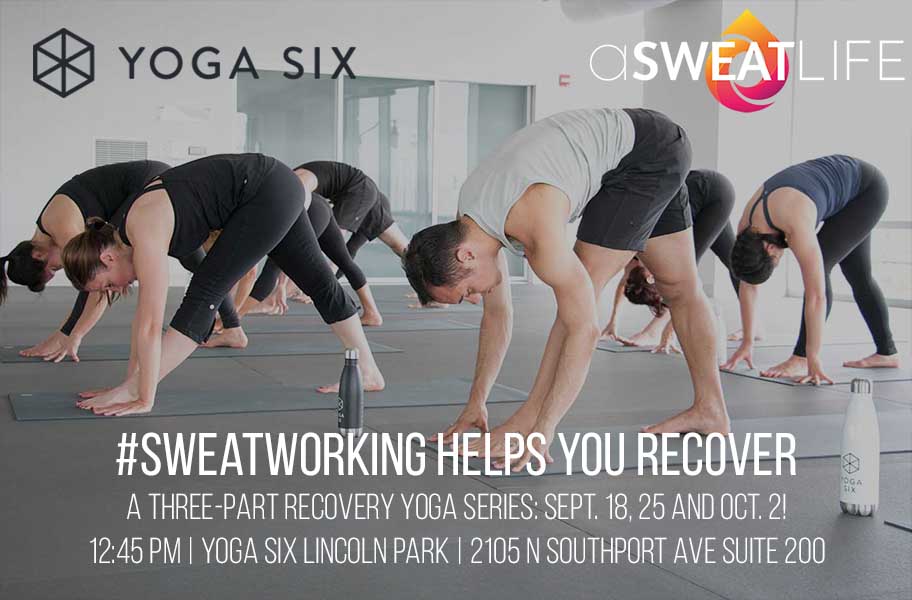 Ask yourself a question: After your workout, do you stretch? And no, we don't mean a 30-second quad stretch standing outside your house before heading back inside to shower. We're talking a deep, recovery stretch.
If you're into regular exercise or you're training for a marathon – it is training season, after all – any repetitive movements can cause your muscles to tighten, little by little. Taking the time to stretch all of your muscle groups, big and small, will make sticking to your training routine and performing activities of daily living more a lot more enjoyable (or at least less of a struggle).
Runners who have been pounding the pavement on the lakeshore path all summer are especially prone to experiencing Iliotibial Band (IT Band) Syndrome, shin splints, chronically tight calves, plantar fasciitis, achilles tendonitis and tight hamstrings (just to name a few issues). But it's not just runners, everyone who works out regularly and in repetitive ways may experience similar issues.
So we worked with Yoga Six to create a #Sweatworking series that's a double whammy: we're celebrating National Yoga Month and helping you wrap up marathon training season. We're hosting three deep stretch and recovery yoga sessions that will compliment your workout regimen or training schedule.
We'll take #Sweatworking into the airy studios at Yoga Six Sept. 18, 25 and Oct. 2! Perfect timing for you marathoners – these are the three Sundays leading up to your big 26.2 when you'll be tapering and preparing for that big day.
The sessions will build on each other. In the first two Deep Stretch classes, the instructor will guide you through a series of poses that focus on key areas of the body susceptible to tightness and pain for runners, split up between the two classes on 9/18 and 9/25. The workshop will be a culmination of all of these poses and deeper variations of each, with more time to break down how each area of the body – primarily the low back, core and hips – work together, and how improving mobility and flexibility in one area directly effects another.
Yoga Six offers six types of classes at all three of its Chicago locations  (South Loop, Gold Coast and Lincoln Park) – boot camp, deep stretch, flow, hot yoga, power yoga and vinyasa. We'll be taking over the Lincoln Park location to enjoy the deep stretch class as well as an additional workshop created especially for our #Sweatworking series.
As always, you can expect that these #Sweatworking events will have a lighthearted atmosphere packed with people looking to try something new and meet some new friends in the process. We hope you'll join us for one, two or all three of the Yoga Six series in September!
Dates and ticket options are below!
When? The three Sundays leading up to the Bank of America Chicago Marathon.
September 18 at 12:45 pm
September 25 at 12:45 pm
October 2 at 12:45 pm
Where?
Yoga Six Lincoln Park, 2105 N Southport Ave Suite 200, Chicago, IL 60614
Why?
Because recovery is just as important as our high intensity workouts, and we could all use a little time to decompress and wind down at the end of (and to prep for the beginning of!) the week.
How do I sign up? Great question! Thanks for asking.
Get tickets to the individual events here:
Grab a pass to the entire series here: