We're Taking #Sweatworking onto Standup Paddle Boards August 4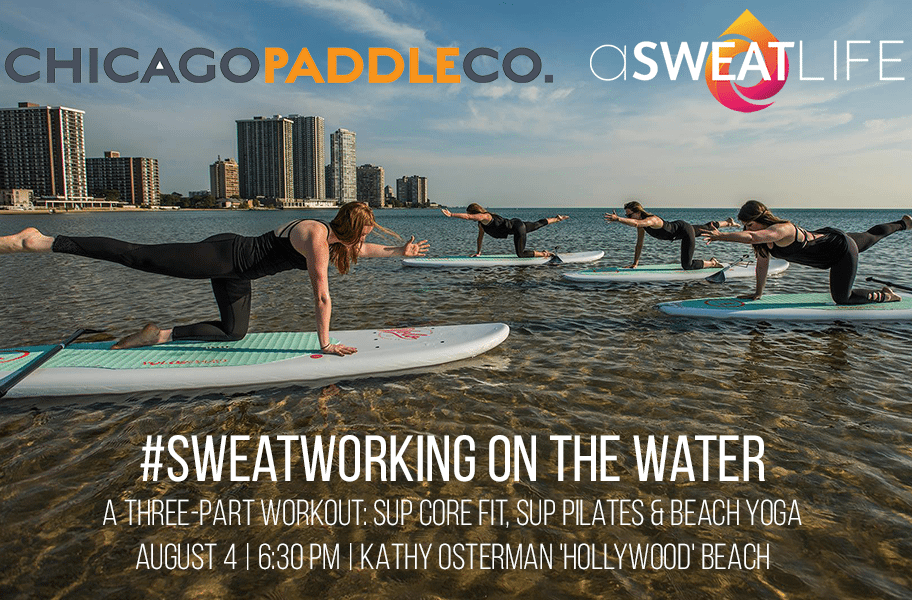 Each month, asweatlife.com works to find ways to get you out and working up a sweat in new and interesting ways. We want to make you comfortable trying something new, all while meeting someone new. That's why we started #Sweatworking.
We work with partners to create experiences that are true to each gym's niche in the world of fitness, all while creating something that's special for you. August 4, in the middle of Chicago's precious summer, we're working with Chicago Paddle Co. to get you onto the beach for a three-part workout: beach yoga, SUPilates and SUP Core Fit. We'll rotate between those three workouts on the stand-up paddle boards and the beach for a one-of-a-kind evening.
Here's what you can expect from Chicago Paddle Co.'s unique classes both on and off the paddle boards:
SUPilates offers total body conditioning and balance training with a workout that makes you feel like you've walked on water. Using your board as a Pilates mat, you will experience a circuit of leg strengthening, upper body toning and core conditioning exercises that alternate with brisk bursts of paddling.
SUP Core Fit will add resistance bands to your standup paddle board to incorporate fitness and low-impact core strengthening to your leisurely paddle. These resistance bands will help you work from head to toe, all while balancing on your board.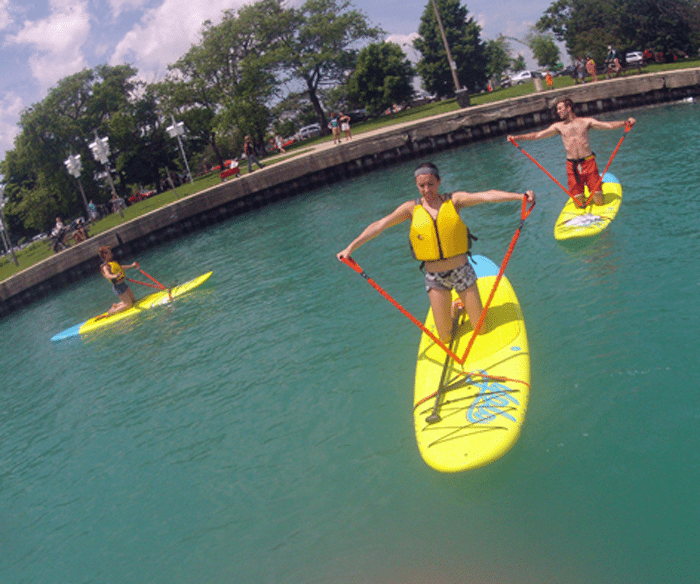 And, to make this evening even more perfect, you'll round it all out by rolling out your mat to do sun salutations as the sun goes down on Hollywood beach.
Get tickets with a friend or two (or three!) and save $5 each.
What: #Sweatworking is aSweatLife's way of encouraging you to get out and try new things and meet new people. It's really low pressure and always a great time. August 4, we're working with Chicago Paddle Co. to embrace the summer.
When: We'll workout August 4 at 6:30 pm, (we moved this to the weather date due to waves and thunderstorms), but if there's a delay due to weather or waves, we'll reschedule for August 4, same time and place.
Where: Chicago Paddle Co. is at 5800 N. Lakeshore Dr., but it's actually tucked back – just South of the Kathy Osterman Beach House between Bryn Mawr and Hollywood Avenue.

Will we see you there?
Let us know!
Did this post help you get closer to achieving one of your goals?