Chicago Trainer Profile: Liz Cuttica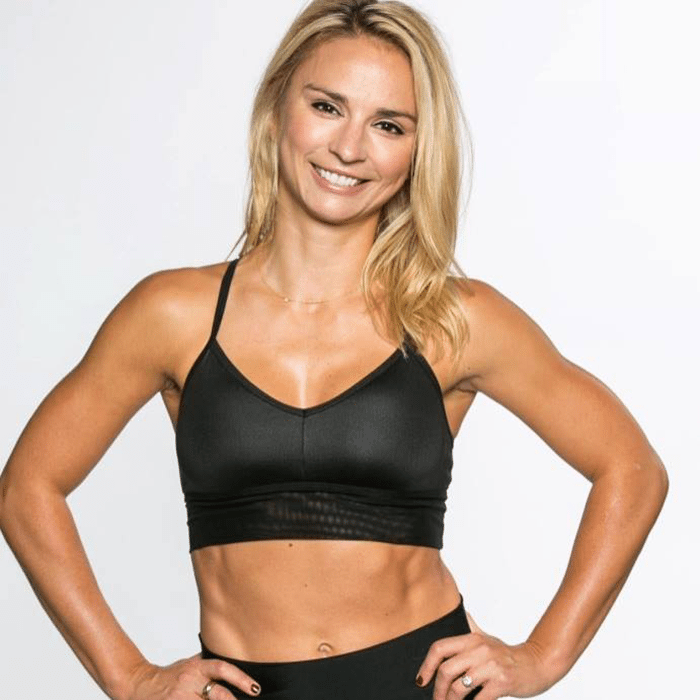 Everyone has "that person" that they met in the beginning of a new stage in their life. Whether it be the kind R.A. who took you around campus your first week of college or the more experienced employee who took you under her wing at your first job, those people hold a special place in all of our hearts. For me, it was Liz Cuttica.
I had just quit my job in PR and took a chance on a job in the fitness industry, so naturally I fell right into a role at Lululemon. I still remember the first time I met Liz; she walked me through training before my first day in the store. She was warm, friendly and had a zest for life that I wasn't used to seeing. She took my fear of the unknown and transformed it into excitement for what was ahead. And now, two years later, and with dozens more accomplishments under her belt, I couldn't be happier to share her story with aSweatLife. She is a Chicago trainer you need to know. Not just for her rockin' core, but for her passionate heart.
LL: Tell us a bit about yourself. Where you're from, where you live now, what you're up to!
LC: I grew up in Hinsdale and now I live in the Gold Coast with Brian, my husband of eight years and cat, Packy.  I love where we live because I am less than a 10-minute walk to my two favorite studios – Exhale and Studio Three. When I'm not working, I'm on the search for new music, running on the lakefront, eating pizza or waterskiing in Michigan. In December we will be welcoming our daughter into the world; Brian and I couldn't feel more blessed and grateful right now.
LL: Where do you teach and what do you teach? Can you explain the workouts and studios a bit?
LC: I teach Core Fusion Barre and Core Fusion Cardio classes at exhale and Peloton Cycle at Studio Three.  
Core Fusion is the best and most balanced full body workout. It is low impact and extremely safe because form and technique take priority over movement and speed. Core Fusion Barre is the only barre workout that is nationally accredited and has the most in-depth teacher training of any discipline I know. It took me eight months to complete my training before I taught my first class because they focus so much on proper alignment and making sure we can give hands on adjustments. Core Fusion Cardio is intense but safe for all levels. It's 45 minutes of mountain climbers, plank jacks, kickboxing and barre. You will have a puddle of sweat on your mat and feel like a million bucks when you leave.
Peloton Cycle is newer to the scene. There are only two Peloton Cycle studios in the world.  The New York studio has been around for two years and we opened Chicago six months ago.  Both studios stream live broadcasts to at-home riders that have purchased a Peloton bike. There are almost 200,000 at-home Peloton riders logging into our classes, which is just incredible and hard for me to wrap my head around. The style of a Peloton class of course depends on the teacher, but we ride to the beat of the music and have the technology on the bike to monitor your cadence and RPM's. Most classes are 45 minutes and we strive to create a non-intimidating environment. All different levels are welcome and we make it clear that it's your ride, our direction is a guide, and the most important thing is that you are giving it your personal best.
What made you decide to be a fitness instructor? What was your ah-ha moment?
LC: I always wanted to be a teacher growing up. I studied Elementary Education and then became a preschool teacher after college. I liked the teaching aspect, but I didn't love what I was doing. I'd grown up doing ballet so I was drawn to a new barre workout I'd heard about. After taking a few classes I decided I'd try teaching. I loved teaching barre and it wasn't long before I left my preschool job so I could teach full time. Once I realized this was going to be my career I wanted to get the best training possible. I was fortunate to be accepted into teacher training at exhale and train with Fred DeVito and Elisabeth Halfpap, who are the founders of exhale and are considered the creators of barre as we know it today. I am so grateful that I was able to learn from them and have been expanding my career in fitness ever since.
What's your favorite way to workout when you're not teaching?
LC: Core Fusion Barre!  It's what's keeping me feel strong and safe during my pregnancy.  
LL: What's your favorite Saturday summer activity in Chicago?
LC: Going for a run on lakefront in the early morning before everyone is awake.  The sunrise over Lake Michigan always takes my breath away.  
LL: If you could eat one thing for the rest of your life what would it be?
LC: Pizza.  
LL: Tell us one fun fact about yourself.
LC: I actually have the biggest fear of public speaking. I get so nervous, my face turns red, my palms sweat and my heart pounds. The only time I am not scared to be in front of people speaking is when I am teaching.  I feel calm and get an extra boost of energy!
LL: What's your favorite workout song to pump up your classes?
LC: Remember the Name – Fort Minor. Notorious Thugs – Biggie Smalls. Never Give Up – ATB. I Said – deadmau5. Bang That – Disclosure.
So the next time you need a dose of good old fashioned hard work with a bright-eyed blonde beaming from the front of the class, find Liz. She will make you fall in love with fitness. And then take you out for pizza. And aren't those the only two things we all really need?