Core Cardio Circuit at Core Power Yoga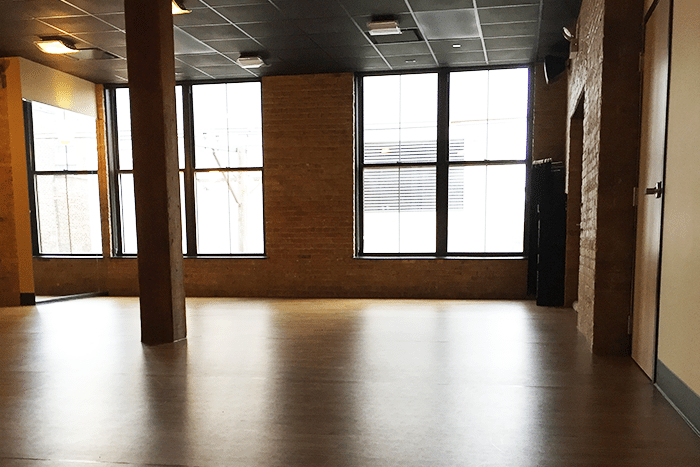 You may be familiar with Core Power Yoga as one of the most accessible hot yoga studios in the city. With more than 20 studios in the Chicagoland area, you've probably rolled out your mat there a few times or know someone who has.
If you've taken a sculpt class or one of the boot camps, you'd know that Core Power has the equipment to offer more than just a hot yoga class. Core Power Yoga is taking its love for a great total body workout a step farther with the creation of Core Cardio Circuit classes, new to many class schedules throughout Chicago.
I'll be the first person to tell you a yoga class by itself can be incredibly intense without any weights, but since I've been through one of the Core Power boot camps in the past, I was intrigued as to how this class would compare to other yoga boot camps, as well as other HIIT classes in surrounding group fitness studios.
Here's how Core Power describes the class:
"It's time to turn up your tough. Inspired by our two-week BootCamp program, this class is set to high-octane music and combines strength training with high-intensity interval training (HIIT) to help tone your body, increase cardio endurance and boost metabolism."
Overall, it was a fantastic full body workout packed into 50 minutes that flew by first thing in the morning.
Similar to some other boot camp-style classes, the room is broken into stations. This particular format has you working against the clock. We did 40 seconds of each exercise at the station (three exercises at the station) with only a three- to five-second rest between exercises. There were four stations total which we went through a total of three times with cardio blasts in between. Clearly we packed a lot into our time.
Half the stations were bodyweight exercises, and half used either dumbbells or bands. None of the moves were too complicated to perform, since we had to transition in and out of them so quickly. The whole class seemed fairly understable to a beginner, although it was still difficult to complete for any fitness level.
Although the room wasn't heated during this class, it was in the same room as a previously heated Sculpt class so it was warmer than other boot camp classes I've taken in a while. I personally loved not having a fan blowing in my face or dealing with getting cold too quickly if I didn't keep moving the whole time.
The biggest element of this class that stood out to me was setting an intention before the workout. Instructors often offer this when a yoga class starts, but not usually in other group fitness settings. What's more, we shared our intentions out loud, so our partners and our instructor knew what we were working towards. Taylor, my instructor at River North CPY, reminded me throughout my workout of my goal to surprise myself in what I can do, and it made me push that extra little bit further each time she did. Especially when it came time for the cardio blasts in between rounds, when they turn the lights down lower and crank the music up, I had to tap back into my intention to keep me going for that killer 2 ½ minute non-stop cardio break.
The smile here is deceiving. Taylor kicked my butt!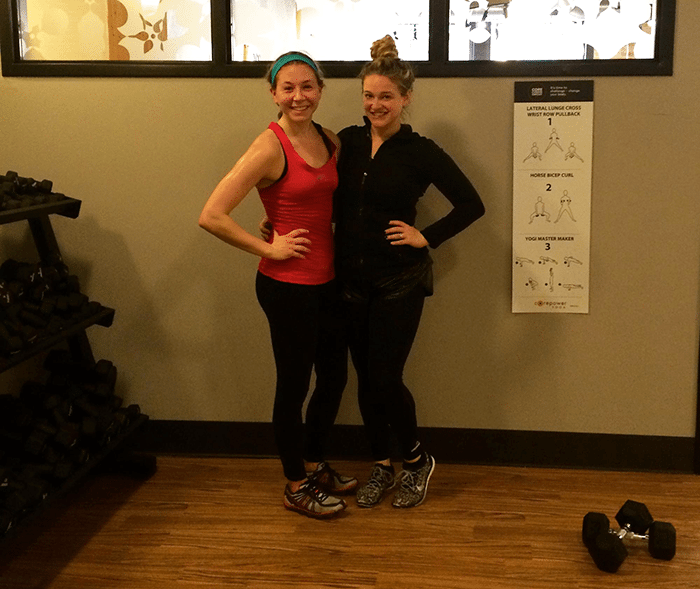 I had no idea how much I'd sweat, or how hard I'd work by saying my intention aloud to the class. It was an incredible way to start the day and I felt the effects of it for the rest of my day at work, feeling more productive and wanting to "surprise myself" in other ways as well.
I went to Core Cardio Circuit at the River North location of CPY, but check other schedules to find out when and where the closest one to you is offered. If you do try one out, let me know what you thought about it in relation to the other classes offered at Core Power and other cardio circuit classes you've taken!
Be sure to wear sneakers and bring water and a towel with you. No mat necessary!