Fit App Review: Endomondo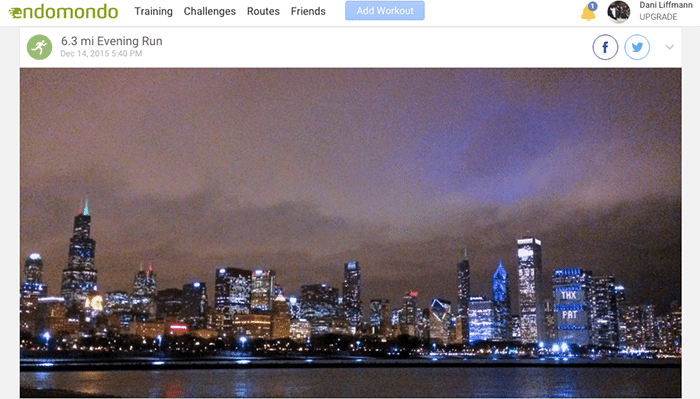 Growing up, my dad and brother loved to compete to see who could log the most ski days in a winter or the most runs in a day. They love to ski fast and were always trying to figure out the max speed they were hitting while bombing down our favorite trails. When we got our first smartphones, my dad discovered Endomondo, a fitness app that let him track his ski days, with a little map that tracked every run and – most importantly for him – showed his max speed as captured via GPS. While my dad was thrilled that he could finally prove to my brother once and for all that he was the fastest skier, I realized he uncovered an app that could do way more!
Track nearly every sport
Skiing is just the beginning of what Endomondo can do. I most commonly use it for running or circuit training, but the list of sports to choose from is enormous. Whether you love walking, hiking, rock climbing, kayaking or roller skiing, Endomondo can track just about everything. It only tracks GPS for distance-based exercises, like running, but all of the other features work for tracking workouts at the gym like weight training or treadmill running by helping you keep track of the number of days worked out and the calories burned.
The statistics feature for the free version lets you see the total number of miles, duration and calories burned by sport or in all sports by day, week, month and year. Cyclists can even differentiate between biking for "sport" versus "transport" so that riding their bike to work doesn't factor into these statistics. You can also see your personal best 5K and 3 miles by sport in the free version.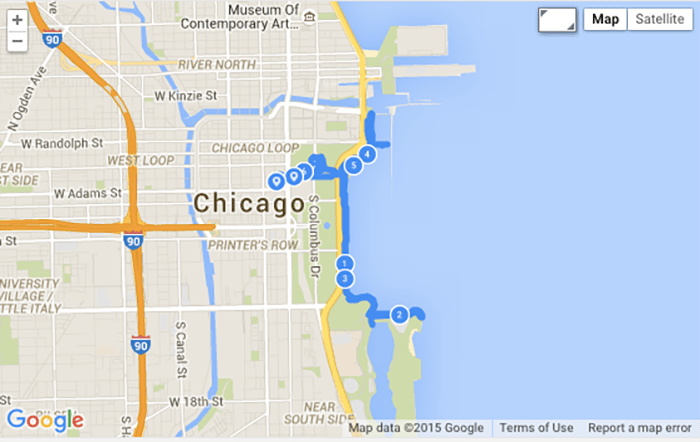 Use GPS to measure pace 
Most fitness tracker apps use GPS and plot your route against the map. Endomondo is unique in that it aggregates speed and distance data across workouts to test your improvement or train for a race. One of my favorite features is the "Personal Bests" feature on the homepage, which keeps track of your best time ever at standard distances like 1 mile, 5k, 10k and half marathon, or best distance in 12 minutes or one hour in every sport you track using the app. Finishing a workout and seeing the little trophy indicating a new PB is one of the best feelings!
Within each workout, you can see your splits at each mile, or you can see your best distances within a workout. For example, if your fastest mile ever was from mile 1.5 to 2.5 of a longer run, Endomondo will show you that time and highlight in red where you hit that PB on the map.
Endomondo also has a number of set routes that others have created, or lets you set your own route. Then, you can track how well you perform over time on the same route against yourself or others. It's also a great way to decide where to run in a new city!
Measure exertion using heart rate
If you have a fitness tracker that measures heart rate, Endomondo can connect to the device to get data on your heart rate. It's easy to set up devices like the Polar H7 or Mio Alpha within the app via Bluetooth. It uses that data in a couple of ways. First, it uses the minimum and maximum heart rate in an equation with the type of exercise you were doing to calculate calorie burn. Then, you can map your heart rate data over time through your workout (to see if that cardio burst thirty minutes into class did its job of spiking your heart rate), or by distance. The distance feature allows you to check if you've been running at a constant heart rate instead of a constant speed, which is a helpful way to train for races. You can also hover over a specific point in time where you see a spike or dip in heart rate (or speed) and it will show a little dot on the map. This is helpful to understand where the hills are on your usual run that are pushing your heart just a little bit harder than usual.
(For the other data nerds out there, here's a little trick for getting the heart rate data from your FitBit HR. Track your workout within the FitBit app and then download a TCX file from the "Activities" page on the FitBit website. You can then upload that file under "Add a Workout" on the Endomondo website.)
FitBit users will also love that you can link Endomondo to your FitBit and it will automatically add your workouts to your log and calorie count on the FitBit app!

Endomondo's display of heart rate, pace and altitude from a 5K run
Make your workouts social
Endomondo allows you to add your friends and share your workouts with them. You can upload photos (which I love to do on really gorgeous runs!) and share data like your personal bests. I find this to be really encouraging so that I have a community around me cheering me on as I log training runs before a race.
Perhaps my favorite social feature is that if you notice a friend is currently exercising with Endomondo, you can send them a "peptalk" – just type and enter a note and Endomondo will read it out loud to them through their headphones or speaker. When I ran a 10K this summer, my fiancé and best friend sent me lots of love and encouragement via Endomondo. Even though the voice was the Endomondo robot, the sentiments meant so much to me during my race. I also love to use this feature if I get home and realize my fiancé is out running so that I can tell him that I'm home or ask him to pick up milk on his way back, without making him stop running to read a text.
Upgrade to premium for extras
All of the features I discussed are available with the free version of Endomondo. Endomondo Premium offers even more features, including training plans, interval training programs and extra statistics (like heart rate zone analysis, training volume and change in average pace over time), plus 24-hour support on weekdays and no ads. I haven't had the need to upgrade just yet, but I can see it being really helpful while training for a big race.
Have you used Endomondo? How do you track your workouts?