Active City – Cape Town, South Africa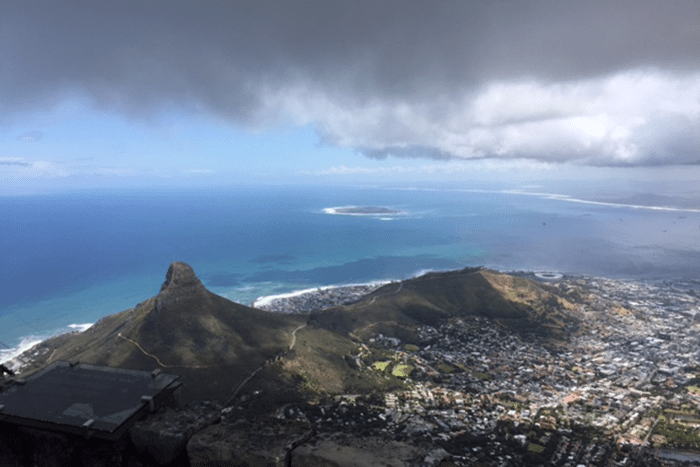 Known for its rich culture, breathtaking landscape and exotic wildlife, Cape Town is one of the most magnificent cities in the world. Although Cape Town was founded in 1652, it wasn't until 1994 that its current democracy was established. Even though the country is still young and still learning in so many ways, the pride and love the people have towards the city is immense. Cape Town is also becoming a mecca for food and wine. With several award winning restaurants (Test Kitchen, The Flagship, Tasting Room and even American favorite Nobu) and wine country being a mere hour away, it left me wondering how am I going to visit this city without gaining 20 lbs? Luckily (or unfortunately if you're feeling lazy) much of the Cape Town's natural beauty comes with a built in workout for you!
The Cape of Good Hope is the most South-Western point in South Africa, and at Cape Point it is believed you can see the line where the Indian Ocean meets the Atlantic Ocean (note: my tour guide insisted this is crap, that there is no way you can actually see two oceans come together). However, to get to the top of the lighthouse you are looking at a pretty steep climb. With a mix of vertical path and hundreds of stairs, you will notice yourself breaking a sweat and panting by the time you make it to the top. But once you're up there, the views are absolutely stunning. Just be sure to keep any snacks you bring close to you, the baboons in the area have been known to pick-pocket tourists for food.
Table Mountain sets the backdrop for Cape Town. The mountain is about 3,500 feet above sea level and is flat on the top (hence the name 'table'). There is a cableway that takes you to the top, or you can choose to be brave and complete the two and a half hour hike to the top. Although the hike is challenging and definitely gets your heart racing, it is not overly difficult and can be completed by most fitness levels. Once at the top, the view is breathtaking. One side is a panoramic view of the city, the port and the ocean while the other provides a contrasting view of natural habitat mixed with the coastline – both equally impressive. When you're ready to head down, you have the option to hike back down, repel down or casually buy a ticket to take the cableway down (no shame, I mean, the hard part was the hike up right?)
Sea Point Promenade provides seven miles of uninterrupted coastal running. Although Cape Town is typically hilly, this section is particularly flat. The promenade is paved and free from cars, allowing you to focus on taking in the beautiful Atlantic coastline. Bonus points if you can get an evening run in, the colors from the sunset are vibrant and light up the city in the background. Keep in mind this area is home to many charming bars and restaurants, so your run may become a boozy stroll.
Rugby is one of the most popular sports in South Africa and you can find a pick-up game of 'Touch' Rugby at almost any park in Cape Town on the weekends. If you are feeling particularly brave (which I wasn't), ask to join. The friendly residents of Cape Town will always take on an extra player or two. If you'd rather just be a spectator (like me), it can be quite entertaining to watch. Rugby enthusiasts also take much joy in explaining why rugby is superior to American football. (writer's note: although they call it 'touch' rugby, it's more like mild-to-medium contact – you've been warned)
If you are looking for more traditional fitness options, Cape Town is home to several CrossFit, yoga and boxing gyms. Also, most hotels provide gyms with the basic equipment needed to break a sweat. Extra challenge: most treadmills were in kilometers and weights in kilograms … there's your mental workout.
Believe me, I'm not the biggest fan of carving out time to get my fitness on while on vacation – however if you can mix it in with sightseeing and natural beauty, it doesn't seem as bad. Cape Town offers several options, both natural and in-gym, to help maintain your active lifestyle while visiting. And once it's done, you can enjoy that extra dessert/wine/biltong guilt free.