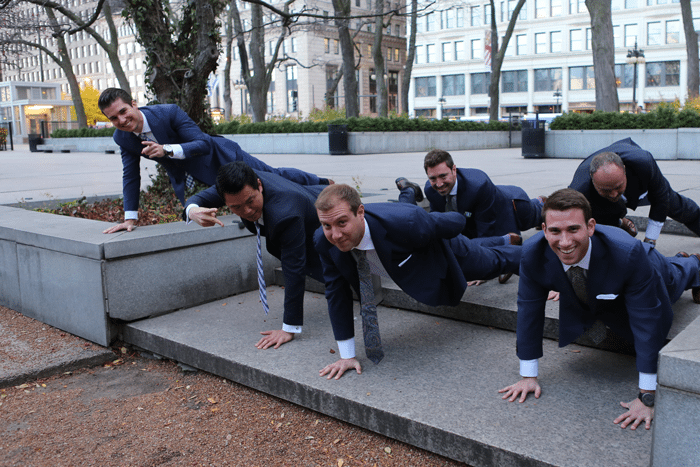 There's been a gradual shift in group fitness classes across the country. Maybe it's CrossFit or maybe it's the begrudging awareness that yoga can help to reverse muscle tension. Whatever it is, it's bringing men onto rubberized gym floors to do the exercises that their microphone-wearing instructors demand.
One unexpected cause of this male invasion is ClassPass, the multi-gym unlimited membership for fitness studios with a website and app featuring entirely female imagery.
As both an instructor and an attendee, I started to notice groups of men showing up, stating their last names at the front desks of the studios that they can visit up to three times each month and adding, "I'm on ClassPass." Together, they'd stroll into class and pick up the heaviest dumbbells they could find. These are the men of ClassPass. They come in troops and they're here for a good workout.
At home, I've been studying one such man.
"I decided to join ClassPass after one of aSweatlife's Sweatworking events. I've always been into working out, I just never thought I'd enjoy the group workout or they wouldn't be geared towards men. I was dead wrong," said Justin Cohen, 32, Chicago.
This man is my husband (who is great at staying on message – very good #Sweatworking plug, thank you), but he is not alone. He rolls in a fitness wolf pack, whose members all started using the unlimited membership around the same time.
Their reasons for joining may differ, but they all share a common theme: they were sick of the way they were sweating.
"I was getting really bored with my normal routine," said Adam Hughes, 33, Chicago. "I would go to my gym, run on the treadmill for one mile and then work a muscle group. I think I have been doing that exact same workout since high school."
Although he may be sick of his routine, for the modern man, stepping into the first group fitness class can often take overcoming the memories of his mom's version of group fitness: aerobics.
"I've always thought of group fitness as a cardio type routine, but with the advent of interval training and CrossFit a lot of classes offer the ability to do strength training, agility and explosive drills in addition to cardio," said David Pickel, 32, Chicago, the latest addition to ClassPass in this group of friends.
What they've found in group fitness is camaraderie and a way to challenge themselves in a way that's reminiscent to what they experienced with team sports.
"Being someone who has been a part of team and individual sports, it really brings about the best of both worlds. You can constantly push yourself beyond your limits when you have someone you are pacing against," Cohen said.
They also use the group to help advance their fitness goals and to ensure that they show up for class.
"We hold each other accountable to go every day," Hughes said, "That includes going to bed at a reasonable hour on Friday nights so we can make our morning workout on Saturdays."
This "accountability" comes in the form of an ongoing scheduling conversation, feedback and class reviews shared between the group on an ongoing group text message, Cohen said (screenshots not available as I was not able to obtain permission … ).
"It's something else to talk about besides sports and work," Pickel added.
But what all of this ClassPass-ing really amounts to is another way in increasingly busy routines for these men to spend time together. When your habits keep your life and your friendships healthy, that's all a wolf pack really can ask for.
Are you or is someone you love a ClassPass men? We want to hear about it.