Two Part #Sweatworking at CTF and Bare Feet Power Yoga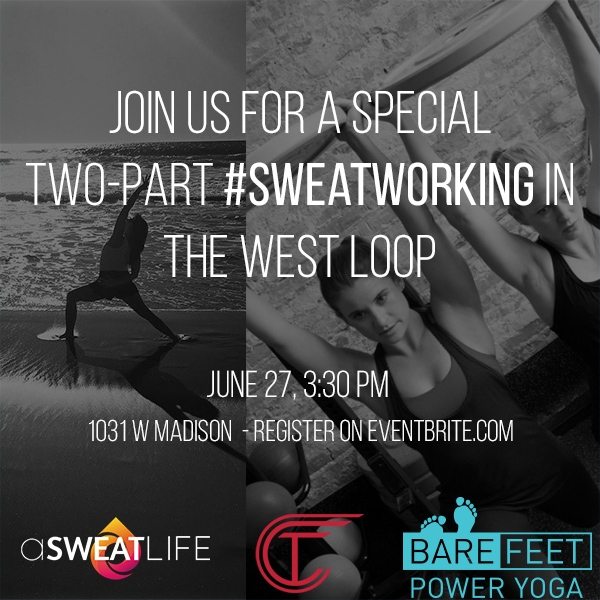 We've made the rounds to Chicago gyms and studios with our monthly #Sweatworking events, trying a mix of almost everything. In June, we're going to experience what those privy to it call the "West Loop Fit Club." Members of CrossTown Fitness, Barefeet Power Yoga and Brooklyn Boulders are able to visit the other gyms for free once a month and experience a bunch of other community benefits.
We'll hit two of the gyms on that list, mixing it up with a two-part workout at CrossTown Fitness and Barefeet Power Yoga. Crosstown Fitness is known for its amazing community vibe and its challenging, yet accessible classes that mix strength and cardio in new and interesting ways. Barefeet Power Yoga has that same sense of #fitfam and helps its yogis achieve that yoga-strong feeling by getting into poses they never thought possible through its challenging classes and workshops.
Because this will be our first #Sweatworking of summer, we're going to treat it like the true kickoff to summer that it is – we'll take a little more time to workout at each gym and we'll have a full hour to hang out afterwards.
It's a Saturday, after all, and this will be one of the biggest #sweatworking events yet, so treat it like a sweaty darty (that's a word that I heard some 20-year-olds saying, so I assume it's a cool way to say "day party." I hope it doesn't mean something else). Bring a friend or two!
Our hard work will be rewarded with healthy snacks when the group reconvenes at CrossTown Fitness. And great news: I'll be team teaching with Kailee at CrossTown Fitness, so you'll get to see both of our smiling faces as you sweat your tush off.
What: Every month, we take over a studio or a gym in Chicago where we try a workout for 60 minutes followed by 30 minutes of community building
Where: We'll kick off at CrossTown Fitness at 1031 W. Madison
When: June 27, 3:30 pm.
How: You can register here!
Will we see you there?