How The Co-Founders of Brrrn Transitioned From Studio to Connected Digital
Make sure subscribe to #WeGotGoals wherever you get your podcasts including Apple Podcasts and Spotify.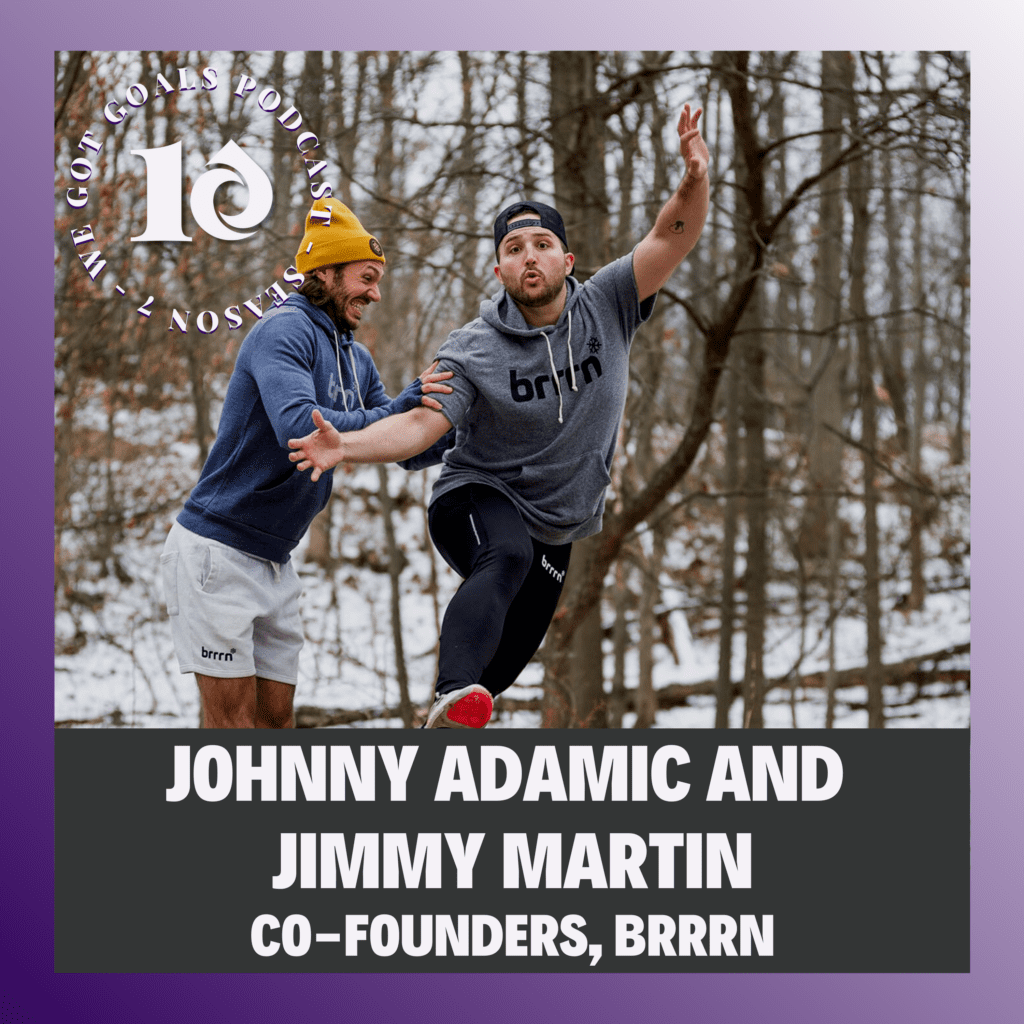 I've gotten to chat with Brrrn co-founders Johnny Adamic and Jimmy Martin a few times since meeting them in 2018. I'd like to remind you that 2018 was a time before the proliferation of zoom, so our first interview was conducted via freeconferencecall.com.
I remember vividly chatting with the pair in 2018. They were equal parts entertaining and excited about a super-specific niche in fitness (cold temperature training). I have a memory of the thought, "it's a shame that I'm the only one listening to this recording" as I wrote the article for aSweatLife.com.
Call this take two. I genuinely like these guys. I looked forward to this interview the days leading up to it because I knew it would be a really good time. And I really like every person who comes onto the podcast, but some people make me nervous in a way that Jimmy and Johnny do not. They're a mix of charming, smart and funny that you know endears people to them.
And I think that is the essence of the brand they've created. Charming, welcoming and smart. You'll hear them talk about it on the episode, but they're an insanely perfect match for where the world went after they opened their studio in the heart of New York City.
Jimmy worked with SNL and studied at the Upright Citizens Brigade – or UCB as it's called in the biz – and cut his teeth on video production before the world shut down. He also has that improv-er ability to problem solve through the "yes, and." They both have it, actually, you'll hear Johnny say, "To 'yes, and' that, Jimmy …"
And Johnny studied public health in New York City and worked for Mayor Bloomberg. He can and will throw science at you in an approachable way.
So, together, they chose to create cold training spaces when the rest of the world was only counting workouts that got them as hot and sweaty as humanly possible. And it was there that they fell in love with training on a slide board and there that they started manifesting their future partner and investor, Apolo Ohno.
So when the pandemic hit, I don't want to undervalue the stress they went through, but they accepted it, and built on what was in front of them. They "yes, and"-ed the pandemic and build an ecommerce business after finding a US-based partner to manufacture an at-home version of their beloved slide board.
And there's a lot to love about Brrrn besides the guys who created it, including their growing list of studios and gyms where you can find their programming as well as the certifications they've created for trainers to get continuing education credits. We hardly even scratched the surface in this interview. I feel a part two coming on.
Resources: