How POMSQUAD Fitness Made Cheer an Inclusive Fitness Space
We're using our 7th season of our podcast to celebrate fitness – its creators, innovators and everything in between. We made sure to include goodies from the studios and brand we're chatting with for you, so make sure to listen, share with a friend and try something new.
And also, make sure you don't miss a single episode by subscribing wherever you get your podcasts including Apple Podcasts and Spotify. And a HUGE thanks to Athletic Greens for its support for this episode. You can get an AG1 subscription and a free gift: a FREE 1 year supply of immune-supporting Vitamin D and 5 free travel packs with your first purchase at athleticgreens.com/asweatlife.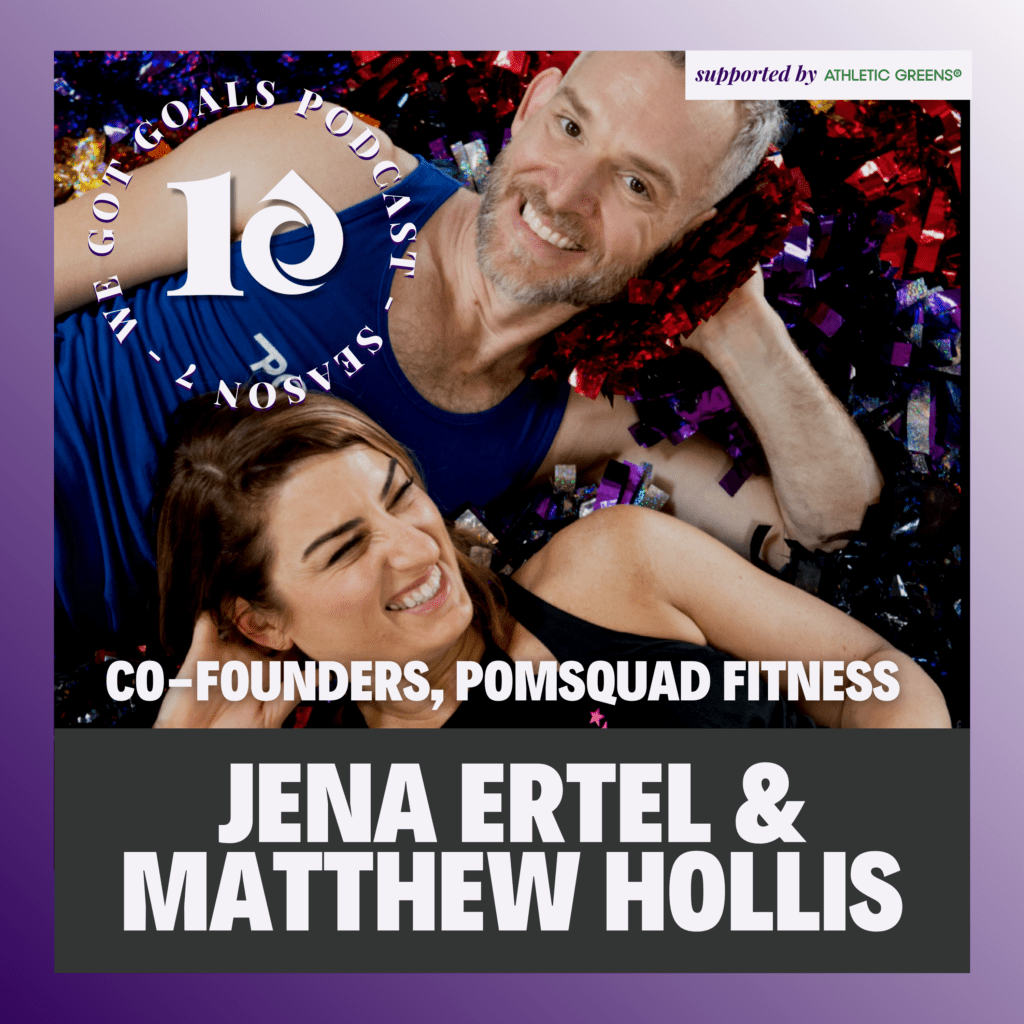 Cheerleading wasn't really a part of my life growing up – I mean it was and it wasn't. In Minnesota, I don't remember there being an insane cheer competition culture with all of the things that come with that.
And maybe I don't remember because I've blocked it out. I've never uttered this aloud, but I actually really wanted to be a cheerleader. Where I grew up in Anoka, Minnesota, there was a specific set of cheerleaders who I considered to be elite. The Hockey Cheerleaders. They'd sit in the student section, leading the crowd in PTA-approved cheers. But they really shined between the second and third period, when they'd lace up their figure skates and do a little ice performance.
And on home-game days, they wore their uniforms to school. That maroon and white uniform – swoon. I wanted it so badly, but I was terrified of the tryout process. So I never put myself out there. I know now that the experience I just described is uniquely Minnesotan, but the experience of not trying something because you're worried you'll be left out is not.
So when Matthew Hollis, cofounder of POMSQUAD Fitness explained that he received a grant to study cheerleading for a year, he came at it from a dance and performance background. And as he tells it, he spent his adolescence as a gay teenager wishing he didn't have to play a sport with a ball and that he could hang out with the cheerleaders instead. I didn't try out for cheer because I didn't want to be rejected and Matthew didn't try because he didn't feel like he could without being rejected.
So in adulthood, Matthew studied cheer and his knowledge and appreciation for the sport only grew. That earned him a spot in a dance showcase where he shared his newfound craft. That's when what would become POMSQUAD Fitness caught his cofounder Jena Ertel's eye. She offered to run all of the non-choreography pieces of the business.
If you've ever had the opportunity to experience this duo together, they are electric. They teach with a thread of comedy and a sense of authenticity that makes it clear that they're EXACTLY 100 percent themselves.
POMSQUAD Fitness, as they've created it, is a world that gives you, a functioning adult the opportunity to take all of the fun parts of cheer – like dancing, having fun, and yelling – and reject any of the pieces that may have left you out in the past, like a tryout, what other people will think, and uniforms in limited sizes. And their teaching style gives you the permission to be exactly 100 percent yourself too.
On this week's episode, you'll hear from Matthew and Jena about how they're perfecting the model of scaling themselves to train cheer captains across the world. You'll hear the genesis of their captain names – and that piece might surprise you.
I can't wait for you to hear where they plan to take the brand next.
Resources: