Your Guide to Melanin-Friendly SPF for Every Sun Protection Need
Summer is (almost) here, so it's time to stock up on SPF. Sun protection is important for all skin types, and using sunscreen every day is essential to help prevent cancer and signs of aging. And contrary to popular belief, all kins types need sun protection – including darker, melanated skin tones.
For melanated skin, high-energy visible light can cause hyperpigmentation or dark spots on the skin. This is a major issue for melanated skin, in addition to regulating moisture. Another common issue people of color face when it comes to sunscreen is the unsightly ashy residue the lotion leaves behind. But never fear, there are so many great sunscreens that have been created with this in mind!
In my article about race-inclusive beauty brands, I expressed that race inclusivity in brands was in high demand and well overdue. I've been so pleasantly surprised to see how far beauty and skin products have come over the past year and half. Below you'll find just a few of my SPF recommendations with little or no white overcast, that are formulated to help combat some common sunscreen issues. Here's your guide to the best sunscreen for melanated skin.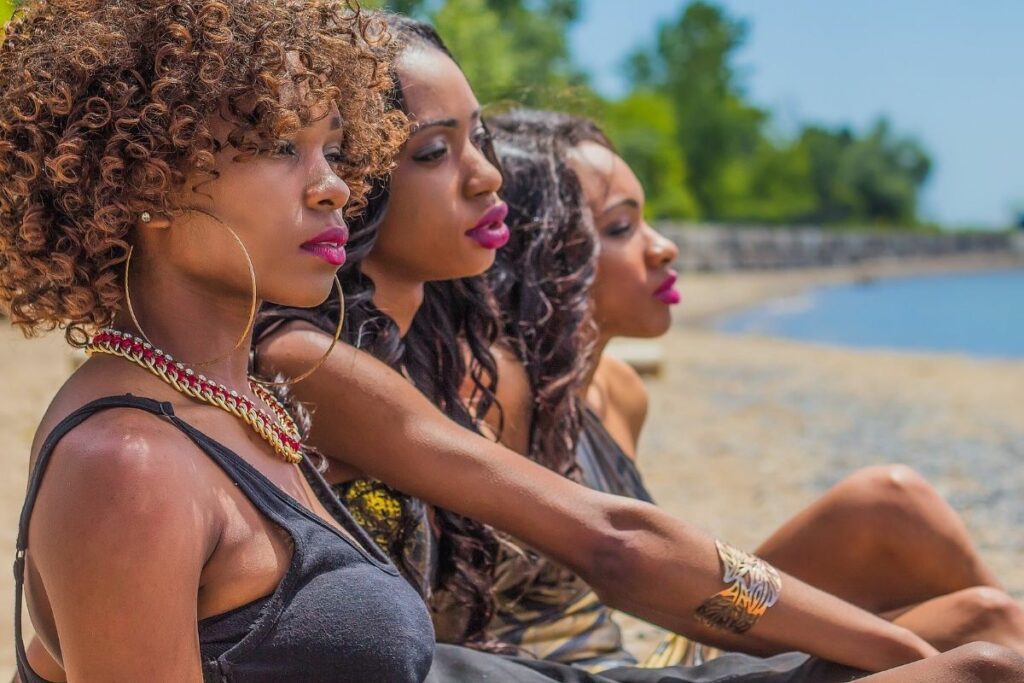 Best Medical Grade Sunscreen for Melanin Skin
While this product may not completely blend with every skin tone, EltaMD UV Clear SPF 46 has a targeted formulation to best protect against the sun. With its medical heritage, this product is great for acne-prone skin and hyperpigmentation. Oil-free, this SPF promotes healthy skin. The lightweight texture allows this product to be worn with or without makeup. Paraben-free, vegan, and noncomedogenic, this is an award-winning SPF that fits in nicely with any skincare regimen when paired with other skincare products from the brand. 
Best Sensitive Skin Sunscreen for Melanin Skin
My recommendation for a broad-spectrum SPF in this category is ZitSticka Megashade Sunscreen Serum SPF 50. This SPF is breakout proof and great for all shades. Non-comedogenic, dermatologically tested, and specifically formulated for sensitive skin, this pick for best sunscreen for melanated skin has it all. This mineral-chemical hybrid blends from sheer to clear leaving a luminous glow. Making the white cast a thing of the past, this sunscreen brightens and blocks dark spots, provides intense hydration and supple bounce, and doubles as a makeup primer. 
Best Eco-Friendly Sunscreen for Melanated Skin
Sustainably sourced and paraben-free are just some of the traits of eco-friendly products. My recommendation for a broad-spectrum SPF in this category is Kinlo Golden Rays SPF 50. This product is tinted for melanin-rich skin color matching, water-resistant, and sweat proof. The SPF is mineral-based, cruelty-free, and non-comedogenic. Since it mattifies the skin, it doesn't leave the white cast, but instead provides a natural, flawless finish. This product provides perfect lightweight, everyday protection.
Best "Popular" Sunscreen for Melanated Skin
My recommendation for a broad-spectrum SPF in this category is Supergoop! Unseen Sunscreen SPF 40. This SPF is totally invisible, has a velvety finish, and is great for all skin types. Water and sweat resistant, this sunscreen is antioxidant rich and oil-free. The consistency of this product allows it to glide on the skin for ultimate sun protection. For full beauty coverage, this works well as a makeup gripping primer under foundation. This is a great SPF to prevent sunburn from a gamechanging brand in the sunscreen industry. 
Best Anti-Aging Sunscreen for Melanin Skin
My recommendation for a broad-spectrum SPF in this category is Dr. Dennis Gross Skincare All-Physical Lightweight Wrinkle Defense Broad Spectrum SPF 30. Don't be alarmed: the application of this product is white, but the invisible finish makes it great for all skin complexions. This product offers ultimate sun protection with the added bonus of a wrinkle defense formulation. Oil-free, lightweight, and 100% mineral, this SPF blends easily and layers well underneath makeup.
Best Celebrity Brand Sunscree for Melanated Skin
Fenty Beauty & Skin was founded by Rihanna and quickly became a pioneer of inclusivity in beauty and skincare industries. My recommendation for a celebrity brand SPF is Fenty Skin Hydra Vizor Invisible Moisturizer Broad Spectrum SPF 30. As described, this is a moisturizer and is designed for day time, outdoor use. Cruelty-free and gluten-free, the invisible application provides all the sun protection you need. The non-comedogenic formulation helps leave your skin bright while reducing the appearance of pores. 
Best Mature Skin Sunscree for Melanin Skin
My recommendation for a broad-spectrum SPF in this category is Tula Protect + Glow Daily Sunscreen Gel Broad Spectrum SPF 30. Great for daily use, this product helps to improve skin texture and strengthen the skin's barrier. The all natural ingredients help promote even skin tone also. This is a must have sunscreen for both indoor and outdoor use making it a year-round essential. With an amazing non-comedogenic formulation, this SPF won't leave a white cast, and the technology provides a non-greasy texture upon application.
Best Black Owned Sunscreen
The product name says it all. My recommendation for a Black Owned SPF is Black Girl Sunscreen SPF 30. This moisturizing sunscreen can be used for the face and body. Water-resistant and ultra sheer, this product leaves no white residue. This sunscreen is made by women of color for people of color. Cruelty-free and vegan this is great for everyday use and provides sun protection for any outdoor activity. You won't have to worry about toxins disrupting your hormones since this is an all natural product that's environmentally friendly. 
Now that you have an arsenal of great products, here's a few reminders for applying SPF. Wishing everyone a sun-safe, SPF filled summer!
Apply SPF generously 30 minutes prior to being outdoors
Reapply at least every 2 hours
Reapply after sweating or swimming