No matter what the temperature is, meal prepping is always in season. But just like we change our wardrobes when winter melts into spring, consider giving your meal prepping techniques a seasonal makeover as well. Whether you eat every meal at the office or prefer to cook once a month, here are five spring meal prep ideas perfect for the season.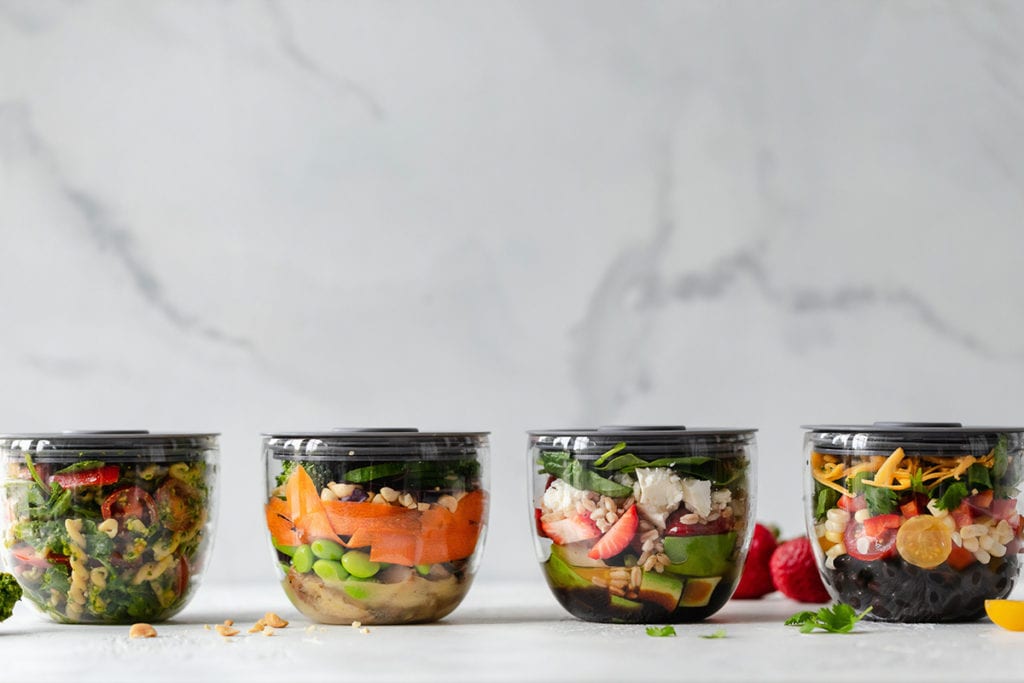 1. Focus on fresh
Springtime is all about fresh foods, so take meal prep tips from Mother Nature and do the same by shifting your daily meals to fresh selections. Head to your community's local farmers market and fill up on fresh springtime produce. Allison Koch, MS, RD, CSSD, LDN, Board Certified Sports Dietitian recommends some seasonal springtime produce like apricots, artichokes, asparagus, beets, carrots, leeks, new potatoes, peas, radishes and rhubarb. If you are really feeling adventurous, Koch recommends going more exotic with options like garlic scapes, fiddleheads, morels, nettles and ramps.
Tip: Keep all of your springtime produce the freshest with these storage tips.
2. Keep it light
During fall and winter, our bodies crave warm, hearty comfort foods like casseroles, soups, and stews, but during the springtime season when temperatures start to warm up, keep your cooking (and snacking) light. Step away from the slow cooker, ditch the heavy dishes and swap them out for lighter fare like gazpachos, fresh springtime salads, homemade wraps or handcrafted sandwiches.

Tip: Looking for a salad with staying power? Koch offers some tips on how to build a better salad here.
3. Load up on leafy greens
The springtime season is packed with fresh, leafy greens, so stock up on more of those fresh springtime greens like:
Arugula
Belgian endive
Butter lettuce
Collard greens
Dandelion greens
Kale
Leek
Mustard greens
Spinach
Spring baby lettuce
Swiss chard
Watercress
Koch says, "Mustard greens contain compounds called glucosinolates (as does broccoli, kale, and other cruciferous vegetables), which may have anti-cancer and anti-inflammatory properties," so stock up and enjoy! She goes on to explain that "Swiss chard, as well as arugula, are both naturally high in nitrates, which may have heart health benefits, such as lowering blood pressure, improving circulation and increasing endurance by improving oxygen usage."
Tip: With all of these springtime salads you are going to be meal prepping, whip up some homemade salad dressings with these delicious and easy salad dressing recipes.
4. Stock up on herbal teas
During the winter months, we naturally tend to slow down and hibernate, among other winter rituals. As temperatures drop and bone chilling winds pick up, it's completely normal to want to stay indoors and conserve our energy reserves. We aren't really all that inspired to move much, which can make our body and our body's system feel a little sluggish. (It's still good to get outdoors every now and then though). As springtime approaches, stock your kitchen cabinets and pantry with lighter herbal teas to help your body adjust to the changing of the seasons.
5. Swap in smoothies
Although smoothies are year-round favorites, start swapping your morning bowl of oatmeal with springtime smoothies. Take an hour on Sunday or a few minutes before bed the night before to prep all of your smoothie ingredients like jackfruit, mango, and strawberries. Place one serving (or more depending on how many smoothies you plan on making) in a sustainable storage container and store in the freezer. When you wake up in the morning, all you have to do is place everything in the blender, add your liquid of choice, blend and enjoy. That's it!
As you begin spring cleaning this season, freshen up your daily meal prep with a springtime makeover using these five spring meal prep ideas.
Updated March 2022.