How to Meal Prep When You Eat Every Meal at the Office
Whether you're rolling your sleeves up for the next "busy season" or simply having a busy week at work, many of us have experienced eating breakfast, lunch, and dinner at work. It can be annoying and boring… especially when Meal Prep Sunday can get pushed to the side if Sunday is your only day off.
What if I told you that I did most of the work for you? Find simple, quick, and delicious recipes to make for the week, check. Create a grocery list, check. Your part? Dedicate an hour to your meal prep, and you won't have to suffer through one annoying, boring meal all week! Game on.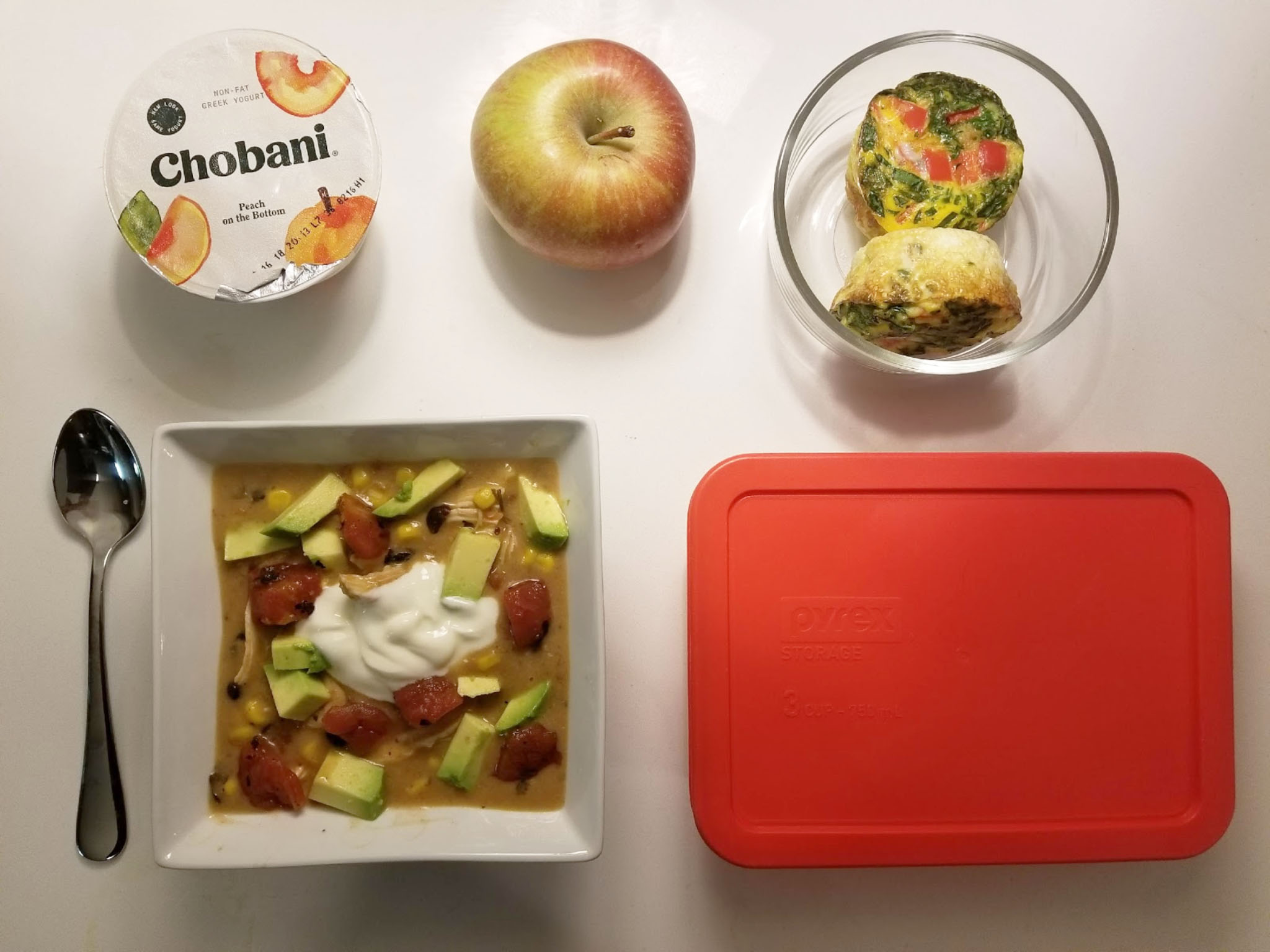 Grocery list:
2 red bell peppers

1 orange/yellow/green bell papper

1 head of broccoli

2 carrots

1 yellow onion

6 garlic cloves

1 container of spinach

2 containers grape/cherry tomatoes

3 green onions

3 large ripe avocados

1-2 bunches of cilantro (you will need 1.5 roughly chopped cups)

3 limes

1-2 jalapenos (optional)

1 bunch mint (optional)

1 romaine hearts

1 red onion

1 small carton of whole milk (skim and 2% work, too)

1 bag of shredded cheddar cheese (optional)

1 small container of plain Greek yogurt

1 dozen eggs

1 box quinoa

1 container of salsa

2 bags frozen corn kernels

3 cans black beans

1 bottle low sodium soy sauce

Toasted sesame seeds (optional)

2 lbs boneless, skinless check breast

2 (10.75 oz.) cans condensed cream of chicken soup
Optional toppings for soup:
Sour cream

Tomato

Green onions

Lettuce

Cilantro

Avocado
Optional addition for burrito bowl:
Snack suggestions:
Plain Greek yogurt with fruit

Cheesesticks

Hard boiled eggs

Almonds

Fruit

Veggies and hummus
What you most likely already have in your kitchen, but will need to pick up if you don't:
Olive oil

Lemon juice

Onion powder

Red wine vinegar

Salt

Ground pepper

Sesame oil

Rice vinegar

Honey

Ground ginger

Crushed red pepper (optional)

Ground cumin

Dried Cilantro
The menu for the week:
| | | | | | |
| --- | --- | --- | --- | --- | --- |
| | Monday | Tuesday | Wednesday | Thursday | Friday |
| Breakfast | Egg muffins | Egg muffins | Egg muffins | Egg muffins | Egg muffins |
| Lunch | Soup | Power Salad | Soup | Power Salad | Soup |
| Dinner | Burrito Bowl | Stir Fry | Burrito Bowl | Stir Fry | Dinner of choice |
And finally, the recipes:
Start your day right with protein and veggies.
Prep Time: 5 Minutes
Cook Time: 18 Minutes
The Gist: Whisk together 7-8 eggs, ¼ cup of milk, and veggies of your choice (I put spinach and red bell pepper in the grocery list). Bake at 375 for 18-20 minutes.
Rely on powerful super foods to get you through the afternoon!
For this recipe, the prep and cook time happen simultaneously, costing you just 20 minutes.
The Gist: Cook the quinoa, cut veggies and avocado. When quinoa is done, mix it together with veggies, red wine vinegar, salt and avocado.
Take 5 minutes to slow down and savor this delicious soup midday.
Prep Time: 10 minutes
Cook Time: 4 hours (in a slow cooker, like a Crockpot)
The Gist: Mix condensed cream of chicken soup, salsa, corn, black beans, water, ground cumin and dried cilantro together. Put chicken breasts in slow cooker. Pour liquid mixture over the top. Cook on low for 4-6 hours. When the time is up, shred the chicken, and enjoy soup with toppings of your choice.
Another superfood-rich recipe that will help you power through your long night at the office.
Also, another recipe where the prep time and cook time happen simultaneously, costing you about 20 minutes. Add approximately 10 minutes if you choose to add cooked meat. Tip: Cook power salad quinoa and quinoa for this recipe at the same time to cut your prep time down!
The Gist: While cooking the quinoa, blend yogurt, avocado, cilantro, garlic, lime juice, jalapenos, min, salt and pepper in a food processor. When quinoa is cooked, divide into two bowls. Add in chopped lettuce, black beans, tomatoes, red onion, and avocado (and meat, if necessary). Drizzle with dressing.
A fresh and delicious meal that's colorful enough to literally brighten up your desk.
Prep Time: 15 minutes
Cook Time: 15 minutes
The Gist: Preheat oven to 425. Line a sheet pan with foil for easy clean up. Place in preheated oven. Mix together soy sauce, sesame oil, rice vinegar, honey, and ground ginger for the marinade. Cut chicken and chop veggies. Pour marinade over chicken and veggies; mix and stir until well combined. Transfer chicken and veggies onto hot baking sheet. Bake for 12-15 minutes, stirring halfway through. Top with crushed red pepper and/or sesame seeds if desired.
And there you have it! Three meals (and don't forget the snacks!) you can bring to work each day that will keep you full and energized, even throughout the busiest workweek. The only question is, what will you do with the rest of your time on Meal Prep Sunday?