Fuel Your Morning With Nutrient-Packed Smoothies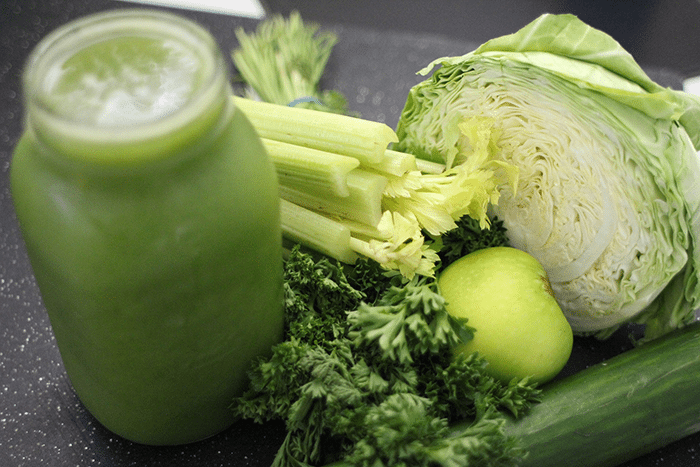 Green, detoxifying smoothies and juices are trending among the nutrition conscious, but other than being super expensive when you buy them from the juice bar, there are a wide variety of health benefits that come with getting your morning started with a blended elixir. You might be asking yourself – why do they call them "green" smoothies? Simply because they're packed with vegetables or leafy greens and fruits, and most of the time they appear green in color.
Smoothies incorporate whole fruits and vegetables so you're getting a nutrient dense "meal" when you build a smoothie with the appropriate ingredients. In addition, smoothies allow you to add-in a lot of those "super food" boosters that you might otherwise find difficult to incorporate into your diet. Lastly, because you're consuming a blended beverage, it's a lot easier to digest in the morning because the fruits and vegetables are already broken down (thanks to your high-speed blender). This allows your body to digest the smoothie in addition to absorbing all of the good nutrients packed in it more easily. Bonus, when you choose a green smoothie over a juice – you're getting the fiber from the whole fruits and vegetable, whereas in a juice, you get the extracted vitamins and minerals but no fiber.
The great news? Smoothies are a really easy, nutritious way to kick-start your morning in the comfort of your own kitchen – and it isn't a huge time-suck that will sabotage your morning routine. Thanks to smoothie-ingredient delivery service Green Blender, we've compiled tips for making nutrient dense, delicious smoothies to start your day:
The base: To create a drool-worthy smoothie, you can't just throw pre-packaged mixes, over-ripe fruit and some random vegetables into a blender and expect that it will taste good. There is a standard ratio for the ingredients you throw in, to ensure your smoothie tastes great day-after-day. You want to grab for a combination of fruit/vegetables, healthy fats and protein.
The ingredients: To keep things simple in the morning, stick with what you know when it comes to making a smoothie. Some ingredients lend themselves better to smoothie making than others. For fruits – grab fresh or frozen berries, mango or a banana. To amp up the veggies, a handful or two of spinach is a really easy, neutral leafy green that blends well with almost anything. For fats, ¼ of an avocado or a tablespoon of peanut butter are great additions. Lastly, one cup of almond milk, skim milk or water are healthy, accessible liquids for your smoothie base.
Filling the blender: To get a smooth, creamy, evenly blended concoction you need to add ingredients into your blender in a particular order. First add whole fruits and nuts so they get chopped up first being closest to the blade. Then layer on leafy greens and nut butters, followed by protein powder and any boosters. Last thing to go into the blender is the liquid.
Boosters: Boosters are an easy way to add super foods, protein, taste and calories to your smoothie. If you're looking for a post-workout, hunger-satisfying meal replacement; add a scoop of vanilla whey protein powder. If you want to boost metabolism, try sprinkling in a dash of cayenne pepper. Dried oats are a great way to add fiber and calories to make your smoothie more of a meal. Boosters are fun and easy to experiment with!
Energize naturally: According to a Green Blender article, certain fruits and super foods are known for their natural energizing power which make them a great addition to any morning smoothie: matcha, cayenne, pea protein, bananas, coconut and kiwi.
My personal favorite, and very routine, way to start my morning is with a Berry, Banana, Peanut Butter, Green Smoothie. The recipe includes (in order of how to layer the ingredients into your blender):
 Half frozen banana, ½ cup frozen berries or mango
2-handfuls baby spinach
1-tablespoon peanut butter
1-scoop whey protein powder
1-teaspoon matcha powder or 1 tablespoon chia seeds
1-cup almond milk
It's refreshing, light, protein-packed, simple and cheap. A great way to fuel your morning after an early morning sweat-session.
Let us know!
Did this post help you get closer to achieving one of your goals?