How to Meal Prep a Month's Worth of Meals in One Weekend
Clean out your freezer and clear your weekend – it's time for some massive meal prep! Before my daughter was born last year, I searched for easy and healthy meals I could make in advance and stash in the freezer. Now that she's a few months old, I can tell you that this pre-planning and meal prep has been a lifesaver.
Even if you're not learning to master the art of eating one-handed while nursing, it's always convenient to have a few meals at the ready for busy days. And by "a few meals," I mean 50! Ready to get going? Start by purchasing the following ingredients:
Produce
1 medium head of cauliflower

1 small head of broccoli

1 large carrot

3 large red bell peppers

1 bag of kale

1 bag of spinach (3 cups)

1 bunch of cilantro

1 bag of chopped sweet potatoes or butternut squash

5 medium yellow onions

Garlic (or garlic chips from the spice aisle)

1 container of cooked lentils
Dry Goods/Canned
1 bag of brown rice

8 cans of chickpeas/garbanzo beans

1 can of black beans

1 jar of spaghetti sauce

1 bag/box of spaghetti

Olive oil

Vegetable oil
Bread/Bakery
30 large tortillas

12 large pita pockets (make sure they aren't flatbreads – you need them to open)
Dairy
2 bags of shredded cheese, such as cheddar or Monterey Jack (3 ½ cups total)

1 bag of shredded mozzarella

12 large eggs

Unsalted butter
Spices
Allspice

Cayenne pepper

Chili powder

Cinnamon

Cumin

Garam masala

Garlic chips

Garlic powder (no salt)

Ground ginger

Salt

Turmeric
Frozen
1 large bag of hashbrowns
Meat
1 lb of ground turkey meat
Other
Aluminum foil

Gallon-size zip-top freezer bags

Sharpie
Freezing Tips
Let the filling cool completely before filling each tortilla or pita. For tortilla wrapping tips, check out this demo. Wrap each serving in foil, place in a freezer bag and squeeze out the air before sealing. Write the contents on the outside of the bag with a sharpie. Be sure to include a "use by" date as well (three months from the date they were made).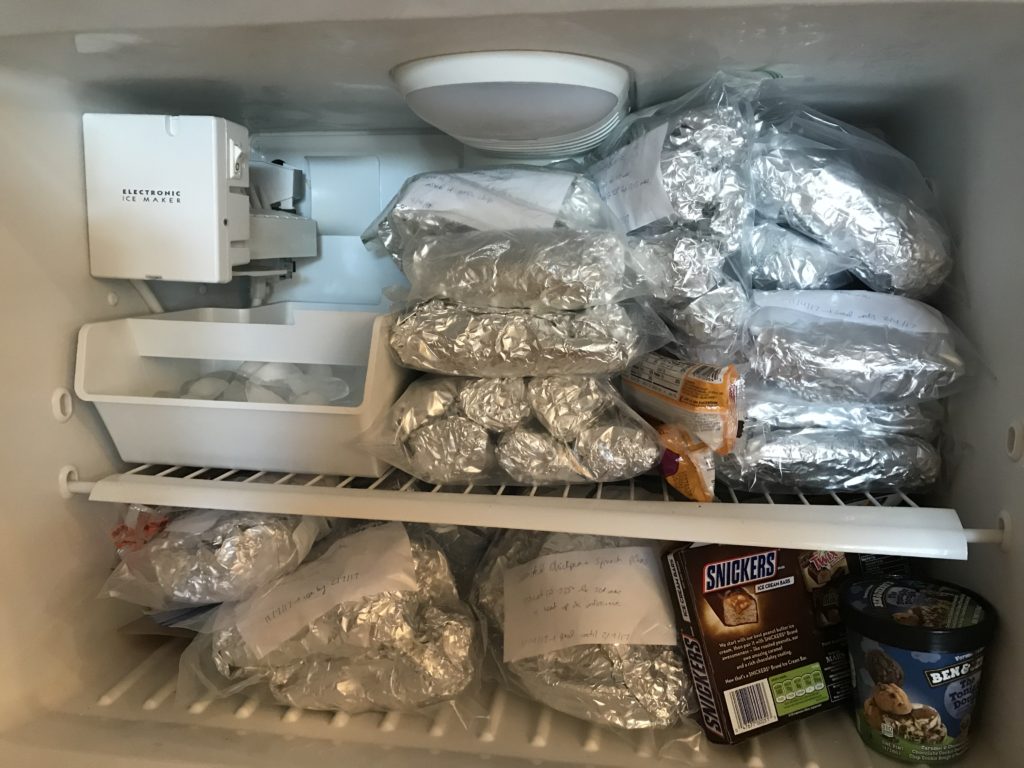 Now for the fun part. Get cooking!
Makes 8
Keep some full fat plain yogurt on hand to serve with these spicy wraps. I mix garlic chips with the yogurt for added flavor. The instructions say this recipe makes six wraps, but I usually get eight to 10 wraps total.
Makes 10
Sometimes I add chopped chicken (cooked) to this recipe as well. I typically get 10 servings out of this recipe, two more than the recipe states.   
Makes 6
I skipped the homemade dough in favor of store-bought pita pockets and substituted pre-shredded sweet potatoes for the whole sweet potatoes. Just follow the cooking directions on the bag of shredded sweet potatoes – I boiled them until soft.
Makes 12
These burritos are incredibly versatile; I've enjoyed them for breakfast, lunch and dinner (not all on the same day!). I made a couple of changes to the recipe for convenience's sake and to align with my personal preferences. Instead of whole potatoes, I used a hashbrown mix. I also substituted a yellow onion for the red onion, omitted the milk and added a strip of cooked bacon to each burrito.
Makes 12
Just one small change here: I used vegetable oil rather than coconut oil. Feel free to use whichever oil you prefer.
Baked Spaghetti (courtesy of my mom)
Makes 12
Preheat the oven to 375 degrees.

Coat a large skillet with cooking spray and brown the turkey over medium-high heat, breaking it up and stirring occasionally.

While the turkey is cooking, heat a large pot of water to boiling. Break the spaghetti in half and cook until al dente.

Drain the spaghetti and return to the bowl. Add the cooked turkey and an entire jar of spaghetti sauce (I recommend the arrabiata sauce from Trader Joe's). Stir until combined.

Pour the mixture into an 8 ½ x 11 glass baking dish. Spread approximately 1 ½ cups of mozzarella or parmesan cheese on top.

Bake for 30 minutes or until the cheesy crust is nicely browned.

Cool completely, cut into 12 squares, wrap each individual square in aluminum foil, place in a ziplock bag and freeze for up to three months.