How to Embrace Winter with Winter Rituals
Here we are again- pulling our warm weather clothes and coats out, slowly accepting that our wardrobes aren't the
only things changing
alongside the weather.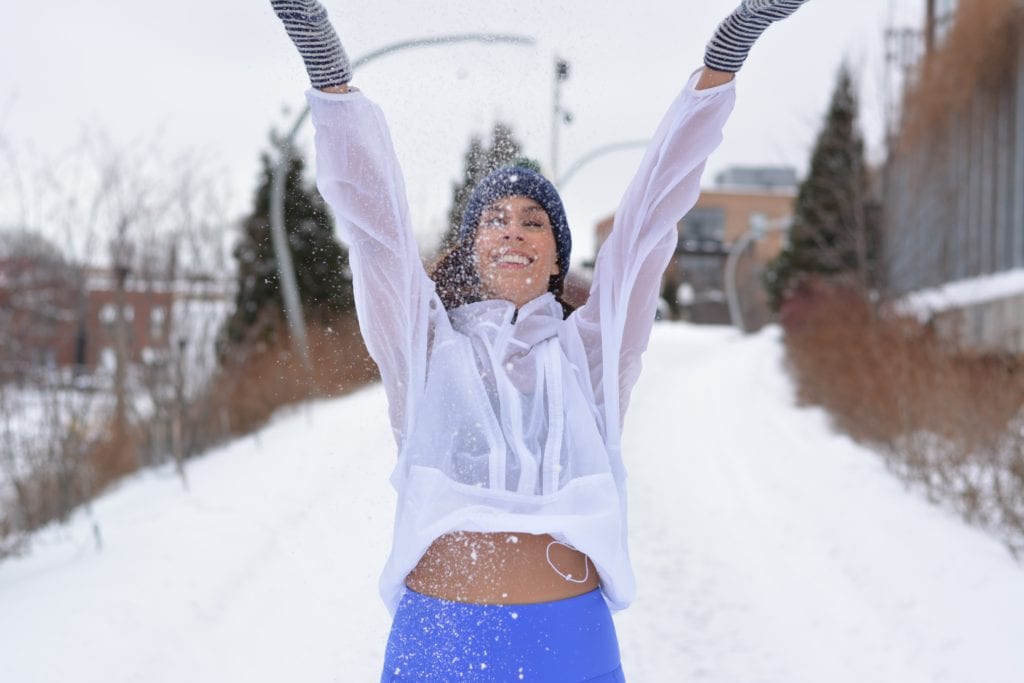 It's easy to feel down about the changes that winter brings to rituals, our social lives, and our energy. Summer tends to be full of long days, long nights, spontaneous plans, and lots of variety on weekends and weekdays alike. Between time spent outside for exercise or social purposes and the abundance of activities happening in the summer and early fall, the transition to winter can feel like turning a dimmer switch down on the excitement on our lives overall. But fear not! With some perspective shifts, it's entirely possible to  make these long upcoming months their own kind of special. You heard it here first. If we add
a little intention
, the winter months can actually be the
best
time to dive deep on the things that matter to you. It's just going to take a few purposeful swaps.
SWAP: Group gatherings for intentional, one-on-one catch ups. 
In the summer, people tend to gather. Whether running clubs, music festivals, weekend trips with friends, picnics, barbeques, bonfires, or company summer parties, chances are you were often surrounded by others until the sun sets well after 8pm. While these types of gatherings won't be happening, use the winter season to curl up with a good friend at home. So often time spent with friends in the warmer months can be unplanned—spur of the moment rooftop drinks, or an impromptu walk to ice cream are part of what make the summer fun. But there's something to be said for planning intentional time with a friend, one-on-one. Have a big blanket ready and use the time to catch up on everything that doesn't surface during group gatherings. Maybe even make a weekly ritual of it, and look forward to the cozy nights in.
SWAP: Eating out and late night food for meal prepping and trying new recipes. 
Between patio season, food trucks, ice cream, busy schedules and unpredictable plans, chances are the summer is not your most well-nourished time of the year. Use the extra time at home to finally find your flow in the kitchen—whether that means meal prepping over the weekend so you don't have to cook dinner in the dark on weeknights, or using mealtime as an opportunity for a fun activity every evening. Maybe you can even pick a cookbook and cook your way through,
Julia and Julia-
style.
SWAP: Extra time spent outdoors for extra time spent working on personal projects.
In the warmer months, it's easy to use any unaccounted for time as time to spend outside—whether on a walk, at the beach or a park, or on a rooftop. When the cold rolls around, that extra time is perfectly built-in for that project you've had in the back of your mind, or that new hobby you've been curious about.  National Novel Writing Month is in November and not June for a reason! Embrace the season with gratitude for the focus it provides, and imagine just how much you can accomplish by the end of the winter.
SWAP: Outdoor runs and "anytime goes" workouts for a routine that works for you.
Is it just me, or is it easy to work out practically anytime in the summer? Like to workout early? Go for it, the sun is shining!  Prefer an after-work sweat? No problem, it will be light out for hours! While such privileges are stripped away in the winter, it can be the tough love opportunity to commit to a consistent routine that works best for you. Whether that means setting an early alarm and sticking to it or finding a workout class that you're interested in, a consistent and committed workout routine will not only help you through the winter blues, it'll be a gift to yourself that keeps on giving. Which swap are you most interested in trying?
Let us know!
Did this post help you get closer to achieving one of your goals?