Five Homemade Salad Dressings to Keep You Satisfied
Does anyone else eat significantly more salads in the spring and summer? It's a nutritious dish that's perfect for the summer heat but let's be real, it can get BORING AF. And then I'm reaching for something that's totally creamy and delicious, but maybe not so favorable for my waistline. So here are five of my favorite Do-It-Yourself salad dressings to keep it interesting.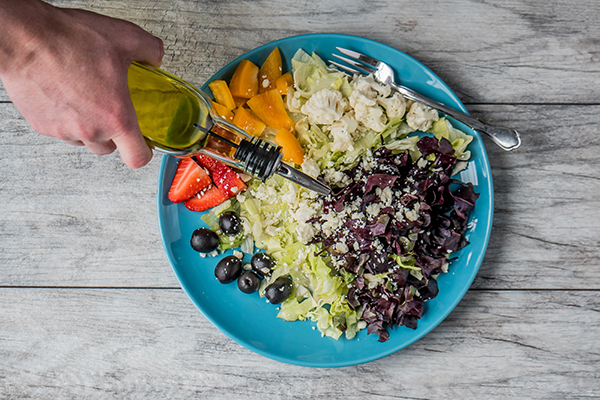 Ingredients:
1/4 cup cranberry (or any flavor) kombucha

3/4 cup extra virgin olive oil

1 clove garlic, minced

1 Tablespoon dry mustard powder

Salt and pepper to taste
Directions:
Put all ingredients in a small mason jar and shake it up! Drizzle desired amount on to of your salad!
Ingredients:
1 cup raw cashews (unsalted and unroasted)
1 Tablespoon apple cider vinegar
1 Tablespoon extra virgin olive oil
Salt to taste
1/2 cup water + more to thin
A small handful of arugula + more to taste
Directions:
Soak cashews for 2-4 hours or quickly soak in hot (not boiling) water for 15 minutes. Drain cashews and add to a food processor with all of the ingredients and blend until smooth.
Spring Favorite by Nutritionist Chantelly Jean
Ingredients:
½ cup apple cider vinegar

¼ cup extra virgin olive oil

2 Tablespoons green olive juice (yep, that's juice from a jar of green olives)

1 teaspoon sea salt

1 teaspoon pepper

1 teaspoon basil

1 teaspoon oregano

½ fresh squeezed lemon
Directions:
Mix together and shake well!
Tahini Dressing by Fitness Coach Chloe Ray Price
Ingredients:
1/2 cup tahini 

3 Tablespoons lemon juice 

2 Tablespoons apple cider vinegar 

2-3 cloves garlic 

1-2 Tablespoons maple syrup 

Salt + pepper to taste 

1/2 cup water to thin  
Directions:
Whisk all ingredients together, place in jar and keep refrigerated.
Ingredients:
2 cups packed basil leaves, cleaned and dry

1 clove garlic

1/4 cup lemon juice

1 Tablespoon lemon zest

1/2 cup olive oil

Salt and pepper to taste
Directions:
Place the basil, garlic, lemon juice, and zest into a blender. Blend until smooth. While the blender is running, slowly drizzle in the olive oil. Season the dressing with salt and pepper. Serve right away or store it in a glass jar with a lid in the refrigerator for up to seven days.