How to Build a Better Salad for National Salad Month
When you hear the word salad, you automatically think healthy—but that's not always the case. Cobb salads and Caesar salads are definitely delish, but toppings like cheese, bacon, and creamy dressings make them among the least healthy options on the menu.
That doesn't mean salads have to be boring to be good for you, though. We chatted with top nutrition experts for their tips on building a tasty and filling salad loaded with lots of healthy ingredients. The next time you hit up your local salad bar spot for lunch or are doing your grocery shopping for the week, follow their advice!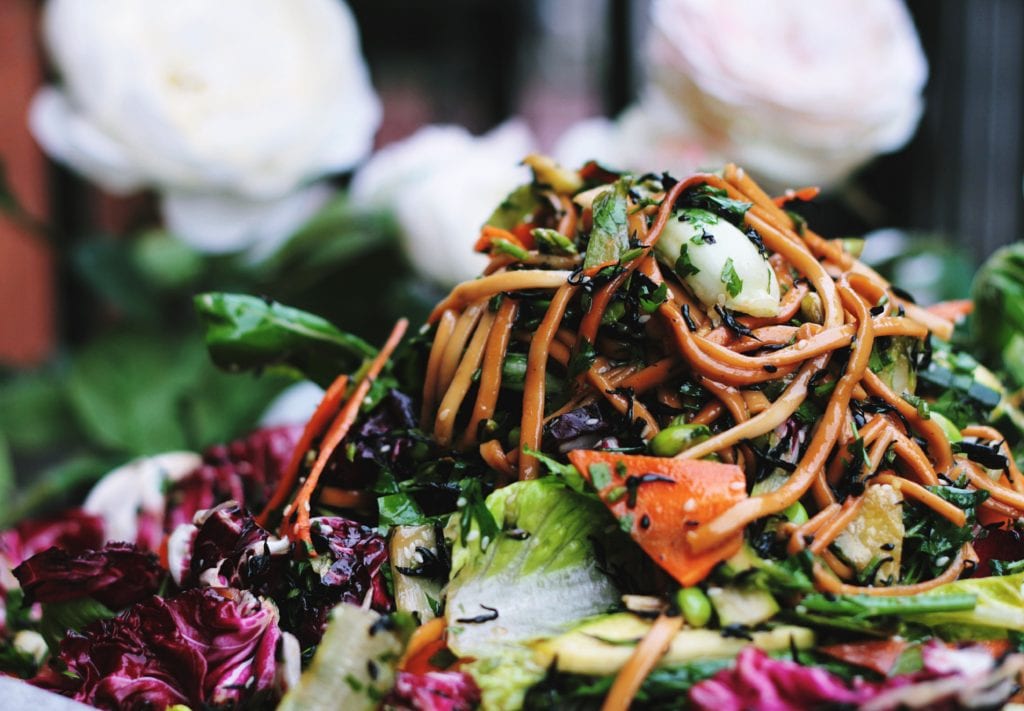 Mix your greens
A lot of people like iceberg lettuce because it's crunchy, but it has virtually no nutritional value, says Deborah Malkoff-Cohen, R.D., dietitian and certified diabetes educator in New York City. She likes combining either kale or spinach (both of which are packed with nutrients like protein, iron, potassium, and calcium) with romaine, which offers that crunch but with more nutrition benefits than iceberg lettuce. (Editor's note: There is currently a romaine lettuce E. coli outbreak, so it's important to find out where your romaine is coming from before eating it. The Centers for Disease Control and Prevention advises not eating or buying romaine unless you know for sure that it's not from Yuma, Arizona, where the outbreak originated.) Lisa Samuels, R.D., founder of The Happie House in New York City, likes tossing arugula, which has a peppery, more bitter flavor than other greens, with spinach for a nice variety.
Pick toppings that'll actually keep you full
"I can't tell you how many times I hear people saying how unsatisfied they feel after a salad and how little they look forward to it," says Jessica Suchan, holistic health coach in Los Angeles. The majority of the time, that's because they're not including enough protein, fat, and fiber to turn off their hunger hormones and keep blood sugar levels balanced, she says. For protein, lean chicken, tuna, salmon, and hard-boiled eggs are all great options, says Malkoff-Cohen.
Adds Samuels, "Beans are great because they're high in fiber and good for gut health—they're a great option for people who are trying to stay meatless." Samuels also likes seeds (think: pumpkin, chia, flax) because they are good sources of protein and fiber, and they also have heart-healthy omega-3 fatty acids. You can also get healthy fats from avocado and Kalamata olives, says Suchan, who adds that she makes sure she gets fiber in the form of non-starchy veggies like roasted Brussels sprouts, asparagus, and artichoke hearts.
Practice moderation
Malkoff-Cohen points out that while foods like avocado do have health benefits, they're also high in calories—so if that's something you're watching, abide by the rule of less is more. Dried fruit, cheese, bacon, croutons, crunch noodles, and fried chicken (or any other protein that's breaded) top the list of high-calorie salad toppings that don't offer much in the way of health benefits, says Malkoff-Cohen—but that doesn't mean you have to avoid them altogether. Just pick one to add to your salad, not all of them, she says. For cheese in particular, Samuels says that crumblier options, like Feta, tend to have a stronger flavor so you don't have to use as much.
Swap out "bad" toppings for better alternatives
You can also find healthier alternatives for your favorite unhealthy salad toppings. "Toppings wise, try to replace things like croutons with flax crackers, sugar coated nuts with alternatives like sunflower seeds and macadamia nuts, and dried fruit with a small amount of fresh fruit like sliced apples or berries," says Suchan. "If you want to add cheese to your salad, I would treat yourself to a high-quality organic variation or add some more healthy fats instead. It's not about taking away, it's about finding swap outs that satisfy you even more." Suchan says that a ideally, a healthy and hearty salad should keep you feeling full and energized for at least three to four hours.
Pay attention to what's in your salad dressing
"Store-bought salad dressings can turn a healthy salad into an unhealthy one real quick," says Suchan. "In addition to dairy, most of them are loaded with inflammatory oils like canola and safflower and lots of added sugar." Malkoff-Cohen adds that fat-free dressings are loaded with added sugars.
Samuels says balsamic vinaigrette is a good lower calorie salad dressing to have on hand. Suchan loves to top her salads with a mix of extra virgin olive oil, apple cider vinegar, nutritional yeast, and salt and pepper. Malkoff-Cohen says that olive oil, while healthy, has about 120 calories per Tablespoon, so if that's something you're concerned about, moderation here is key as well. If you're making your own salad, one thing you can do is get an oil mister to spray dressing onto your salad with more control than pouring it on, she says. Finally, Samuels says you can use an untraditional topping—like hummus, or smashed avocado with a little bit of olive oil—as a healthy dressing.