How To Rebound From a Stressful Day at Work
[This post was created in partnership with Sunday Scaries. As always, we only talk about the products and brands that we actually use and endorse. If you love it like we do, get
Sunday Scaries for 25% off with code SWEAT25
.]
Here's a peek behind the content-making scenes for you, reader: during a recent week, the aSweatLife team had their hands absolutely full planning (and rescheduling) a photo shoot, reaching out to trainers for #SweatworkingWeek, and dealing with a multitude of injuries and doctor's appointments. I texted Jeana at 11am: "it's only Tuesday?" She confirmed that yes, that was indeed the date. And at that moment, it just seemed unfathomable that we would get through the rest of the week—let alone the rest of the month leading up to our flagship event.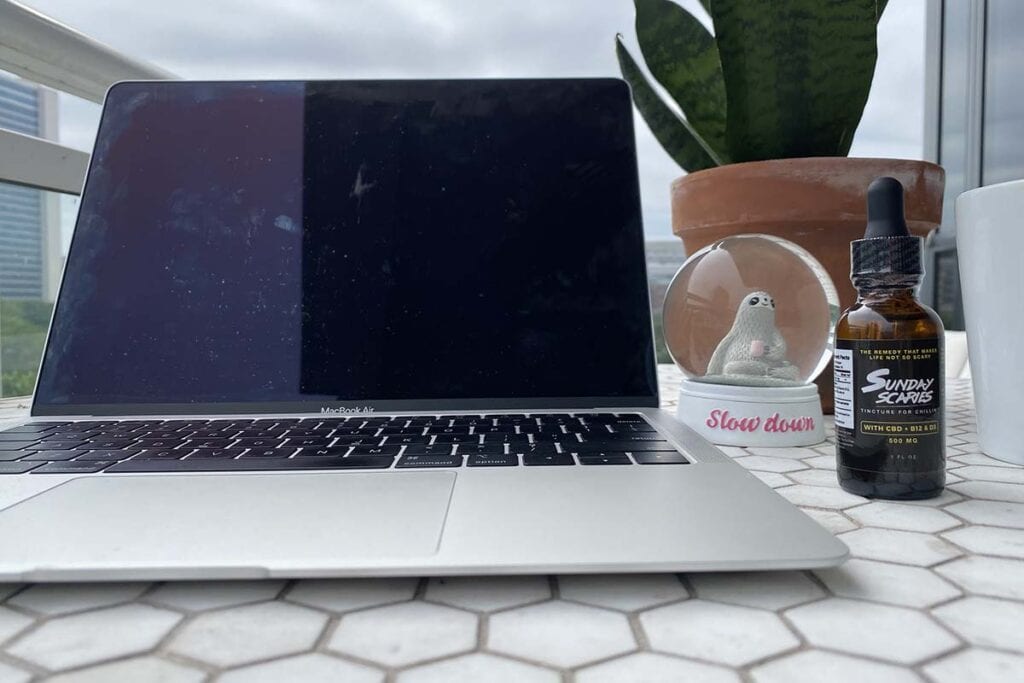 A little dramatic? Sure. But you've been there too, in that moment where the stress of your job takes over and you suddenly feel called to crawl back under the covers and wait for time to pass.
Unfortunately, crawling back under the covers doesn't actually make your work stress go away (we have tried). What does work is coming up with a few go-to strategies for resetting your day so you feel the benefits of a fresh mind and rejuvenated body before you get back to the task at hand.
Here's why: According to Michael Ceely, LMFT and Licensed Psychotherapist, "When you're having a bad day, your brain's circuits are stuck in a negative loop, so you need to break the circuit." Wallowing isn't going to be helpful, relaxing, or productive—so taking the short amount of time to reset your day is well worth it.
Here's what the aSweatLife team does to reset during a stressful day at work.
1. Walk away from the computer (outside, if possible).
At first, your reaction to the idea of ignoring your computer during a crazy work day might be panic. "Won't that just make me more stressed out?" you're asking right now, as you imagine your emails and notifications piling higher and higher.
Nope—and science backs us up. One study found that frequent, brief walking breaks during the work day were more effective at improving well-being than a single, longer walk before work. Walking also puts a physical distance between you and the item causing you stress—your computer, the office—and allows you to get out of your head and reap the stress-relieving benefits of light exercise. And if you're able to take your walk outside (rather than on a treadmill), you get the triple-whammy of benefits from spending time in nature, too.
2. Re-make your to-do list to just three, totally essential items.
Oftentimes, your work stress might come from feeling overwhelmed with a massive to-do list or a big roadblock that needs solving. You don't even know where to start, which can lead to a form of paralysis or inaction.
This is when we break things down to be as simple as possible. From that big to-do list, zoom in on your three biggest, most immediate priorities. Write them down in a new, fresh to-do list. There! Doesn't that look more manageable already?
Once you've knocked those three items down, it's up to you to decide whether you're ready to stop, or whether you've found a new groove and motivation to keep going. Either way, take a moment to celebrate that you were able to rebound and rescue your workday.
3. Jump in the shower
No, we're not suggesting that you stink. But I've been thinking lately about the power of water after I read advice that whenever you (or someone around you) is in a bad mood, "just add water." That might mean taking a minute to refill and drink out of your water bottle, guiding your kid to play in the sprinkler outside, or walking by the lakefront if you're lucky enough to be in Chicago.
In this case, we're suggesting that you harness the power of water by taking a shower. Here's why: as Jeana mentioned in a recent post, the bath and shower are strict no-screen zones. Again, you're creating a physical distance between you and the environment causing you stress.
And second, the shower is an amazingly untapped zone for creative thoughts. A simple shower doesn't require a ton of cognitive effort, leaving your mind to wander as you suds up. Plus, the warm, soothing environment puts you in a totally relaxed state (this is not the time for a cold shower, y'all)—ideal circumstances for a hit of that feel-good dopamine
4. Try a breathing exercise with a side of CBD
A few minutes of slow, deliberate breathwork can instantly calm your mind AND your nervous system. But for those days when your breath needs a boost, we recommend including a little bit of CBD tincture under your tongue.
Here's why. CBD is most effective when you take it daily (hence, why we're obsessed with including their vegan gummies as part of our daily supplement routine). However, if you want to feel its calming effects ASAP, ingesting CBD oil sublingually (that's fancy for "under your tongue") is the way to go. We love Sunday Scaries' CBD Oil Tincture for this—unlike a lot of other tinctures out there, this one has *none* of that just-mowed-grass taste, and all of the light, tropical fruit flavor instead.
So, next time you're feeling overwhelmed, try this: Fill your CBD oil dropper about halfway and squirt it under your tongue. Hold the tincture there for about 30 seconds as you inhale for a count of four and exhale for a count of six. If you have a mantra you use regularly ("I am enough" or "This feeling is temporary," maybe), now's the time to repeat it.
Try this calming little CBD ritual with us and get Sunday Scaries for 20% off with code LIFE20.