Why Taking a Bath Before Bed Is Exactly What Your Sleep Hygiene Needs
[Disclosure: This post was created in partnership with Sunday Scaries. As always, we only write about the stuff we've actually tried and loved, like their
CBD Bath Bomb
and
Big Spoon, their CBD/CBD tincture for sleep
. And if you love it too, you can get
25% off with code SWEAT25
]
Have you ever heard the parable of the shoemaker's children who have no shoes? Basically, this guy is so great at making shoes – he's like the guy that Steve Madden knocks off. But his priorities are out of whack – he spends all of his time cobbling and cobbling loafers and mules for everyone except his family and himself. He doesn't leave any time to use his craft on the people he loves.
I used to think about that shoemaker almost constantly before this March of 2020. When I'd write or talk about practices that I hadn't implemented, I'd say to myself, "I'm the shoemaker who has no shoes." Like all of us, I was forced into something by the pandemic. For me, it was self care. But before that, I knew that the recommended time before bed without screens was anywhere between 30 minutes and an hour – hell, I wrote about it. And guess what: I still fell asleep with my phone in my hand (and then woke up with the anxious sweats two hours later).
During the pandemic, being at home amplified the stressors of, you know, being alive, so I needed to be much more intentional about my sleep. And that's how I fell in love with baths before bed.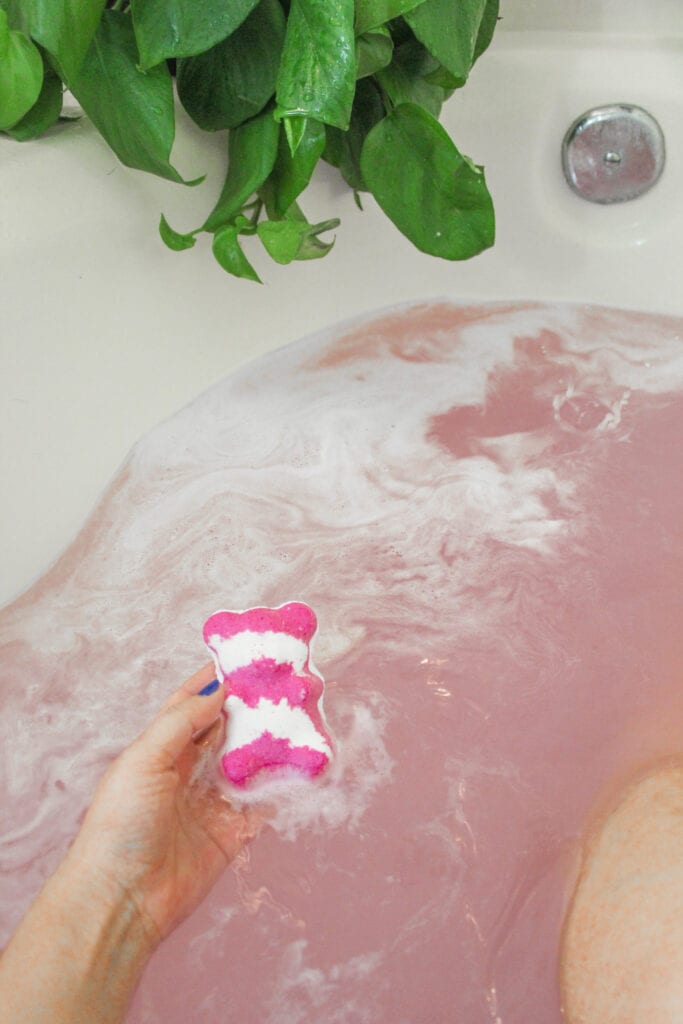 The secret to a good bath-to-bedtime routine.
I understand why parents put bath time at night now. You soothe those precious little babies to bed with a bubbly ritual, and lights out doesn't feel so terrible. Here are the secrets to making your bath routine the thing that brings you a better night's sleep.
Bring nothing electronic to the tub: It is a bad idea to bring your electronics into a bathtub full of water. Full stop. Even if you have hands made of glue, you're going to slip up and drop your phone or tablet eventually. For me, being submerged in water was an easy fix for phone-glued-to-my-hand disorder. It just might do that for you too.
Time it for bed: Plan for the start of bath time around 45 minutes before you want to fall asleep. That allows time to fill the tub, soak, dry off, put your lotions and potions on your skin, and mind your oral hygiene. I also like to use the time while the tub fills to take any of my before-bed potions. For me, pre-bath is the perfect time to take Big Spoon, Sunday Scaries' tincture formulated for sleep with CBD and CBN, which I talk about to anyone who will listen and in this piece.
Soak for about 20-30 minutes: Your bathtime ritual doesn't need to take that much time – consider it a replacement for whatever doom scrolling you did in bed anyway. 20-30 minutes in a tub will give you the benefits of soaking in hot water – like dilating the blood vessels and encouraging sweating – but more than 30 minutes will dry out your skin.
Enhance your H20: Bath bombs aren't just for display on your countertop. Plopping a little something fizzy in the tub can bring added benefits to bath time. Sunday Scaries CBD-enhanced bath bomb – or the Tub Cub, as it's adorably named – is packed with epsom salt, 100mg of CBD (topical CBD works differently than CBD ingested – you'll experience the pain relief benefits on your skin, but it won't reach your bloodstream), and scents that will chill you out and boost your mood like lavender, orange and lemon essential oils. And bonus: Epsom salts are rumored to help your aching muscles recover.
Bring cold hydration: A nice warm bath will leave you feeling hot faster than you might expect. I put ice water or an iced mint tea on the edge of the tub (in a tumbler or plastic cup because I'm terrified of glass breaking and leaving shards in the tub).
Use all of your senses: A grounding technique we love is 5-4-3-2-1, which uses all of your senses to bring you into the present. Think about what you touch, smell, taste, hear and see during bath time. You'll have warm water on your skin, calming scents from your Tub Cub, cool beverages to taste. But what about what you hear and see? I like to play relaxing music like Spotify's "Ambient Relaxation" and feast my eyes on an actual book with pages. Sure, you'll run the risk of getting your wet paws on the pages, but they'll dry.
Make it super easy to go right from bath to bed. Bring your PJs, your lotions and a fluffy, dry towel. This will keep you in your bedtime flow state versus yelling for your roommate or partner to bring you missing items – or worse – doing that thing where you shimmy through your apartment with your hands strategically placed hoping no one is looking in your windows.
What makes your bath time routine relaxing? Let us know in the comments.