All The Swag You'll Get From Our Partners at #SweatworkingWeek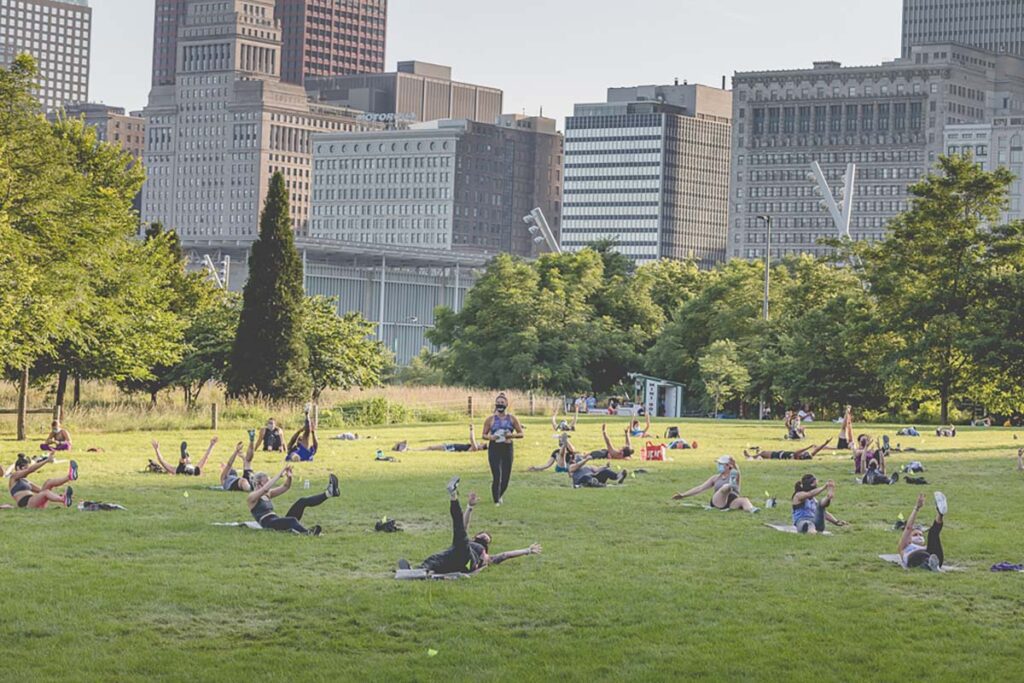 I'll have to admit, that going into #Sweatworkingweek every year, there's a flood of adrenaline, stress, but our partners truly power us – both emotionally and through snacks. This year, the list is absolutely staggering. From full meals to desserts to happy hours to nutrition to toss into water and nutrition to toss into a shaker bottle. All we can say is bring a bag.

If you haven't grabbed tickets to the week yet, check the schedule.
Here's where you can find some of the perks of #SweatworkingWeek.
Michelob ULTRA: Michelob ULTRA will be bringing friendship to the week through happy hours on Monday at Tiny Tapp and Friday at FFC's rooftop pool after class (for sweaty humans who are 21+) and swag throughout the week.
N!CK'S: our friends at N!CK'S are really, really good at sweet stuff that their in-house food tinkerers make better and better. We'll have their, caramel-y, nutty, chocolate-y bars at every event and full ice cream pints Wednesday and Friday night. Don't worry, we've got your spoons covered and if you can't make it to Wednesday or Friday, there will be free ice cream coupons every night.
Greenleaf Chop Shop: Born in Beverly Hills in 2008, Greenleaf has been providing southern California with the highest quality & freshest farm to fork creations. You'll be the lucky recipient of these meals in the evenings at #SweatworkingWeek – and may we suggest turning your post workout salad into an opportunity to chat over a meal with a friend?
GoPuff: This app is clutch for essentials of all kind – everything from salty and sweet snacks to Farmer's Fridge meals, to Chomps meat sticks, to the stuff you need when you're taking a sick day and your mom can't come over, to personal essentials like tampons and condoms. Snacks, meds, and personal care? We'll take it all. You'll find GoPuff on-site Monday and Friday evenings AND you can take $25 off your first order with the code ASWEATLIFE.
Hydrant: These beverage mix sticks not only taste great, but they also make your water work harder for you. In these hotter months, we will take it. And as the winter months get closer, you'll love that these little pouches are also packed with vitamins and minerals. Grab them at every event – you're welcome.
Chomps: The meat-eaters on the team are obsessed with this brand's signature meat sticks. Prepare to sample different proteins and flavors made with high-quality ingredients. Grab them at every event.
Iconic Protein: Something new is coming from this premium protein brand – and we can't wait for you to get your hands on it. Grab this at every event.
Mad Tasty: These CBD seltzers are exactly what your walk home from your workout needs. With flavors like watermelon-kiwi, grapefruit, and unicorn tears, prepare to lose yourself in the can. And if you're lucky, you might get to try their newest product, the wellness boosts. Grab this at every event.
Boss Gloss: This is the hair product that's been missing from your life – it's made of sustainably-sourced ingredients and it's formulated to make your hair stronger. It was created to work on all hair textures and types. We'll have it to put in your top-knot throughout the week and with our resident braid artist at our Friday pool party.
Honey Mama's truffle chocolates: These refrigerated truffle bars are so decadent, you might faint when you find out how simple and delicious they are. And guess what – Honey Mama's is free from refined sugar, soy, eggs, dairy, gluten, and grains. Grab these wherever you see them. You won't want to miss them.
Pulse/RooSense: One of our favorite local activewear brands, Pulse recently completed crowdfunding to help create a line that's more size-inclusive and now they're doing something with tech. That's all we can tell you for now …
Delos Therapy: We've loved Delos Therapy since they first laid elbows on us for some myofascial release. Find them throughout the week popping up a treatment table. They'll be on-site doling out mini treatments throughout the week – and you'll want to line up early.
Open Water: We've been excited about this extremely sustainable water brand ever since we first met them. Bottled in aluminum, female-founded and carbon neutral, they're the perfect partner. Hydrate with them everywhere.
Frogtown Juice: We always say that everything is better with friends, so when Marquita asked to bring a business she loves along to her session Wednesday night, how could we say no? Plus this juice is so, so good, you'll love it post-workout.
Spikeball: Our friends are sending nets to play Spikeball after our workout at Fleet Fields Thursday night. You'll want to stick around, run through the sprinkler, take on a three legged race and learn the game (or show your skills).
Yeti: You would be amazed at how much needs to be chilled at #SweatworkingWeek. Thankfully, Yeti makes the best coolers (and thermoses, and everything else they make) in the world, so we'll be able to keep N!CK'S ice cream cold, and your Honey Mama's below its melting point (72 degrees). We'll be giving away some of these amazing coolers at events throughout the week
The Sill: Plants make everything better. That is the truest thing that's come out of the pandemic. Sad Wednesday? Get a ficus and get back to us. The Sill is helping us bring a dose of these life-bringing plants to our pool party on Friday night. Oh, and guess what, you'll have a chance to take one home.
Athleta: We love Athleta for its size inclusive shopping experience and apparel. They'll be dressing instructors during the week and you'll have chances to win apparel and swimwear from Athleta at the Friday pool party. Swoon.
Cann: This brand is revolutionizing the cannabis space by creating beverages that are lightly spiked with THC. We'll share UNSPIKED Canns with you at #SweatworkingWeek so you can get a taste for the flavor, but we won't get in any trouble. Win-win.
Let us know!
Did this post help you get closer to achieving one of your goals?