Presence.Fit: Tech-Forward Training That Makes Coaching Feel Personal
The COVID-19 pandemic threw its own special kind of wrench into the way things were. Disruption burst its way into service industries of all forms. Spas, salons, restaurants, and gyms were all under a totally new pressure.
But through that disruption emerged new ideas that solve the problem of safely and effectively working out at home. In June of 2020, Presence.Fit launched a platform for iPhone, AirPlay Enabled Displays, and AppleTVs that takes a very 2020 approach: giving you what you miss, but using tech to make it better. The platform powers a workout experience that makes athletes feel like they're working out one-on-one with a trainer and have their full attention. In reality, the human coach in every class is training a digital group with the help of artificial intelligence.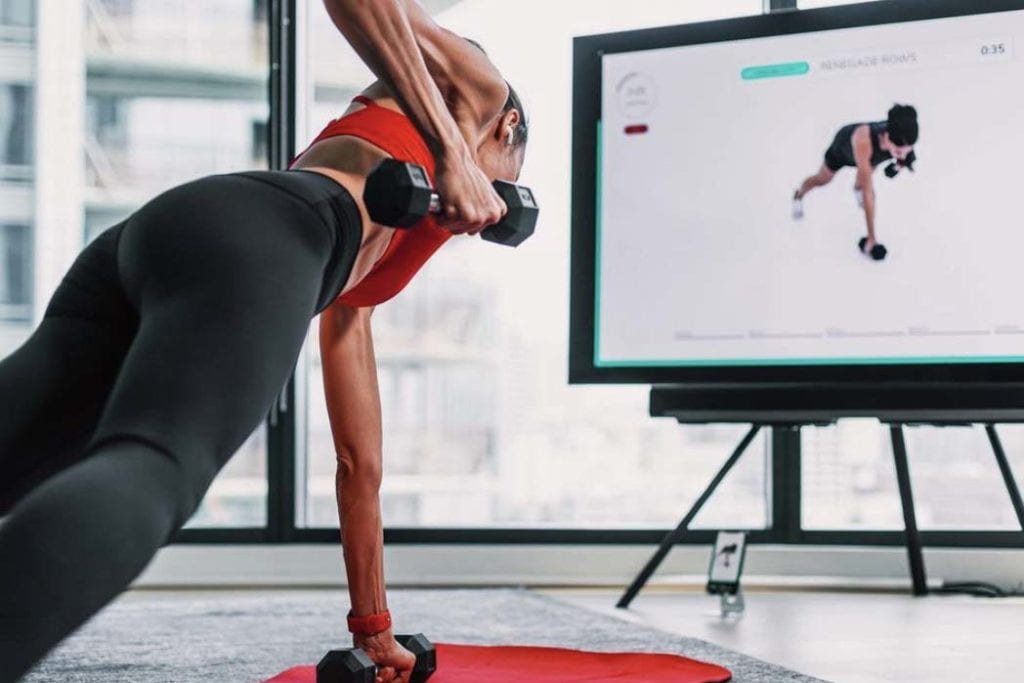 The platform had been in the works since 2019, Robert Jadon, Co-founder of Presence.Fit said, but the COVID-19 pandemic accelerated the timeline to launch.
"Suddenly, COVID opened people's eyes to what they could do remotely," he said. "And then I think on top of that, that experience is going through this sort of fork-lift upgrade – that experience, which used to look really good a year ago, is suddenly looking really dated"
To power a truly differentiated experience, Jadon and co-founder Masaki Nakada leaned into cutting-edge computer science. Nakada's PhD in Computer Science from UCLA, when coupled with the work he's done in biomechanics, AI and computer vision (or, teaching computers to understand and automate tasks that the human visual system can do), created something truly special.
"We think that a very unique part of what we offer is that we're at the intersection of human, AI and mobile," Jadon said.
"From the start, we thought, AI on its own wasn't going to be enough. That's why trainers are such a big part of our solution," Jadon said. "That was really going to drive people and motivate them more than just having a machine telling them what to do."
And from the trainers' perspectives, this tech-enabled coaching is making it easier for them to make the 24 people in class feel like they're getting undivided attention.
"Everyone is getting very specific feedback close to what they'd get doing personal training in real life," Alexa Aftias founding trainer at Presence.Fit said.
Helping trainers do more with AI and computer vision – it all sounds very futuristic. And to truly understand what that intersection actually means for athletes, I tried Presence.Fit for myself.
Logging onto a live class, you'll hear the coach's voice and their playlist as you watch a video of each prescribed exercise on the screen. As you perform the movement, you'll always see a timer as well as a colored ring around the outside of the video that drains like an hourglass.
The part that's unique: the trainer is the only person in the experience who is able to see everyone in class. Based on the coach's verbal cues, you're aware that other people are experiencing the same thing as you, but the experience feels personal and high-touch.
"The AI actually really does help us," Aftias noted, explaining that she can see an accurate rep count for each person on each exercise. And that's the kind of precision that Aftias was excited to create as she joined Presence.Fit.
She jokes that the platform is a burpee-free zone, but as she describes the way she wants athletes to feel, I get the sense that she meant it.
"Every workout on Presence.Fit is designed with less of a focus on making you feel tired, but instead focusing on the techniques that give you results most efficiently," she said, explaining the rewards of watching athletes get stronger and more energetic as a result.
And that's a choice that Presence.Fit made – to recruit coaches who have the knowledge and experience to make training effective, safe and fun. Aftias says the trainers have a few key qualifications: a background in biomechanics and injury prevention for at least 5 years and – an interesting add – each is a former competitive athlete. "They know what it's like to get themselves in the mindset that allows for pushing past barriers," she explained.
And with that, Presence.Fit creates a virtual training experience that makes everyone better – the coaches and the athletes.
"We combine multi-directional movement, and full-range strength with muscular overload, but the purpose is so that you can target and sculpt different muscle groups individually which gives you a lot more progress that's visible, faster," she explained. "It's not just about how you look, obviously; a lot of this is geared toward making you injury-proof and feeling strong and everything energetically that comes with that."
(Want to try it for yourself? Presence.Fit currently offers a complimentary trial.)