Curated Digital Workout Schedule for the Week of April 6
We're entering our fourth week of curating digital content to turn your home into a gym so that you're able to sweat when you can with what you have. On our team, when we evaluate anything we've already done we ask a few important questions: "Did it meet our goals?" "Did people enjoy it?" and "Did we have fun?"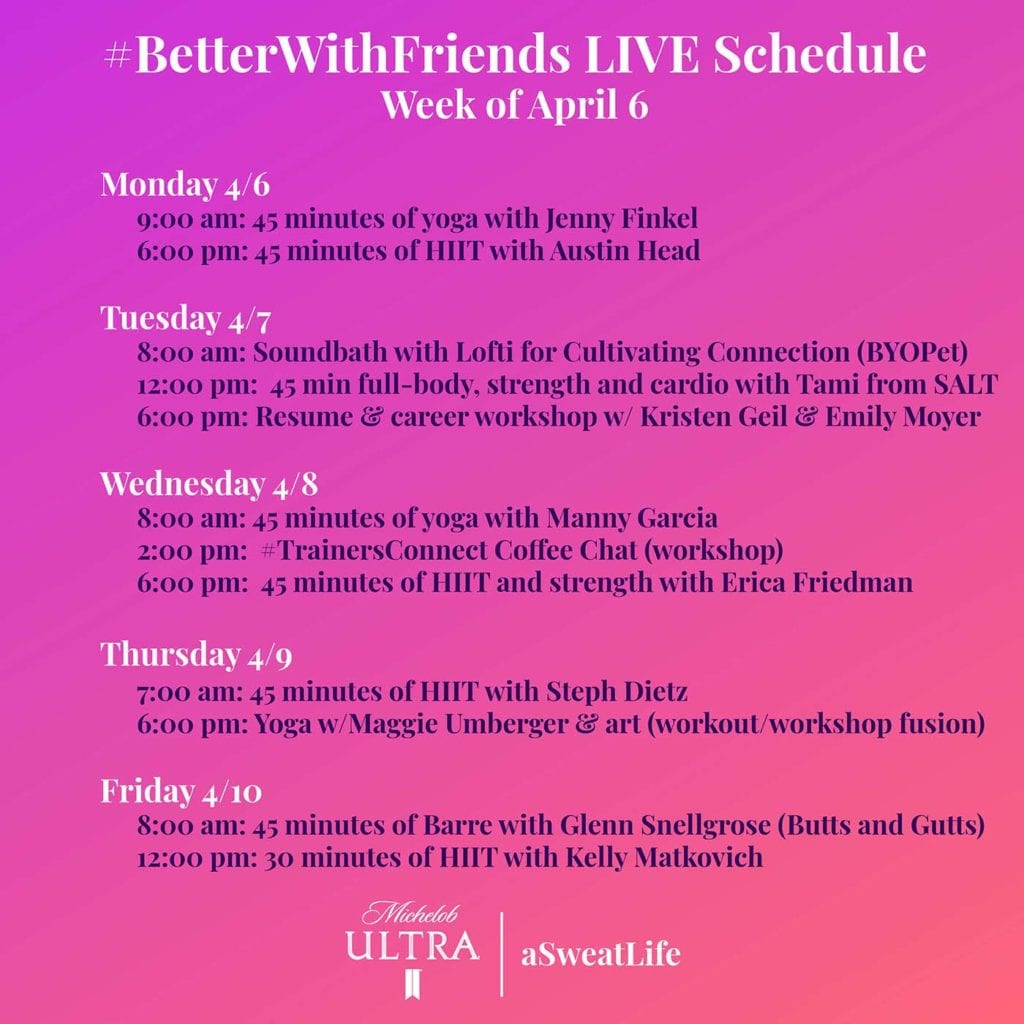 We're leaning heavily into the fun with our workout schedule. Next week's schedule is a mix of cardio, strength, mobility and FUN. You'll find workshops to level you up, workouts led by fit pros from all sorts of studios, and cooldowns that are extra thirst-quenching post-workout from our friends at Michelob ULTRA.
And if you want to toast with us post-workout and grab (AKA wait patiently for delivery of) a Michelob ULTRA, use promo code* "aSweatLife" on Drizly to do just that.
Next week on the Internet:
(All workouts take place on Facebook LIVE and all workshops take place on Zoom and require sign up via Eventbrite in advance. Zoom, like most things in life, has limits.)
Monday 4/6
9:00 am: Start your Monday with yoga by Jenny Finkel. If we're lucky, she may start a spontaneous dance party. (45 minutes)
6:00 pm: Your dose of HIIT with Austin Head using just your bodyweight. Plan for an '80s party. (45 minutes)
Tuesday 4/7
8:00 am: Start your Tuesday with a soundbath with Lofti meant to help you Cultivate Connection. And this sound bath is meant for you AND your furry friends if you have them. BYOPet. (30 minutes)
12:00 pm: Tami Conway from SALT brings you full-body, strength and cardio (45 minutes)
6:00 pm: Join our resident wordsmith Kristen Geil and career strategist Emily Moyer for a resume and career workshop. [1 hour workshop. Please sign up in advance]
Wednesday 4/8
8:00 am: A crowd favorite, let Manny Garcia transport you with this at-home yoga flow (45 minutes)
2:00 pm: We're taking our monthly Trainer-focused event #TrainersConnect to a digital Coffee Chat. We'll take a sharing and solutions-oriented approach to getting everyone through this challenging time. [1 hour workshop. Please sign up in advance]
6:00 pm: aSweatLife ambassador Erica Friedman brings you 45 minutes of HIIT and strength from her home in Seattle. As a coach at some big-name studios, she used her expertise to create incredible workouts that ALSO were suitable for prenatal and postpartum. Expect that here. (45 minutes)

Thursday 4/9
7:00 am: Steph Dietz, who spends her days working for sweetgreen and her evenings moonlighting at Shadowbox, will encourage you to HIIT this bodyweight workout hard. (45 minutes)
6:00 pm: Hold this date and time for a TBA workshop that you're sure to love – it might even be a masterpiece. [1.5 hours workshop – sign-up here]

Friday 4/10
8:00 am:Glenn Snellgrose is back and he's presenting 30 minutes of barre without equipment that is always, always harder than it looks. This time, he's bringing us "Butts and Guts" a workout targeted to – well your butt and your core. Plan for a luau. Hawaiian shirts and socks are welcome. (30 minutes)
12:00 pm: This casual Friday midday movement HIIT session with Kelly Matkovich with be fun and will ultimately result in it being 5 o'clock somewhere. (30 minutes)
A reminder of the resources:
In close to real-time, we're covering the workouts that are available to you across social media and digital tools here.
We're keeping a calendar of digital options here.
And we're updating that calendar with the digital workouts YOU'RE doing as you share them. Submit yours here.
Let's look back at the week's workouts!