1/24: Set Inspired Goals at the #Sweatworking Summit Kick-Off at the Museum of Contemporary Art!
Join aSweatLife and special guests on Friday, January 24 for an evening guided by goals and built to inspire the next two days of goal planning at the #SweatworkingSummit. You'll leave ready to make BIG plans inspired by intention-setting, keynote talks, and personalized coaching curated in this kick-off to our #SweatworkingSummit that's meant to unite our city around goals.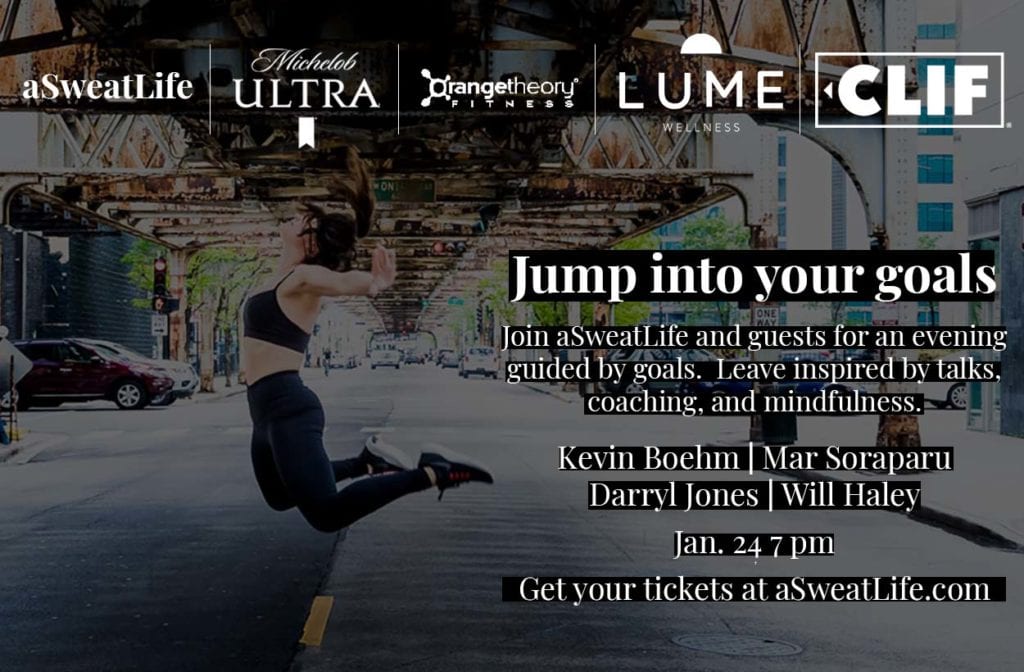 To get the goal-setting party started, we called in some of our favorite goal-getters, like the James Beard Award winning restaurateur and co-founder of the Boka Restaurant Group, Kevin Boehm.
We'll start by setting an intention together, and then you'll be inspired by two incredible high achievers in Chicago's wellness industry. Finally, you'll conclude the evening by creating a vision that will help you dream big (and that you'll be excited to continue planning for over the rest of the weekend). And the entire night will be filled with exciting surprises and moments you'll want to celebrate.
The intention:
Your intention will be set by Darrell Jones of CHILL, who will help you calm your mind tap into your goals through mindfulness. You'll feel transported to the mindfulness studio where Darrell is Lead Guide and Co-Head of Teacher Training.
The inspiration:
Your inspiration will come from a keynote by Kevin Boehm and Mar Soraparu. Kevin will pull from his experience as James Beard Award Winning restauranteur and Co-Founder of Boka Restaurant Group and Principal of the wellness concept BIÂN. And Mar, Partner at BIÂN and creator of Yoga With Mar, will bring a straight-forward wellness perspective informed by her life as a former finance professional turned yoga and life coach.
Dreaming big:
Your goal-setting will be coached by Will Haley, aSweatLife's goal coach of-record who can be found on the mic and the bike at Flywheel most days. Will brings with him the goal-setting method that impacted his life in a meaningful way and has since impacted the aSweatLife community for years by pushing them to set and share their goals.
Why are we doing this?
In aSweatLife's DNA, you'll find goals. We're fascinated by them, we love them, and we appreciate how everyone's goals and paths to get to them are so, so different. This event comes at the perfect time to set big, inspired goals and is the official kick-off of aSweatLife's #Sweatworking Summit, which will take the goals you set on Friday night and super-charge them over the weekend.
The details:
Where: *UPDATED 1/21* The Museum of Contemporary Art, 220 E. Chicago Ave (Edlis Neeson Theater, first floor)
When: January 24, 2020, 7-9 pm (doors open at 6:30 pm)
How to register: Register here!
How much: This incredible night is meant for everyone – so, tickets will only run you $5 + ticketing fees.
Do I have to have a ticket to the #SweatworkingSummit to come to this? Not necessarily, but you'll probably want one! The goal of Friday evening is to help you define the big, hairy audacious goal you're chasing; then, on Saturday and Sunday, #SweatworkingSummit attendees will hone in on the details and the strategies to make a plan for achieving that goal. Friday is the official kick-off to the rest of the Summit weekend, and we firmly believe that you have to plan for the goals you want to achieve—so the whole weekend is meant to work together as one big goal-getting session.
Ready to meet your inspiration?
Kevin Boehm
Having opened 30 restaurants in the past 25 years, James Beard Foundation Award-winning restaurateur Kevin Boehm of Boka Restaurant Group has become one of the nation's most successful owners and operators. He and his business partner have created a thriving business established by a culture built on great chefs, inspired design and enlightened hospitality. Kevin approaches BIÂN in this same spirit. He envisions BIÂN as a place where members can nourish mind, body and spirit – all in one, design-forward, thriving social community that offers time-saving, effortless convenience and a personalized approach every step of the way. At BIÂN, his hospitable touch will guide every member and team interaction, and his expertise will enrich the club's exciting food and beverage operation led by Michelin-starred chef Lee Wolen.
Mar Soraparu
Formerly a finance professional at Nuveen Investments and Guggenheim Partners, Mar followed her deeply rooted passion for health and wellness and made a bold career shift. Nearly a decade later, she is the founder of Yoga With Mar – a Chicago-based lifestyle, life coaching and yoga brand and most recently a Partner at BIÂN – A Private Members Club rooted in social and holistic wellness coming to Chicago in 2020. Mar strives to reinvigorate and heighten the energy of her clients in order to enhance their personal growth and vitality. This is precisely what she endeavors to do on a larger scale as she builds BIÂN along with her team. At BIÂN, Mar will serve as an integral axis point for customized wellness programs. In addition to curating and leading BIÂN's wellness strategy, she will oversee the seamless integration of the club's fitness professionals to ensure a purposeful, safe approach to movement through finely curated studio classes, individual coaching and more.
Will Haley:
With nearly a decade in the fitness industry across many modalities, Will Haley can currently be found on the bike as a Master Instructor and Talent Development Lead at Flywheel Sports in Chicago. Leading with a no-nonsense approach injected with a healthy sense of humor, Will's holistic strategy for vision-based goal-setting is a probing, straightforward, and effective way to map out what you want and the strategies you'll employ to get there. Using this strategy has allowed Will the opportunity to carve out the life he wanted to live, and he's stoked to share it with you.
Darrell Jones:
Darrell Jones is Chill personified – his approachable and calming presence is appreciated by guests and staff alike. As a Lead Guide and Co-Head of Teacher Training at Chill and a founding member of the Chill team, he brings programming and curriculum experience from his former position as a program manager at the Old Town School of Folk Music. Darrell graduated from Kalamazoo College with a BS in Music and holds a Master in Consciousness Studies from the Holmes Institute of Consciousness Studies. His inspiration comes from the realization that in all philosophy, science, religion and psychology there is some element of meditation or contemplation to stimulate change and growth.
What about the brands that helped it happen?
The #Sweatworking Summit is brought to you by a LOT of friends. But Orangetheory Fitness of Illinois will be showering you with fitness (and surprises – you'll see what we mean). LUME Wellness will be there to shower a few of you with a packages. Clif Bar will be there to dole out snacks.