2/13: #Sweatworking is a night of yoga and a movie at The Roosevelt Collection Shops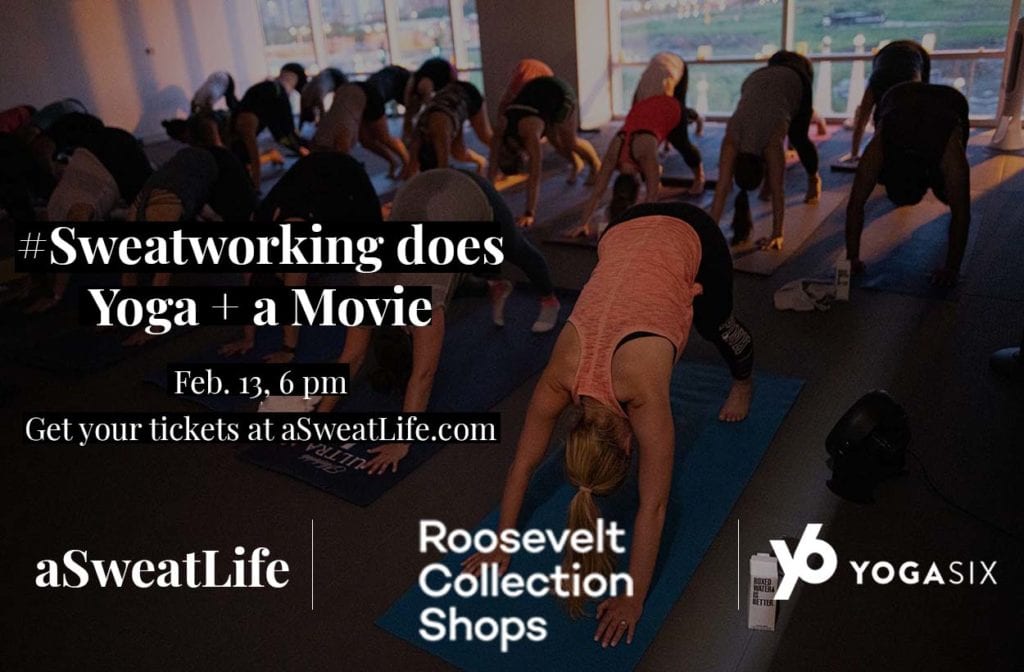 [Get tickets to #Sweatworking at Roosevelt Collection Shops here!]
On the eve of Valentine's Day, we're curating a cozy night at the Roosevelt Collection that you won't want to miss.
February 13, grab your bestie, your crush, the colleague you're trying to transition into an out-of-office friendship – whoever – and join us for an evening that's one-part yoga and one part movie. And the best part? If you want to come to this event without a +1, we're in the business of making people friends.
We'll start at YogaSix where you'll get the choice of either a Love Yourself slow-flow class or a deep stretch in Yogasix's signature "Restore" class. And to keep the focus on giving your body the love it needs without sweating your face off (so you can sit comfortably in the movie theater) we'll keep the temperature warm, but most definitely not hot.
After you roll up your mat and lace up your shoes, we make a stop in the spacious Yogasix lobby for snacks and sips before we move over to the ShowPlace ICON Theatre at the Roosevelt Collection Shops. If we play our cards right, we won't even need to go outside.
Yoga AND a movie? Absolutely. We're going to see the soon-to-theaters movie Downhill (in theaters 2/14) starring Julia Louis-Dreyfus and Will Ferrell. It's described as "a biting comedy" in which a married couple has a near-miss with an avalanche forcing them to think about their relationship. So, like, something for everyone.
Disclosure: I have no idea whether Julia Louis-Dreyfus and Will Ferrell's characters work it out in the end. This is not like the time my mom recommended my college boyfriend and I go see the movie The Breakup, knowing fully (*Spoiler*) …
… that the couple BROKE UP IN THE END. Subtle, mom.
Ready for the best Thursday ever? Here's everything you need to know.
When: We'll kick this off February 13 at 6 pm, but plan to arrive by 5:45 pm.
Where: We'll meet at YogaSix South Loop, 1136 S Delano Ct Suite E-204
How to sign up: Here!
What should you wear? Wear comfy clothes you can move in for yoga and layers you can pile on for maximum coziness at the theater!
What should I bring? A yoga mat for maximum yoga!