Gotham Greens' Pullman Greenhouse: A Bastion of Hope for the Nation's Food
Entering the enormous space, I was enveloped by the sensory experience of peace. All around, a consistent and gentle babbling of water stayed at a perfect background volume while the smell of basil filled every corner of the space. The greenhouse sprouted from the Earth in Chicago's Pullman neighborhood perfectly awash in diffused light—and its defining characteristic is serenity.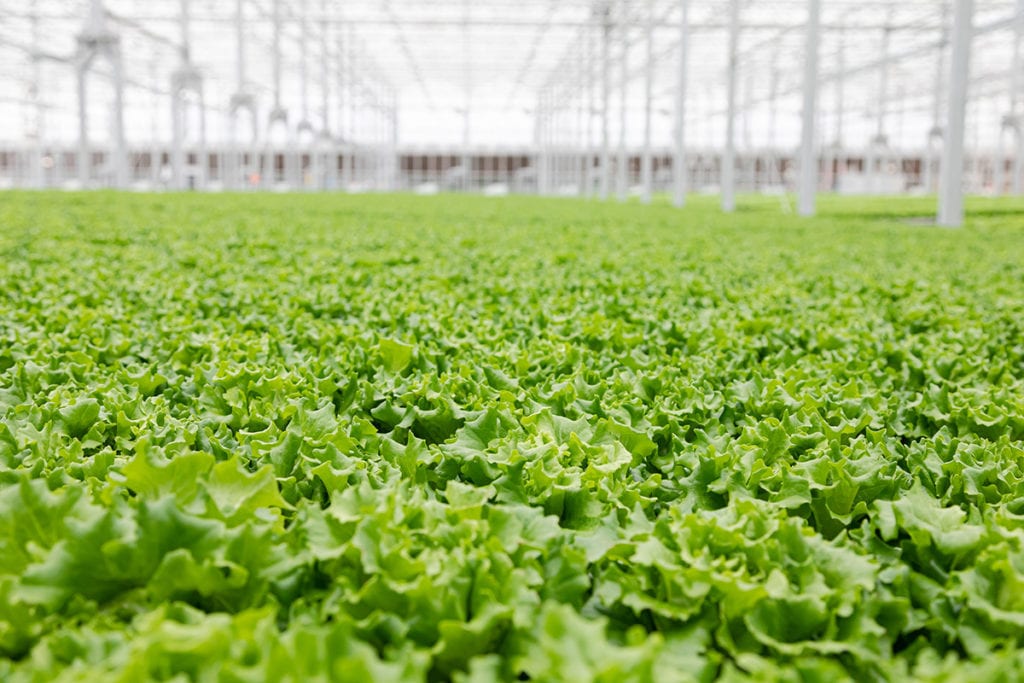 Gotham Greens' second Chicago greenhouse is 100,000 square feet of Romaine, butter lettuce, red leaf and—of course—basil located in a former Ryerson Steel factory, which stopped operating in 2006.
And Ryerson wasn't the first company to lose its footing in Pullman as the things that American workers made and did changed. The town was created and named by a company with an iffy relationship with workers' rights—Pullman Palace Car Company, a luxury railcar manufacturer. Punctuating that rich and problematic history of a company-town is the story of why an employer should not control both your salary and your rent. A recession hit, wages went down, but everything else stayed the same. The ensuing strike that started in Pullman spread across the national railway system, bringing the country and its trains to a halt—the strike came to a violent end with the loss of 30 laborers' lives across the nation. And—*history*—this whole story is the reason the nation started observing Labor Day.
Since, the town has nearly collapsed a couple more times—including the time Chicago bought it in 1889 and another time in 1960 when a plan was floated to demolish the entire thing to build an industrial park.
Now a National Historic District as well as a National Monument, Pullman's historic buildings and rows of company homes are staying put. With a push from The Chicago Neighborhoods Initiative (CNI), the area was ripe for revitalization.
Enter Gotham Greens and its mission to revitalize, redevelop and use non-arable land. The face of farming and the way food gets to us is another thing changing in Pullman.
Gotham Greens is a national brand, sure, but with greenhouses in places like New York City, Baltimore, Denver, Providence and Pullman, it's able to sell its produce close to the sites where it's grown and packaged, Jenn Frymark Chief Greenhouse Officer at Gotham Greens told me. Just down the street from Gotham Greens in Pullman, you'll find the Whole Foods' Midwest distribution center, for example, which moves Gotham Greens' produce to stores in the Midwest and Ontario.
Frymark, who dedicated her adult life to controlled environment agriculture, was quick to note that urban farming isn't new: it's the scale at which Gotham Greens does it that makes it profitable, bringing production closers to more consumers to make local produce possible year-round.
"Basil is a really good crop to do close to the customer," Frymark noted as we walked the expansive greenhouse that she designed. "There are a lot of other herbs that can be shipped like commodities in cold temperatures, but basil gets injured if it's chilled below 50 degrees."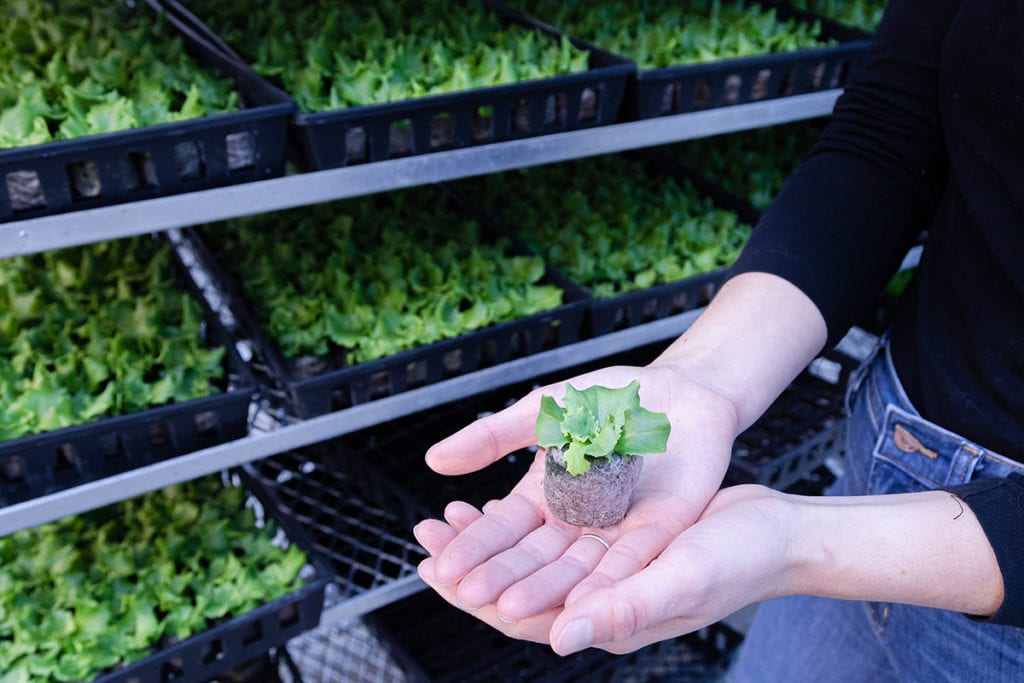 As Frymark and I wove our way through the greenhouse, turning our bodies just slightly so we could move between the rows of meticulously placed plants and the irrigation system bubbling with life, she explained the intelligent design at work around us. "You design [a greenhouse] top-down, so that you can have the most green visible. The lettuce is paying for everything, so we want sunlight on the plants."
And all of the sunshine makes the greenhouse sparkle with life, but more importantly, Frymark says, the food grown in that footprint is truly meaningful for the food system and the communities around them.
And as Gotham Greens makes impacts on sustainable farming, it's happening against the backdrop of fewer and fewer companies making more and more of the food the world is eating. But Gotham Greens has greenhouses packed with tech to help them feed their communities.
"These new greenhouses are really cutting edge and the yields in kilos a square meter per year are unprecedented," Frymark noted while grabbing a butter lettuce leaf and popping it into her mouth. "For the growers, they have to taste stuff as it's growing to make sure that it's developing properly, testing for things like bitterness."
Frymark and I walked past bins containing the roots of plants that were harvested—my instinct was that the roots would end up in a landfill somewhere. Frymark explained gently that the roots would be recycled—and the extra plants, she noted, would go to community gardens and schools.
As we exited the oasis, Frymark pointed out a parasitic wasp (nature's pesticide) and marveled over how no matter where a greenhouse was, bugs always find plants.