Plan for the Ultimate 2020 with These Goal-based Sessions at the #SweatworkingSummit
(Get your tickets to Saturday January 25 or Sunday January 26 at the #SweatworkingSummit)
The #SweatworkingSummit is a weekend made up of two day-long summits built around helping you achieve your big goals through inspiration, accountability and experts. To help you make big plans, we've created four different goal-based sessions that will feed you info, help you put what you've learned into action, and empower you to walk away with a plan.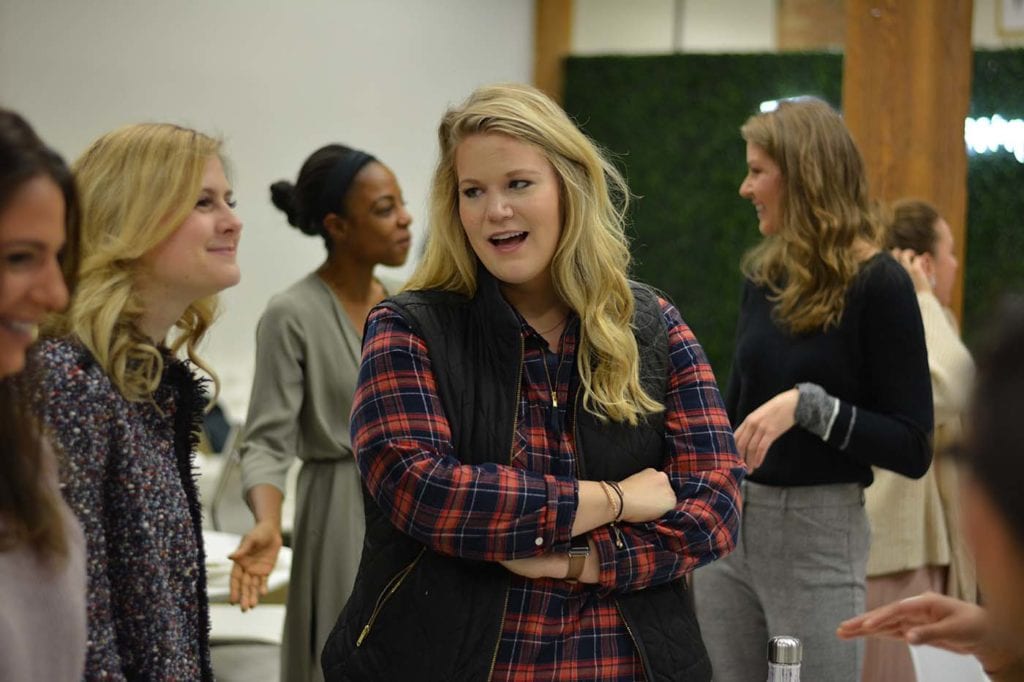 All attendees to the summit will attend two goal-based sessions to power the dreams in their lives. We've worked with experts to curate sessions that fall in line with the goals we hear from you.
I want to eat more mindfully
You'll hear from Sarah Russo and Dawn Jackson Blatner who will help you create a plan to eat more mindfully. And if eating mindfully sounds like a vague goal – it sort of is on purpose. At aSweatLife, we don't subscribe to any one particular diet, but we understand that you may. Diet or not, what we think everyone can get behind is creating habit to enjoy the food you're eating in a mindful way, while still ensuring that it's nourishing your body. NOW Foods will power this goal-based session.
Dawn Jackson Blatner is the author of The Flexitarian Diet, the author of The Superfood Swap, is on the SHAPE Magazine Advisory Board, PEOPLE Magazine's Celebrity Diet Consultant, and was the winner of ABC Reality Show, My Diet Is Better Than Yours.
Chef Sarah Russo is a Holistic Certified Chef from Chicago. As a former vegan, Sarah's cooking style is firmly rooted in plant-based cuisine. Her background is in therapeutic and healing foods that are functional and delicious. Her favorite cuisine is farm-to-table: seasonal, plentiful, and relatable. Sarah added animal protein back into her diet in 2015, as she discovered mindful ways to source the "good stuff" in the Chicago area. For the past 6 years, Sarah has built a healthy food service business called Love Your Fat Personal Chefs. Sarah and her team cook for all types of people to help achieve their health goals. These days she primarily works with athletes from the Chicago Bulls and Chicago Blackhawks. Sarah's mindful eating mantra is Eat Whole, Eat Well, and Eat Together.
I want more from my career
Whether you're seeking a major change or more satisfaction from the job you have, this session created by our friends from The SheFactor is for you. You'll match your personality to how you work best then build a plan to help you go out and get it. aSweatLife subscribes to the philosophy that your wellness routines power your big, hairy audacious goals and help you strengthen your body to carry your big, powerful brain around. Tori Ganahl and Heidi Ganahl from The SheFactor are the perfect partners in that – they exist to help you build empowered and fulfilled lives through their app-based curriculum, live events, book, and so much more.
Heidi Ganahl dealt with adversity early in her life when she lost her husband in a plane crash, but her entrepreneurial spirit helped her pick herself up and found Camp Bow Wow, a $100 million leader in the pet and franchise industry hitting the Inc 500/5000 list five years in a row. For this effort, she has received many accolades including Fortune Magazine's Top 10 Most Promising Entrepreneurs, and the 2016 Colorado Brave Leader Award. After selling Camp Bow Wow a few years ago, Heidi dedicated herself to "giving back."  She was elected in a state-wide race to the Board of Regents of the University of Colorado and is on several other boards focusing on entrepreneurship and education.  She also founded the Fight Back Foundation, an incubator built to support social entrepreneurs that want to tackle the most pressing societal issues confronting kids today, and just launched her new lifestyle brand for millennial and Gen Z women, the SheFactor.
Tori Ganahl is a spirited young leader who is dedicated to helping young women create a life they love and navigate adulthood. Growing up, she was surrounded by powerful women who were thought-leaders, entrepreneurs and trail-blazers. One specifically was her mom, Heidi Ganahl. But when it came time to go off on her own, she was determined to pave her own path. After graduating from the University of Oregon and finding herself in an uninspiring career, she was feeling like there was something more for her – she was craving passion and purpose. Heidi and Tori built SheFactor together to inspire women to become confident, successful leaders of their lives and create the life they love – their "Journey to She."
I want to travel
We hear from you constantly about the wellness retreats you're watching and the new wellness hotspots you want to explore. Because the #SweatworkingSummit is at the Kimpton Gray Hotel, we have access to the travel aficionados on the Kimpton team who will help you identify the destinations that fit your personality, the itineraries that make you swoon and the budget you'll be working against. Joel Contor and Dina Fenili have dedicated their lives to travel and hospitality – they'll shower you with their knowledge in this session.
With careers in hospitality and passion for travel, Joel and Dina will open your eyes to all of the places you can go in 2020 that will be ahead of the trends and will fit your personality. You'll leave their session with a plan to see the world (or at least part of it).
I want to invest time in self-care
Self-care is important, but it's also personal. Every single human thrives in a different set of circumstances that give your mind, body and soul what they need. We've partnered with Lofti to bring you a session that's built to help you find your unique combo of self-care. Lofti will start your session with a sound bath then move you into an activity powered by the "why" behind self-care and you will walk away with a plan to make your self-care routine stick this year.
Karianne Michelle, President at Lofti, and Will Harris, Chief Wellness Officer at Lofti, are the perfect guides for this experience. They can't wait to help you feel your best.
Have questions about the #SweatworkingSummit or these goal-based sessions? Email us! We're at admin at asweatlife (dot) com.