Why Pop-ups Are Taking Boutique Fitness by Storm
You walk in and the scent of citrus floats out of every doorway, vent and candle in the 3,200 square foot space. To your right, comfortable seating bustles with action, fueled by healthy snacks and smoothie bowls. To your left, a door opens, letting out the heat of a freshly finished fitness class as dozens of smiling, sweaty faces walk toward a wall filled with retail commemorating this exact place and moment in time.
One more thing: last week, the space you were sweating in was a barn and next month, it will go right back to being just that.
The boutique fitness industry is certainly special, but I like to think of it in infinite analogies. One I've spoken through at length – especially lately – is this: boutique fitness is an awful lot like retail, it's just a couple of years behind in its lifecycle.
Case in point: the pop-up. For years, retailers have used physical pop-up locations to brand, test or create buzz. In markets across the world, fitness brands big and small leverage partnerships, temporary spaces or big, flashy experiences to pop-up their proprietary training styles. It's one of my favorite trends to watch in fitness because the tactic offers something for every boutique or fitness-adjacent brand.
Fitness pop-ups serve as a testing ground for boutique fitness brands
Walk into 305 Fitness and the experience from the door to the dance floor is curated – the neon lights, the art, the way you move through the classroom. But ask founder Sadie Kurzban how she got there and she'll say that it was a road paved by testing and learning, as she shared on an episode of our podcast #WeGotGoals.
"When I moved to New York I was really operating all of these classes out of rented space," Kurzban recalled the pop-up that would become 305 Fitness. The time she spent popping up her classes allowed her to test her fitness concept without a huge financial barrier. And for new studios that haven't yet secured the capital for a pricey lease – that makes popping-up a must.
And though today 305 Fitness operates out of brick and mortar spaces, it still pops up before it plants roots in new markets.
"Usually if we're renting space from a dance studio, it means we're testing the market and seeing if there's demand there for us to plant a brick-and-mortar studio," she said. And in case you're reading between the lines, you can find a pop-up by 305 Fitness in Chicago now.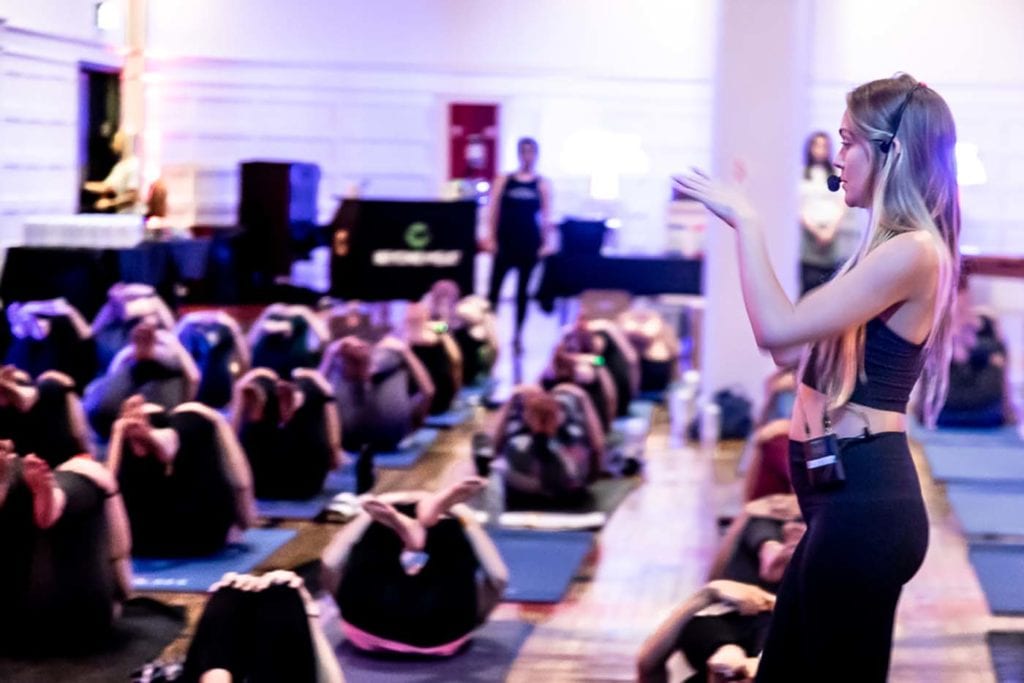 Fitness pop-ups act as an opportunity for gyms to brand
Pop-ups are a part of Barry's Bootcamp's DNA. Barry Jay, founder of the method, started in what I would consider a test – he tested the tread-and-shred concept under the roof of an existing gym. Joey Gonzalez, CEO of Barry's Bootcamp, said "it's very different than how we use pop ups today."
Today, pop-ups drive brand awareness, create a buzz and start to foster community in new markets before Barry's opens the doors to a new studio, Gonzalez explained.
"It gives us the opportunity to connect with future customers and provide them with a glimpse into what our core values and brand identity are," he said. "We also use it as an opportunity to engage with people in new markets and listen and learn what is important to them on a local level."
One stand-out activation featuring Barry's Bootcamp was a takeover of the Shermerhorn Symphony Center in Nashville as a part of the 2018 CMT awards. The space was transformed with Woodway treadmills, benches, dumbbells, and Barry's signature red lights. The experience was elevated through musical performances and DJ sets. Talk about unforgettable.
But for Barry's, an event of that scale serves a different purpose: "to celebrate special occasions, introduce new and exciting partnerships, and/or generate interest and revenue for non-profit charity activations."
Boutique fitness pop-ups help serve a nomadic consumer population
The Class by Taryn Toomey, New York Pilates, SoulCycle, Flywheel, SLT, AKT, Tracy Anderson, 305 Fitness, Y7, Punch Pedal House, Fhitting Room and more open up sweaty shop in the Hamptons for the busy summer season – and the list of brands following the trend grows every year.
And when the population of New York City funnels into the Hamptons during the summer, it makes sense for the boutique fitness brands that New Yorkers love to open up shop there too. Hamptons boutique fitness pop-ups are arguably the earliest and therefore the furthest along in their evolution, packed with trends to watch like the melding of retail and wellness. This summer, Goop created a lifestyle pop-up with other brands popping up in their pop-up (very meta). Similarly, Soul-Cycle's pop-up at The Barn now has as large a retail presence as a fitness one.
There aren't many prominent migratory boutique fitness pop-ups outside of the Hamptons, but cultural moments like Coachella now feature branded fitness experiences. At the festival, Equinox led Precision Run experiences and treated festival goers to relaxing spa treatments and Asics partnered with Cobra Snake to create community-based run experiences.
Fitness pop-ups help fitness-adjacent brands create a splash
Brands have taken interesting stances when it comes to wellness – landing national consumer brands like Propel and Michelob ULTRA squarely in the media eye as they create cross-country tours aimed at gaining the loyalty of fitness-minded consumers.
Propel Co:Labs Fitness Festivals crossed the nation over the past three years, stopping in major markets as the brand showcased its point of view in the fitness space. They've hosted workouts in fitness studios, created experiences with music-festival level production, and this year, they created a single fitness festival in Los Angeles featuring acts like Charlie XCX, Ciara and Chromeo.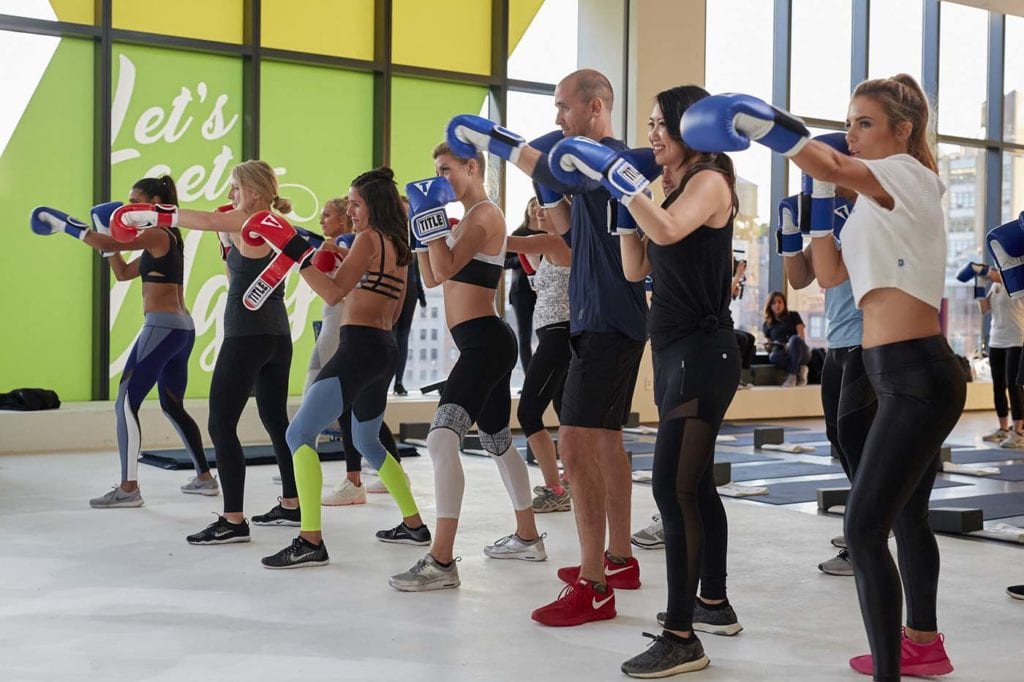 The experience is equal parts festival and workout.
"We introduced Co:Labs as a way to unite the fitness community and to celebrate movement in a one-of-a-kind way," Laura Barnett, Senior Brand Director Propel Water & Active Fitness Platform at PepsiCo said. "This year, we brought together thousands of people under one roof who share the same passion of fitness and working out, with influential trainers, top musical acts and unique well-being opportunities that truly harness that power of the community."
And local brands are creating experiences tied to wellness too. Smoothie and bowl concept, Graze, has two years of pop-ups with Taryn Toomey's The Class under its belt, partnering with other brands to create a single-day experience that fits an active lifestyle.
And that's just where founder Mason Edelson wants Graze to be positioned – way more than a meal or snack.
"We're serving food that provides sustenance pre- and post-workout. Obviously there's a health component with Graze, but more than that, I like to consider Graze a lifestyle brand. We want to promote eating that is in line with people's lifestyle goals," Edelson said.
What's next?
As fitness continues to innovate at a rapid pace, boutique fitness pop-ups will ultimately be the place where consumers see what's at the forefront. Boutique fitness consumers are hungry for unique experiences and ways to connect with a larger community – and the best way for the fitness market to find what's going to pop next is to experiment.
Let us know!
Did this post help you get closer to achieving one of your goals?