How Robyn Shapiro, Master Problem-Solver, is Bringing Sustainability to the Yoga Industry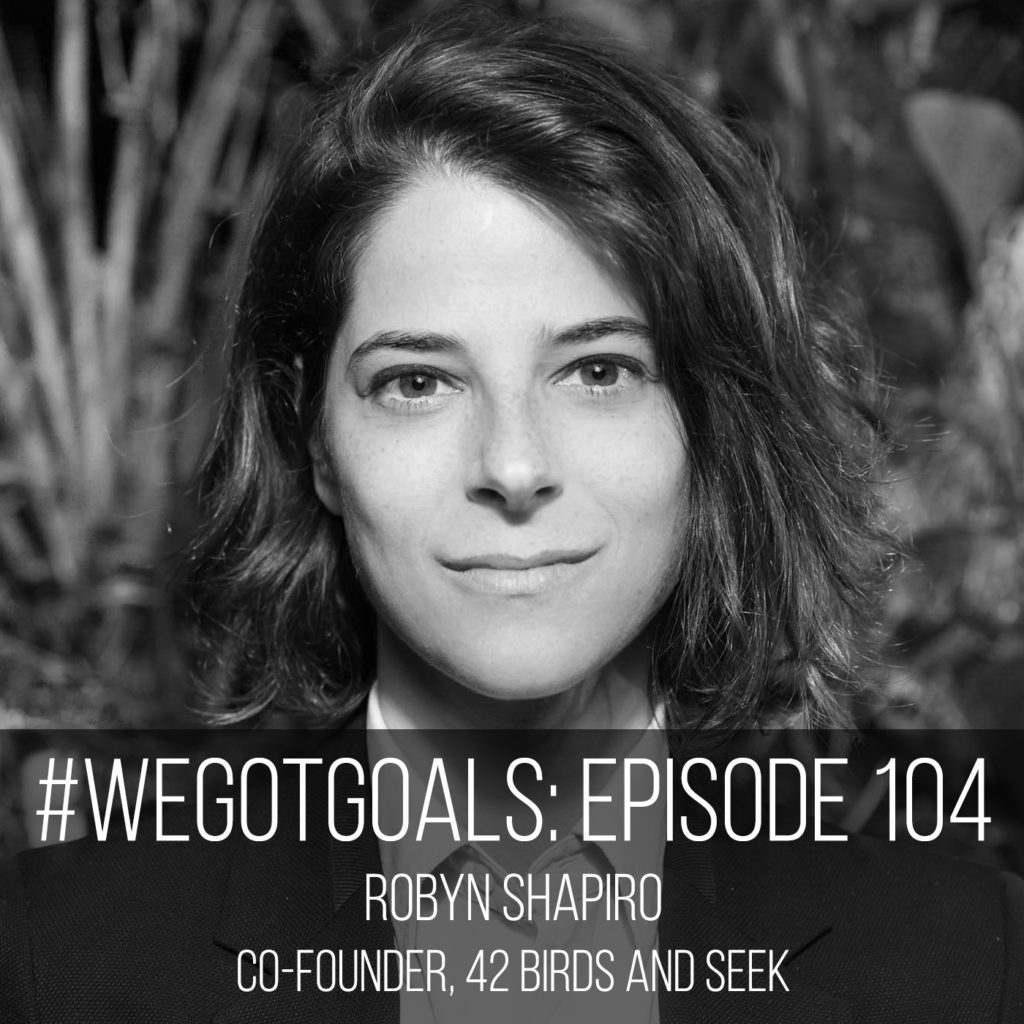 "What's with the bugs?"
"Why are you guys obsessed with eating crickets?"
"This is a weird IG story."
"Gross."
"🙈😳🤢"
Such were the DMs after an epic IG story series in which members of Team aSweatLife ate various cricket snacks for the 'gram, including one particularly memorable series where Maggie tried to chug a cup of dried crickets in less than a minute. Kathy Lai, our fearless leader for this initiative, had decided it was high time for us to try this alternative form of protein, so she reached out to Robyn Shapiro of Seek Food to stock our snack drawers with cricket energy bites and cricket protein granola. (You can read her full take on the taste test here).
I figured (and rightfully so) that anyone who decided to start a food company based on crickets HAD to be an interesting podcast guest—and it turned out that Shapiro fit perfectly into this quarter's theme of creating a better world. In addition to Seek, Shapiro and her business partner, Addie Conner, have also co-founded 42 Birds, a company that makes eco-friendly yoga mats and accessories using cork from Spain and Portugal.
The founding of this two companies came from one pivotal experience: Shapiro's time living abroad in Switzerland. America was in the midst of a major green movement, but Shapiro was surprised to see there wasn't a corresponding movement in Switzerland—but only because sustainability was so ingrained in their lifestyle already.
"There was no green movement because that's how life always was," she explained to me in our interview.
A self-described problem-solver, Shapiro decided to tackle one of the world's biggest problems with one of the smallest physically-sized solutions: creating an energy-efficient protein source using insects, which two billion people around the world already eat regularly.
With those wheels in motion, Shapiro and Conner turned their attention to a side hustle that was quickly gaining momentum: a yoga mat made out of cork, which turned into the company 42 Birds. Cork, as you'll hear in this interview, is harvested (rather than cut down), biodegradable, and recyclable; plus, cork forests protect the most endangered big cat in the world, the Iberian lynx. And for the yogis, cork is a naturally grippy material that's antimicrobial and self-cleaning. Read: no more wiping down your mat with questionable disposable wipes.
While you're guaranteed to learn a LOT from this conversation, one of the most interesting aspects to me was how passionate Shapiro was about educating her customers, and how that in itself is a mindful practice. Knowing the sources of the materials in the things you use everyday, promoting transparency and education, and encouraging her customers to call them out on things they can do better—these are just a few of the ways Shapiro sees 42 Birds moving towards her future big goal, to be the most sustainable company in the world.
Want to try 42 Birds or Seek Food products for yourself? Shapiro wants to offer our listeners a discount: promo code "ASWEATLIFE15" will get you 15% off your purchase on either website.
Like this interview? Show us by rating or reviewing us! Don't forget, you can listen to this episode through the link at the top of this post, or via iTunes, Spotify and wherever else you get your podcasts.