How One Traumatic Event Led Michael Mader to Start a Business for Homeless Youth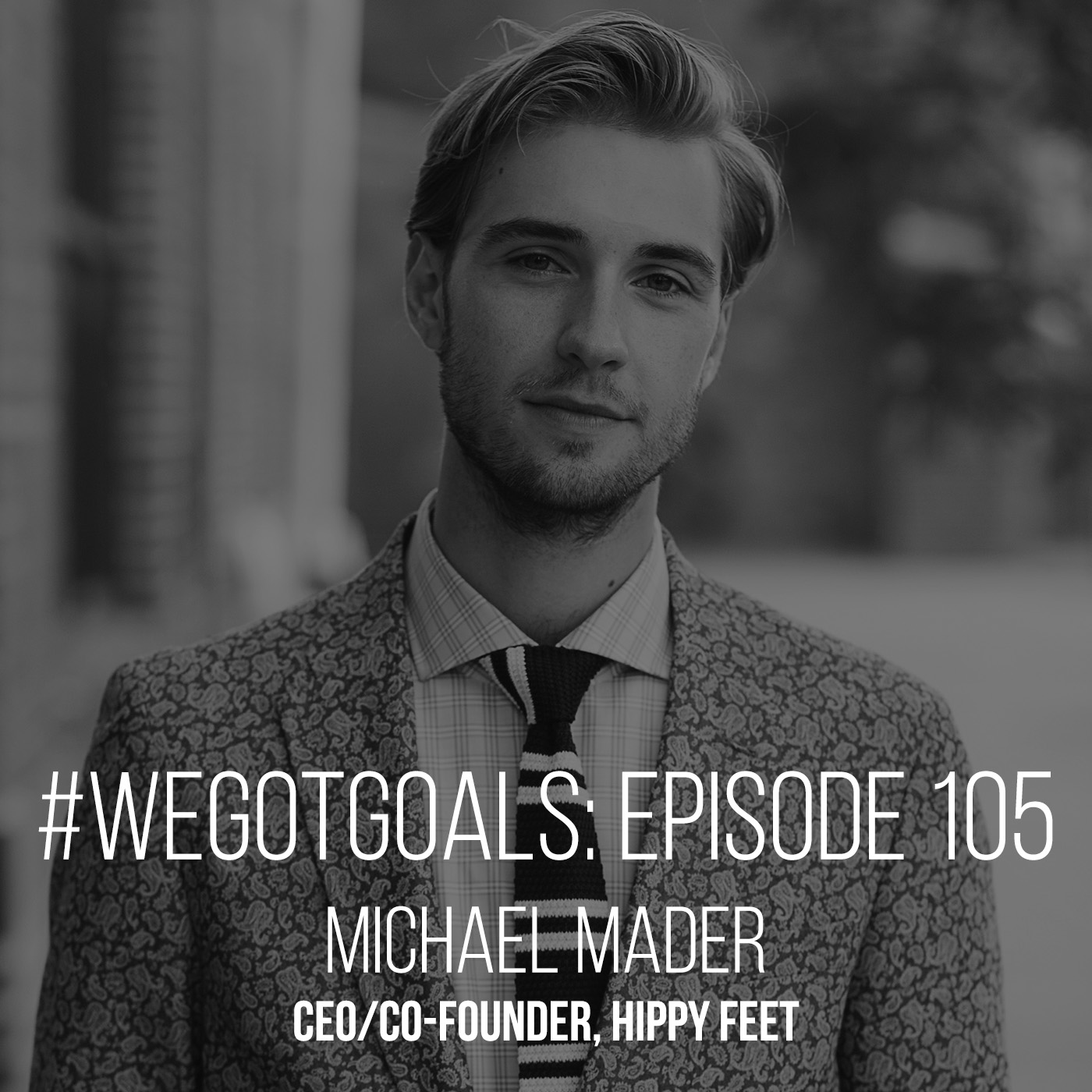 Listen to this episode with Co-Founder and CEO of Hippy Feet, Michael Mader:
As a college student, Michael Mader never thought he'd start a business that would seek to end homelessness for youths on a city-wide and nation-wide scale. But then again, he also didn't foresee a traumatic brain injury that would require an emotional and financial support system for months on end, either.
As Mader told me on this episode of #WeGotGoals, "I was unable to go to school, I was unable to work, and had to heavily rely on my support group – so family and friends that were there for me to drive me to my doctor's appointments, to help me with grocery shopping, cover rent, as well as emotional support – I recognized that without that group of people I could have easily ended up being homeless."
It took a scary turn of events to force Mader to see a terrible reality for many others – especially young people –  who have similar situations and don't have that same network of support to fall back on. This was his inspiration, his drive, to do something about that reality and create real, tangible change.
Enter: Hippy Feet, a sock company on the surface, a support group for individuals who don't have one underneath.
In September 2016, while Mader was in recovery, he launched Hippy Feet with his partner, Sam Harper, as a buy-one-give-one program, but they very quickly realized they could do much more.
"About 11 months in, we began developing a program that we call pop-up employment," Mader said. "We bring our packaging and processes directly to homeless youth drop-in centers and shelters. We provide employment to people ages 16 – 23 who are experiencing homelessness, and we employ them to package every pair of our socks."
The concept is simple, but the impact of doing more than donating warm clothes to the homeless has become increasingly powerful year over year. Hippy Feet has become a helping hand that keeps on helping as homeless youth go through their pop-up employment programs. First, it's a consistent source of income. It then helps these young adults form a consistent track record of work, which can be leveraged to gain additional internships, entry level jobs, and more references to continue on a path towards a career.
And if that's not a tall enough task, maintaining eco-friendly, sustainable processes as an integral part of the business is still a top priority for Mader and his team.
"We make all of our products domestically, and we're focused on using environmentally friendly yarn to make the majority of our socks and apparel products. It's a process that uses 99% less water than growing traditional cotton would. We've saved over 14 million gallons of water just through using recycled yarns," he said. "It's available, it's just a matter of committing to [the practices]."
Mader may only be three years into the business, and just a few years out of college himself, but he's got both big dreams for the future of Hippy Feet and big advice to listeners of this podcast.
He challenges us to go for it, if we have an idea that we want to make happen. "People stray away at the fear of failure; let fear be a motivator, but don't let it consume you," Mader said.
If you listen to this episode of #WeGotGoals with Michael Mader and enjoy hearing his story, we'd love it if you'd leave us a rating or a review. It helps us share Mader's story and other big goal getters' stories like his with the world. Don't forget, you can listen to this episode through the link at the top of this post, or via iTunes, Spotify and wherever else you get your podcasts.