October 12: #Sweatworking for Expecting Moms with Weissbluth Pediatrics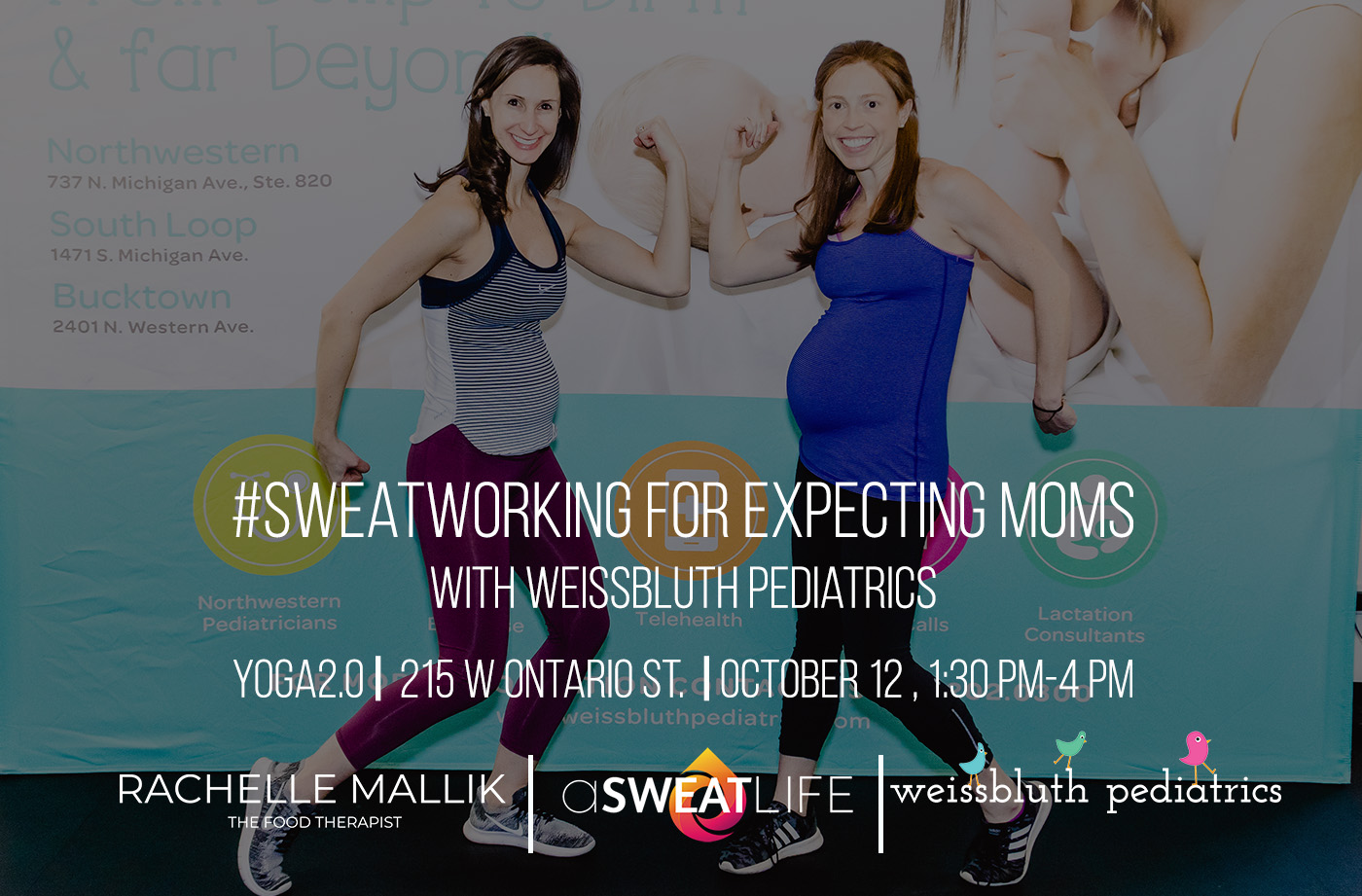 (Get your tickets to #Sweatworking for expecting moms with Weissbluth Pediatrics here.)
Weissbluth Pediatrics and aSweatLife are teaming up to bring new moms-to-be the very best in prenatal fitness and education on Saturday, October 12 at Yoga2.0.
At aSweatLife, we believe everything is better with friends – and that includes pregnancy. So, we teamed up with Weissbluth Pediatrics to create a totally free prenatal education and community event that prepares moms-to-be – from bump to birth and far beyond. And, bonus, we built in plenty of networking time to meet others in the same stage of life.
On Saturday, October 12, at Yoga2.0, expecting mothers will experience a day of prenatal fitness built just for them. You'll take on prenatal yoga, learn about fueling your body during and after your pregnancy, and hear from Dr. Weissbluth on preparing for baby's sleep. You'll also have a chance to sign up for a one-on-one prenatal appointment with one of Weissbluth's Pediatricians in a private setting to learn more about newborn care post-delivery, what your family can expect in the first year of life, learn more about the practice, and get all of your questions answered.
We will kick things off at 1:30 pm with a talk from Dr. Daniel Weissbluth. He has been helping families with their children's sleep ever since becoming a pediatrician. He is the coauthor of Sleep Consult with his father, Dr. Marc Weissbluth, and he consults families from all over the world on this topic. He will teach expectant women how to lay the groundwork for creating healthy sleep habits starting from the moment the infant arrives at home. You'll learn how to prepare the nursery; what makes a safe sleep environment; the newborn's sleep "landscape"; and debunk popular parenting myths.
After the talk, you'll move through a yoga sequence built for expecting moms by Yoga2.0. Plan for relief to your lower back and hips in a safe and effective yoga workout built just for you.
And you'll finish your complimentary afternoon of prenatal wellness with breakout sessions led by experts in perinatal nutrition and physical therapy. Renowned nutrition specialist, Rachelle Mallik, MA, RDN, LDN, and owner of The Food Therapist, a private practice specializing in reproductive nutrition for fertility, prenatal, postpartum and breastfeeding wellness, will help answer all of your nutrition questions. Physical Therapist Erin Conroy, from West Town Physical Therapy, will guide a discussion on perinatal physical therapy-related topics that most pregnant women experience but are not talked about nearly enough, like pelvic floor strength and how to continue or get back into your workout routine. She is really passionate about helping women understand and feel comfortable through every stage of pregnancy.
Here's everything you need to know!
What: All things prenatal fitness –a workout, experts in pediatrics, nutrition, pelvic floor rehabilitation and a 'baby shower' by brand partners
When: Saturday, October 12, 1:30 – 4:00 pm
Where: Yoga2.0, located at 215 W Ontario St.
How to register: Get your tickets to the event here.You'll also be able to register for 1-on-1 sessions with Weissbluth pediatricians.