July 17: Experience Sweatworking at Roosevelt Collection Shops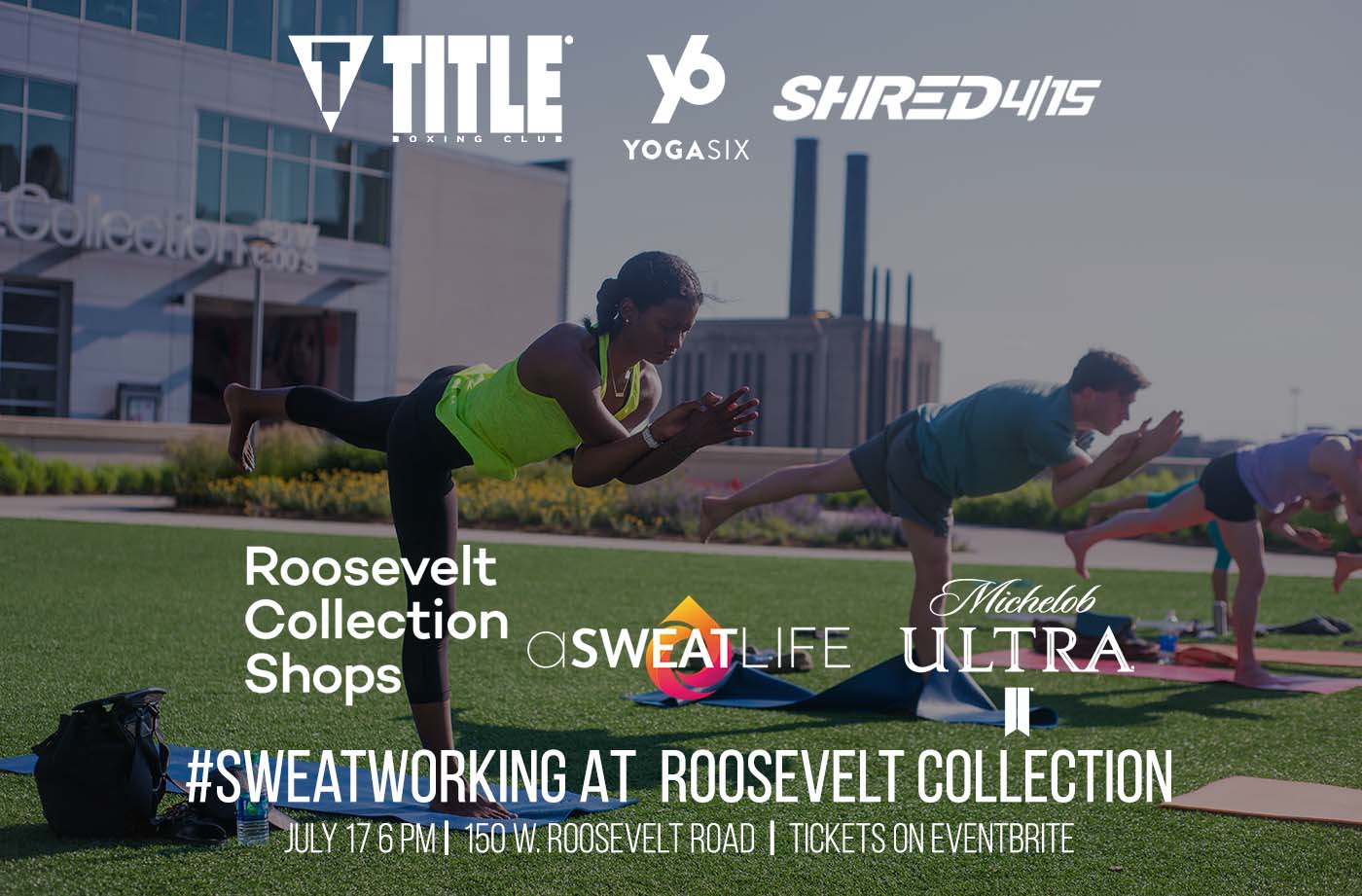 [Get your tickets to this July 17 Sweatworking at Roosevelt Collection Shops here!]
Walking into the Roosevelt Collection Shops in the South Loop, the wellness possibilities abound. From all the places to take care of your body like Yoga Six, SHRED415, Title Boxing Club and Massage Envy, to all of the shops like Fleet Feet, Old Navy and Victoria's Secret where you can dress for sweat—we daresay it's a wellness oasis.
And so July 17, we'll take it over, creating a wellness experience built for a summer night. You'll take on our signature #SweatworkingCrawl on The Rooftop, a gorgeous space that overlooks the city's skyline and you'll have plenty of opportunities to shop (with a few exclusives). You'll get a snack-sized 30-minute workout from three studios: Title Boxing Club, YogaSix and SHRED415.
What's the lowdown on the workouts?
Title Boxing Club: This high-intensity interval training workout sculpts your body and burns calories like nothing you've experienced before. Your trainer will lead you through explosive boxing rounds where you'll deliver jab, cross, hook and uppercut combinations, working your entire body.
YOGA SIX: Y6 Power classes are full-body blasts designed to build focus, endurance, and flexibility. These vinyasa classes move at a steady pace to keep your practice fluid, creative and energizing. This workout will take your body and mind through a sweaty and challenging journey.
SHRED415: Each SHRED415 class alternates between treadmill drills and floor work – we'll take on a version of that outdoors. Expect strength training and cardio bursts from expert instructors who are there to lead, motivate, and challenge you to reach your goals—at a pace that works for you.
What special experiences can I expect?
We have lots of surprises in store for you – more to come in the next few weeks. If we play our cards right, we might just get to have a picnic on The Rooftop as the sun sets. Fitness AND romance? You shouldn't have.
Here's everything you need to know for the day:
Where: Roosevelt Collection Shops, 150 W. Roosevelt Road
When? The workout will kick off at 7 pm, but we'll be there to check you in starting at 6 pm – when you can start to enjoy the goodies and experiences from partners at the Roosevelt Collection Shops.
What do I need to wear? Your favorite fitness attire and shoes to carry you through the workout!
What else should I bring? Your ID for your Michelob ULTRA (first one's on us!) and any clothes you want to change in to after the workout.
Where do I buy tickets? Right here!