May 10: New School Flair in P.E. Class with Basketball and Trap Yoga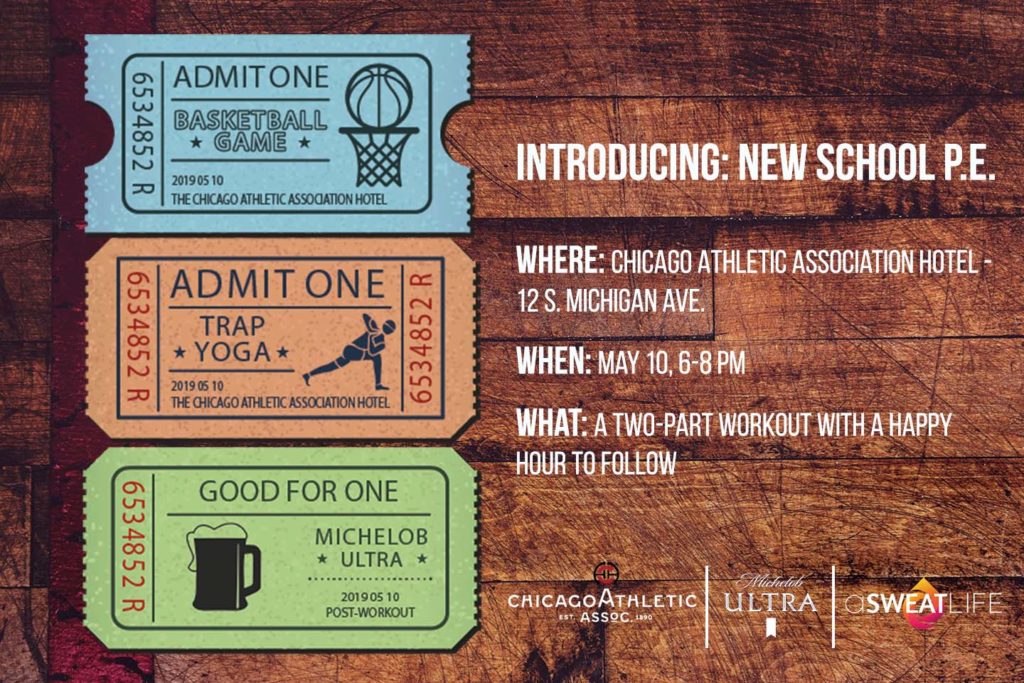 The whistle dangling around the teacher's next. Wood floors beneath your sneakered feat. The thrill of just playing. That's where New School P.E. comes in, a recreational partnership between A Sweat Life and the Chicago Athletic Association Hotel, bringing back the nostalgia of elementary school gym class with a new-school flair. New School P.E. class combines old school fun with some of the things we love from adulthood: good music, cool instructors, and cold beer.
Here's what you can expect May 10 at The Chicago Athletic Association Hotel
Basketball with David Carson: Former Professional basketball player and Nike Master Trainer David Carson will lead a workout that is as fun as it is unintimidating. Coach Dave is passionate about bringing the game of basketball to more people, so this workout will focus more on fundamental skills and drills to help you feel comfortable on any court. You'll pass the rock, you'll learn to score like Mike, you'll pick-and-roll, you'll fade away, you'll live out your Love and Basketball dreams. No experience? No problem. Tons of experience? There's a place for you.
Trap Yoga® with Asia Nichole: After basketball, we'll roll out our mats for a mindful flow set to trap music with Asia Nichole. Trap Yoga® offers its subscribers artistic and holistic yoga social events, facilitating and holding space for progressive adults to not only have a good time, but to make a difference in their bodies and the world they live in.
Happy Hour with Michelob ULTRA: And this Friday night will end with a happy hour brought to you by Michelob ULTRA. You'll continue the conversations with the friends you've met on the court and your mat with an ice-cold Michelob ULTRA.
Ready to grab your spot?
Where? The Chicago Athletic Association Hotel at 12 S. Michigan Ave., Chicago, IL 60603
When? Friday May 10, from 6-8 pm
How to sign up? Sign up right here!